Artist Spotlight: Blair Hughes Stanton
8/10/2021 Modern & Contemporary British Art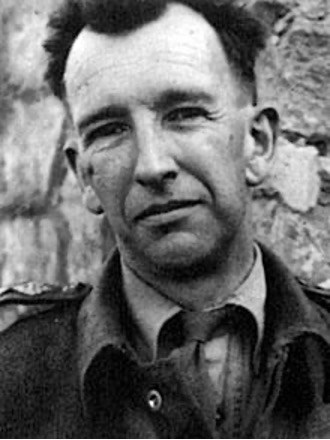 Captain Blair Hughes-Stanton in 1942 or 1943 via wikipedia
Blair Hughes Stanton (1902–1981) was one of the most technically accomplished British artists, he is especially renowned for his engraving ability, his skills were rarely matched in this medium. He exhibited with the Society of Wood Engravers, but was more in sympathy with the philosophy of the English Wood Engraving Society, of which he was a founding member in 1925. Rosebery's are pleased to have a number of works by Blair Hughes Stanton on offer in the upcoming modern & Contemporary British & Irish Art sale, taking place on the 13th of October at 10am. Here we get to know Blair Hughes Stanton better, a figure who was one of the most notorious and acclaimed artists in Britain during the interwar era, known for his role in the revival of wood engraving in Modern art.
Blair Hughes-Stanton, British 1902-1981 - Dawn (Surrealist Landscape), 1934; graphite and watercolour on paper up for auction at Roseberys Modern & Contemporary British & Irish sale : 13/10/2021
Blair Hughes Stanton was born in London, he was the son of the artist Sir Herbert Hughes-Stanton. At the age of 13 he left home to join the Royal Navy training ship the HMS Coway. It is said he left home as he could not face the prospect of living with his three sisters. At 19 he had a change of direction and moved from the navy to the Byam Shaw School of Art after a conversation with his father. At the school he was taught by the artist Leon Underwood. In 1921 he moved to Underwood's Brook Green School, where he studied alongside Henry Moore and Eileen Agar, where he developed a unique visual language, creating works that were a celebration of love and physicality. Underwood was a dominant influence through Hughes-Stanton's career. Underwood and Hughes-Stanton became very close during their time at the school so much so that Underwood left him in charge of the school whenever he went to America. At the Brook Green School Hughes-Stanton was introduced to American wood engraver Marion Mitchell who in turn introduced Hughes-Stanton to wood engraving, which set the direction of his artistic career and life.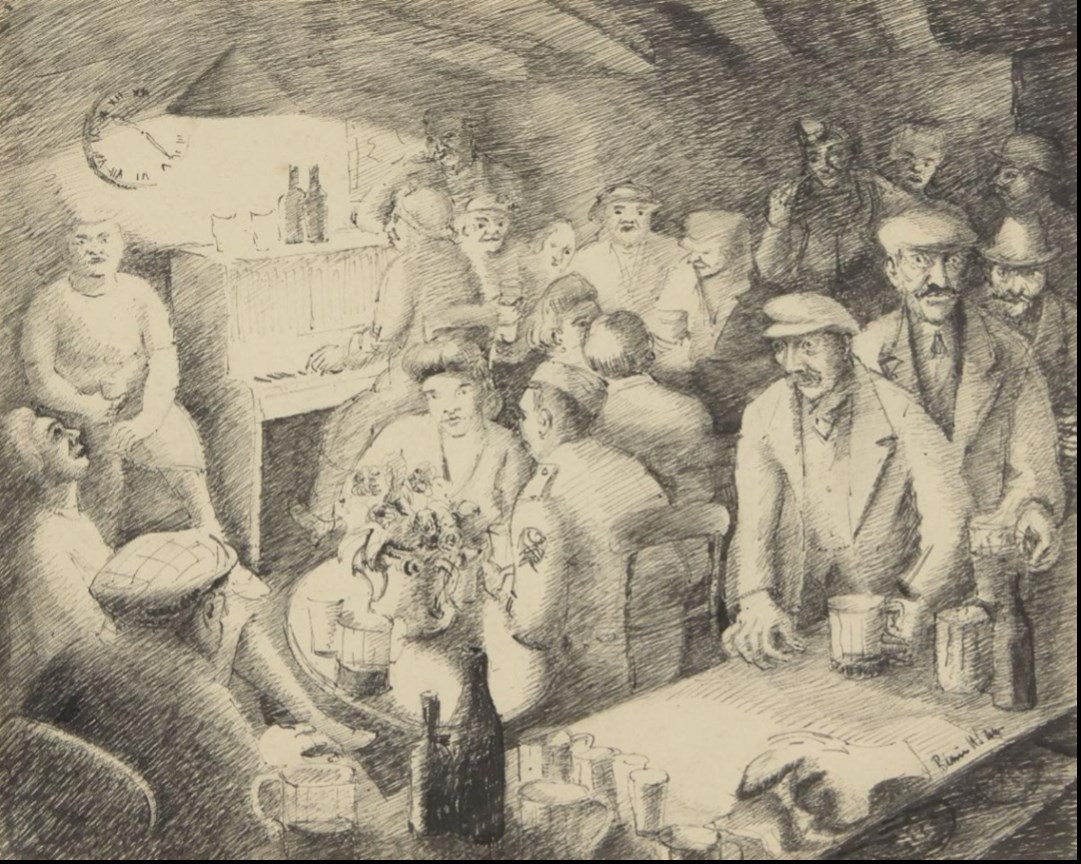 Blair Hughes-Stanton, British 1902-1981 - Pub Pianist, 1944; ink and chalk on paper
Hughes-Stanton met Gertrude Hermes a fellow student at Brook Green School in 1925 they fell in love and got married in 1926. In 1930 they were both appointed to positions withing Gregynog Press. Hughes-Stanton became a much sought-after book illustrator and was producing wood engravings for a number of publications during this period, his wood engravings feature in books by his friend D.H. Lawrence and T.E. Lawrence's Seven Pillars of Wisdom. In 1930 he also started an affair with Ida Affleck Graves, in 1932 Hermes left Hughes-Stanton and returned to London. He then left the Gregynog Press in 1933.
Hughes-Stanton and Ida Affleck Graves moved to Colchester together and founded Gemini Press, created with the purpose of being able to produce works that were not held back by outside forces. In 1934 the press produced Epithalamion by Ida Affleck Graves, with 23 full-page wood engravings by Hughes-Stanton. The book is a celebration of their physical and spiritual wedding, even though they were unable to marry. This was because Ida Affleck Grave's husband was a man of high social status and refused to divorce her, but accepted their separation. In 1938, Hughes-Stanton won the International Prize for Engraving at the Venice Biennale. By 1939 the couple's relationship was nearing its end.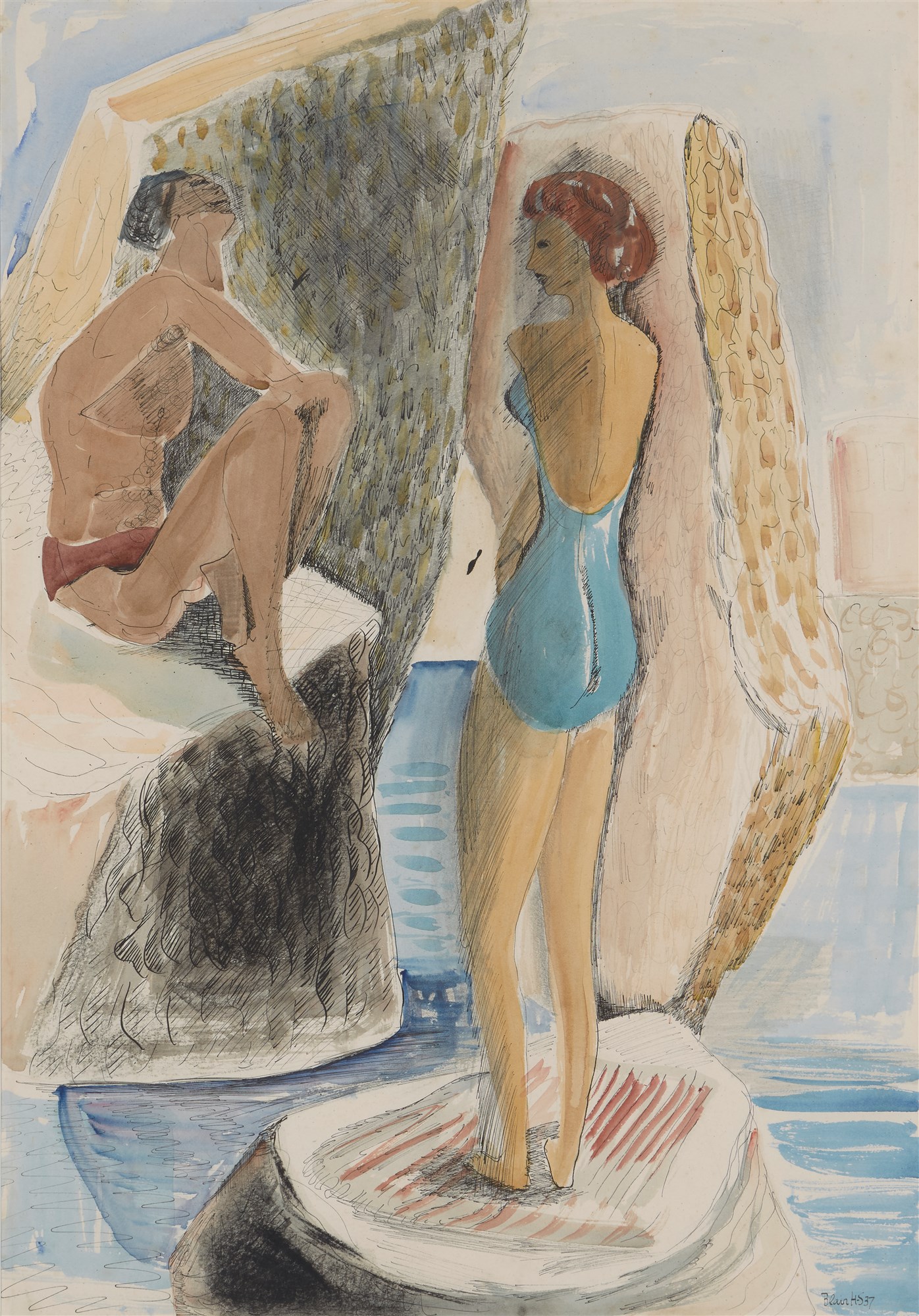 Blair Hughes-Stanton, British 1902-1981 - Two Figures on the Rocks, Cassis, 1937; watercolour and ink on paper
At the beginning of the Second World War, Hughes-Stanton along with many other artists of the time, was involved in camouflage work for the British Army. In 1940 he enlisted with the British Army and served in the Royal Engineers in the Middle East and then Greece where he was eventually captured and became a prisoner of war. Whilst in the camp he was shot twice once in the neck and once in the skull by a prison guard. The injury incapacitated him and he was eventually repatriated to Britain in 1943. Back in England he wrote to the War Artists' Advisory Committee (WAAC) in November 1943 seeking a painting commission. After a meeting with Kenneth Clark, the Chairman of WAAC, he was given a commission to paint three pictures based on his experiences as a prisoner of war. After Blair-Stanton completed these, WAAC purchased two more pictures from him.
Hughes-Stanton was teaching at the Westminster school of art before the beginning of the war, following his injury in the war he became far more reliant on teaching. He taught at the Colchester School of Art, Saint Martin's School of Art and the Central School of Art & Design. Hughes-Stanton left Ida Affleck Graves in 1950 and took refuge with Gertrude Hermes, he soon remarried with Anne Ross a former student. He and Anne Ross had two daughters.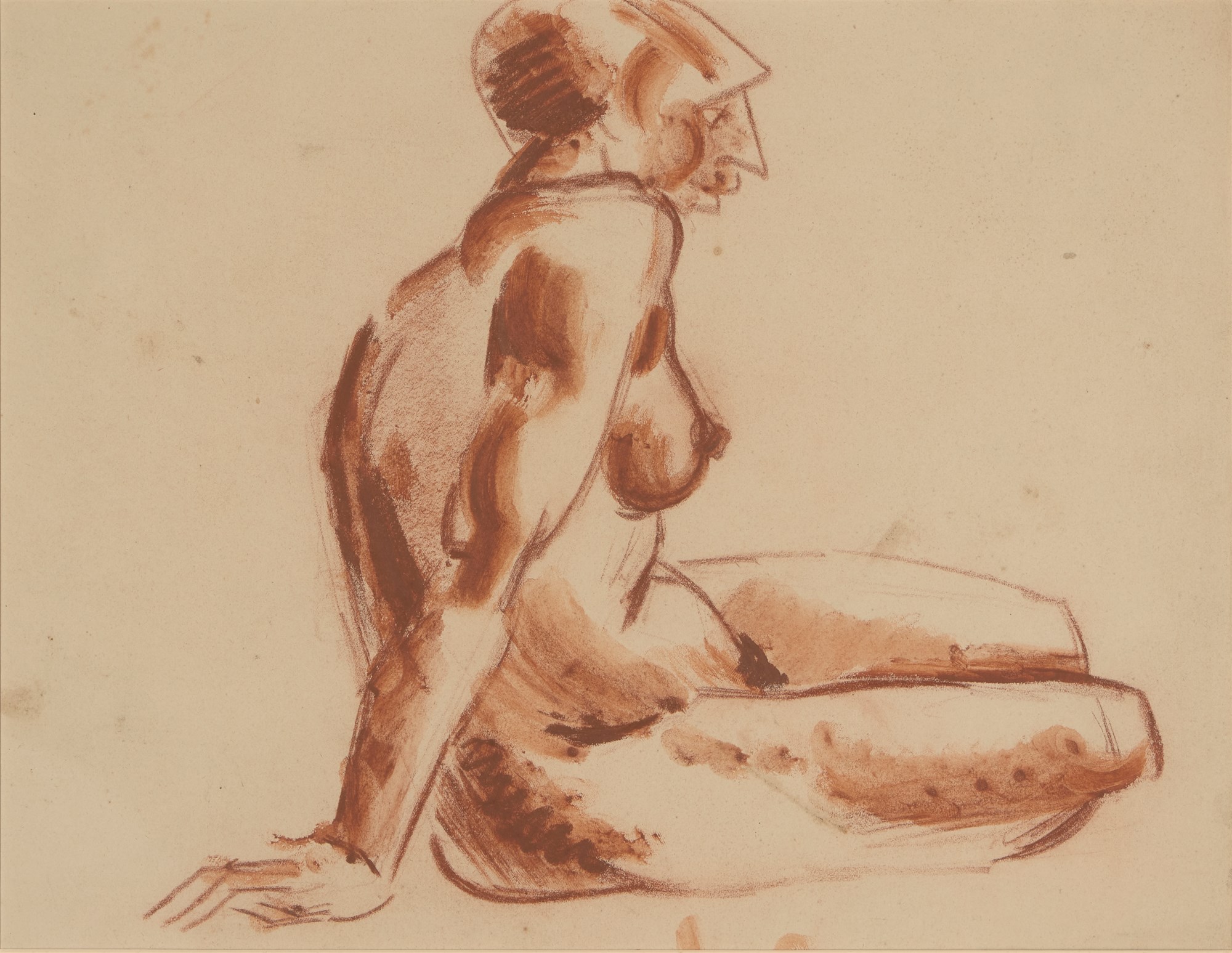 Blair Hughes-Stanton, British 1902-1981 - Figure Drawing, 1927; conté on paper
Hughes-Stanton worked in many mediums throughout his career, including oils and linocuts in his later years, however a large amount of his work consists of wood engravings. This is what he was especially well known for. He was an expert engraver. His engravings were frequently of the female form, and contemporary judgements ranged from erotic to pornographic.
When looking at his career it is relevant to compare it to that of his first wife Gertrude Hermes. Their careers showed equal promise when they were married. At this time, he was being lauded as a great of his time by art critics. Hermes was eventually elected to the Royal Academy, but Hughes-Stanton never received such an honour. Herme's career moved continually upwards.
Blair Hughes-Stanton, British 1902-1981 - Reclining Nude , c.1936; ink and tempera on canvas
Within the upcoming Modern & Contemporary British & Irish Art sale is a wonderful collection of eight works by Blair Hughes-Stanton from every stage of his career, lots 14 -16 and lots 106-110. This includes a Cubist-inspired painting of a Reclining Nude from the 1930s (pictured above), a watercolour made in Cassis while the artist was on holiday with Mark Gertler and an ink drawing 'Pub Scene' made during World World II, demonstrating the camaraderie of the time.
You can view the works on offer in our upcoming Modern & Contemporary British & Irish Art sale taking place on October 13th at 10am by Blair Hughes Stanton here.
Viewing by appointment only contact williamsummerfield@roseberys.co.uk to book a time slot
We will be facilitating time slot appointments of one hour each.
When making your booking please provide a contact telephone number and the number in your party up to a maximum of 2 people.
Viewing Times
Friday 8 October 1.00pm – 5.00pm
Sunday 10 October 10.00am – 2.00pm
Monday 11 October 9.30am – 5.00pm
Tuesday 12 October 9.30am – 5.00pm
Please contact williamsummerfield@roseberys.co.uk for condition reports and further information.