Artist Spotlight: Arthur Boyd
19/11/2020 News Stories & Press Release, Impressionist, Modern & Post War Art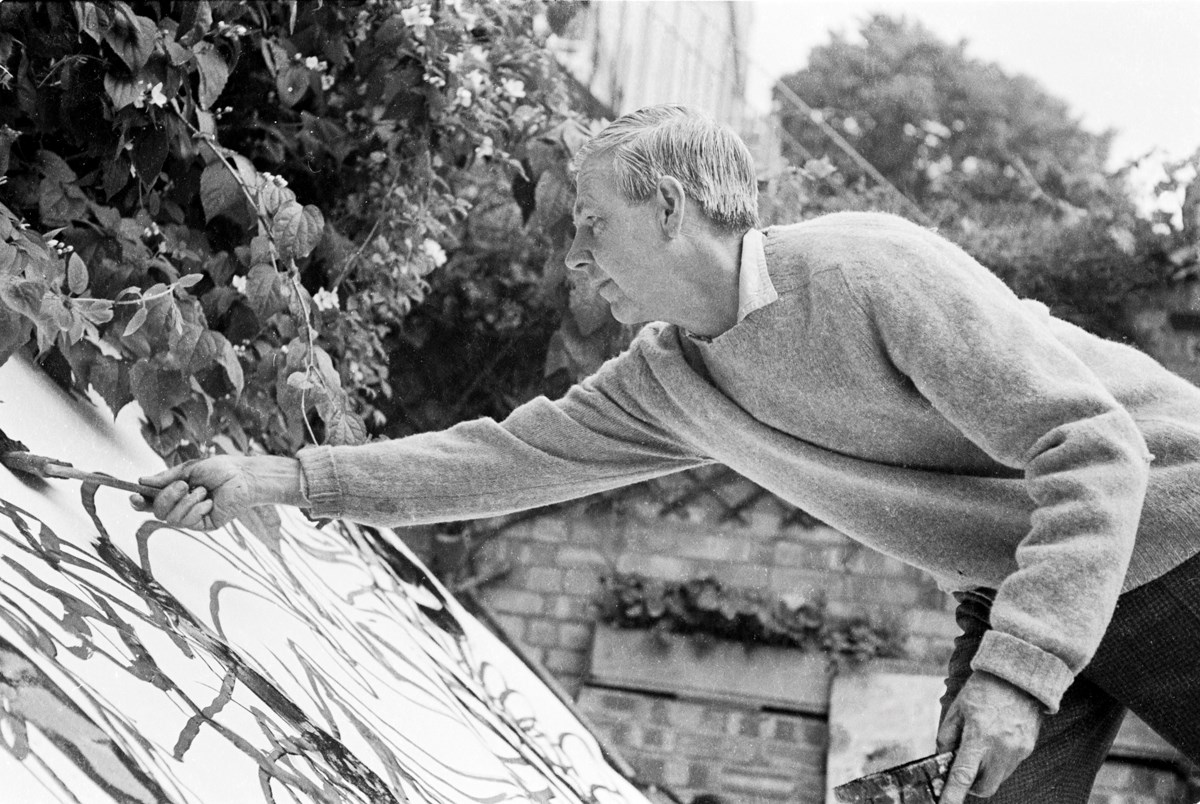 Arthur Boyd in London, date unknown, by Robert Walker © Estate of Robert Walker. Source: Art Gallery of New South Wales Archive
Here we get to know Arthur Boyd better, whose art centered around his homeland of Australia and universal themes of love and loss.
Arthur Merric Bloomfield Boyd AC OBE (b.24 July 1920 Murrumbeena, Australia – 24 April 1999) was a leading Australian printmaker, painter and potter during the middle to the late 20th century. Having a strong social conscience, Boyd's impressionist works deal with humanitarian issues and universal themes of love, loss and identity. Another strong theme throughout a large breadth of his work is Boyd's homeland of Australia.
Boyd was from a family of artists and was therefore involved in studying and making art from a young age. The Boyd Family line of successive and connective artists includes painters, sculptors, architects and other arts professionals, commencing with Boyd's grandmother Emma Minnie Boyd and her husband Arthur Merric Boyd, Boyd's father Merric and mother Doris.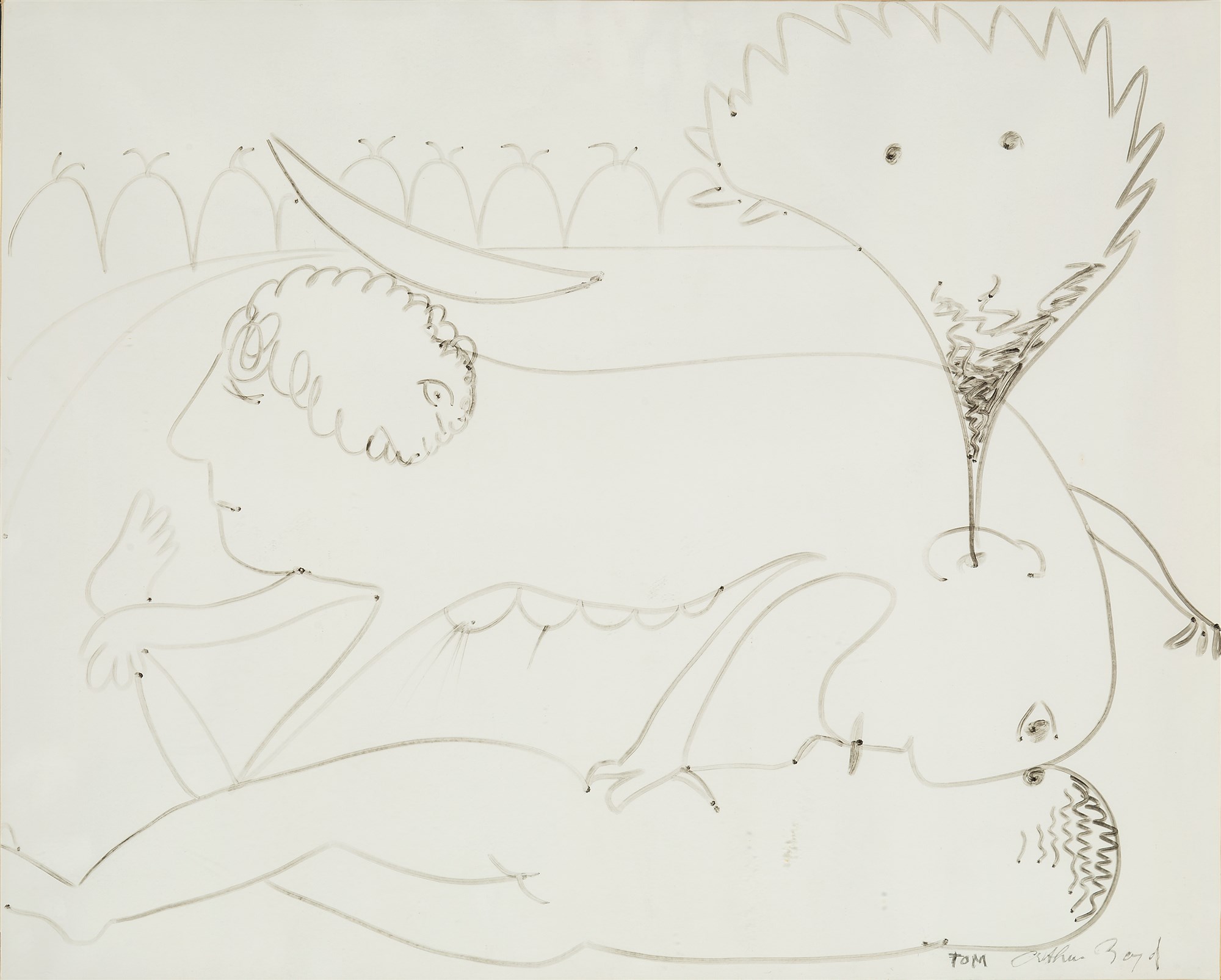 Arthur Boyd AC OBE, Australian 1920-1999- Lovers; black marker on paper, signed and inscribed Tom up for sale at Roseberys Impressionist, Modern, Post War & Contemporary Art auction on 9 December.
After leaving school aged 14 years, Boyd for a short time attended night classes at the National Gallery School in Melbourne where Jewish immigrant artist Yosl Bergner introduced Boyd to writers such as Dostoyevsky. These individuals influenced his humanitarian values and social conscience, which were key themes that were strongly reflected in his artworks throughout his career. Later on, in his earlier years Boyd moved to the inner city of Melbourne, where he was influenced by the European refugees he met there. Reflecting this move in the late 1930s, his work evolved into a distinct period of depictions of fanciful characters in urban settings.
At the age of 20 Boyd when conscripted to serve in the militia from 1941 until 1944. The stint in the military can be seen within his work during this period in his expressionistic wartime paintings.
Following the war, Boyd founded a workshop in his birthplace of Murrumbeena, called Arthur Merric Boyd Pottery Workshop and started pottery as a new venture of creative output. Later came ceramic painting and sculpture. The practice of ceramic painting can be seen on the work of art on offer at Roseberys, pictured below.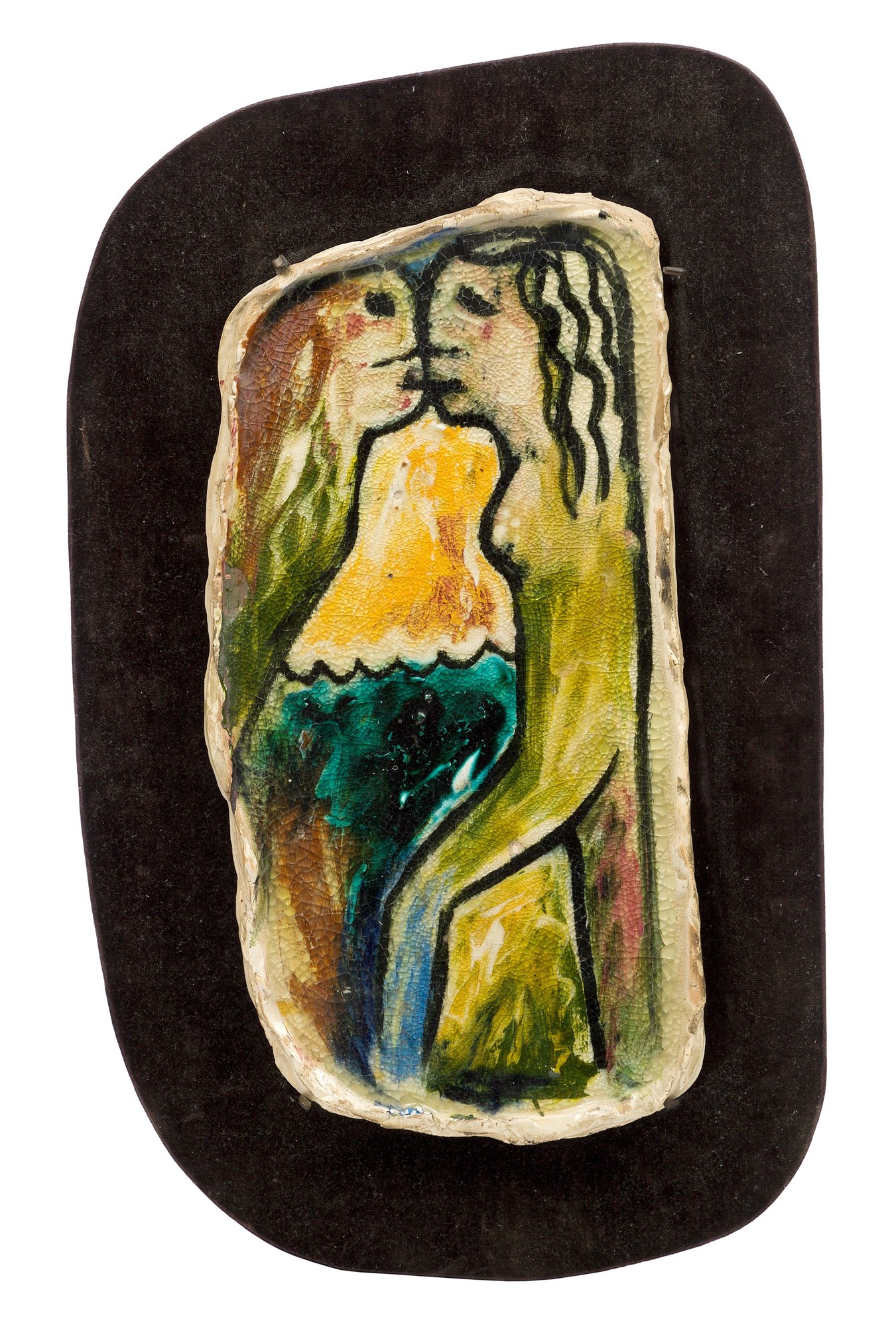 Arthur Boyd AC OBE, Australian 1920-1999- Lovers; glazed ceramic up for sale at Roseberys Impressionist, Modern, Post War & Contemporary Art auction on 9 December.
Throughout his career Boyd was very interested in the representation of figures in his art, and the use of such imagery to convey broader themes of love and loss. Such an approach is evident in this piece, Lovers. This artwork on offer at Roseberys as seen above uses bold lines and bright colours to depict a scene in which it is the two figures, and their clear affection for and connection with one another, that commands our interest. It acts as a clear example of what Tom Rosenthal, an art critic and the owner of these works, described as the 'passionate and obsessive humanism of Arthur Boyd'. Arthur Boyd's ceramic paintings have been the subject of exhibitions including that at the Zwemmer Gallery in London, whilst pottery by David Boyd has been displayed in the S.H. Ervin Gallery, Sydney.
During the 50s, Boyd travelled around central Australia. During his travels he was shocked to bare witness to the conditions in which the Aboriginal people were living in these areas. This experience shaped a lot of his artworks, including Love, marriage and death of a half-caste series of 31 paintings, also known as The Bride. His work focusing on the subject brought the ongoing issue of marginalisation of Aboriginal people to the forefront of the artworld and to those who viewed his work.
Arthur and his family moved to London in 1959, staying there until 1971. Despite his English location, Boyd continued to depict his homeland of Australia within his artwork such as bush settings.  The recipient of a Creative Arts Fellowship from the Australian National University, in 1971 brought Boyd and his family back to Australia, where he returned as one of Australia's most highly regarded artists.
In 1975, Boyd donated several thousand works including pastels, sculptures, ceramics, etchings, tapestries, paintings and drawings to the National Gallery of Australia.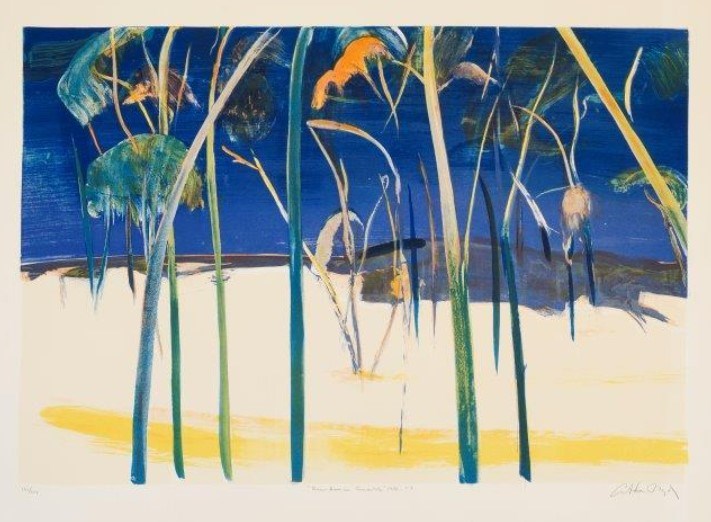 Arthur Boyd AC OBE, Australian 1920-1999- Bundanon Quartet, 1991; the complete portfolio of four lithographs in colours on wove sold at Roseberys Prints & Multiples auction for £525
Throughout his career Arthur's artwork was very strongly connected to his Australian homeland, and he was a central member of the Angry Penguins, an artistic group which also included Sidney Nolan, Clifton Pugh, David Boyd, John Brack, Robert Dickerson, John Perceval and Charles Blackman, and which sought to challenge and overturn the existing Australian cultural establishment. Boyd was also associated with the Antipodeans, a group of artists founded in 1959 championed by art historian Bernard Smith, who attempted to promote figurative art, during a time when abstract art ruled supreme.
Throughout his career Arthur was very charitable and in 1993 (a few years before his death), Arthur and his wife Yvonne Boyd gave family properties comprising 1,100 hectares (2,700 acres) at Bundanon on the Shoalhaven River to the people of Australia. Held in trust, Boyd later donated further property, artwork, and the copyright to all of his work.
Works by Arthur Boyd are in the collections of the Victoria & Albert Museum; the Arts Council of Great Britain; the Museum of Modern Art in Melbourne; the National Gallery of Queensland, Brisbane; the National Gallery of Victoria, Melbourne, alongside many others.
If you would like to find out when works by Arthur Boyd come up for sale at Roseberys click on the button below to register to key-word alerts. 
If you would like to consign a work of art by Arthur Boyd at Rosebery click on the link below. 
LEARN MORE ABOUT THE IMPRESSIONIST, MODERN, POST WAR & CONTEMPORARY ART DEPARTMENT