Artist Spotlight: Antoni Tàpies
30/06/2021 Prints & Multiples , News Stories & Press Release
Biografía y obras: Tàpies, Antoni | Image via the Guggenheim Museum Bilbao
Antoni Tàpies is one of the most celebrated Spanish and European artists of the 20th century, he was a painter, sculptor and art theorist. Here at Roseberys we are proud to have sold a number of works by Tàpies. We also have a number of his works appearing in our upcoming Modern & Contemporary Prints & Multiples sale on the 7th of July, 2021.
Tony Tàpies was born in Barcelona on 13th December 1923 into a well-to-do Catalan family, cultured, political and bookish, who transmitted to him the love for books, reading and culture in general. His father was a Catalan nationalist and a lawyer, who had briefly spent time in the Republican Government. Because of this, from a young age, Tàpies grew up in an environment in which he was exposed to cultural and social experiences of leaders within the Catalan public life and its republicanism.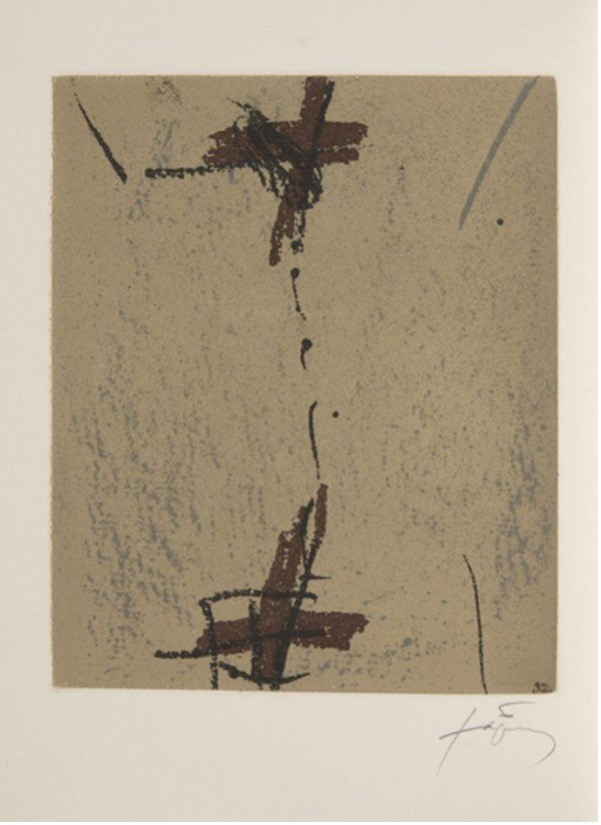 Antoni Tapies, Spanish 1923-2012- Tapies, Repliquér, 1981 the complete portfolio of four etchings with aquatint and carborundum in colours on wove
Tàpies was first exposed to art when he joined secondary school, he read a magazine which contained works by famous artists such as Kandinsky and Picasso, these artists went on to inspire his work. Tàpies nearly died at the age of 17 due to a heart attack caused by tuberculosis. Two years after this event, he spent time in the mountains as a convalescent, studying art as he recovered. Tàpies then went on to study law for three years, however after this he devoted himself to his artwork.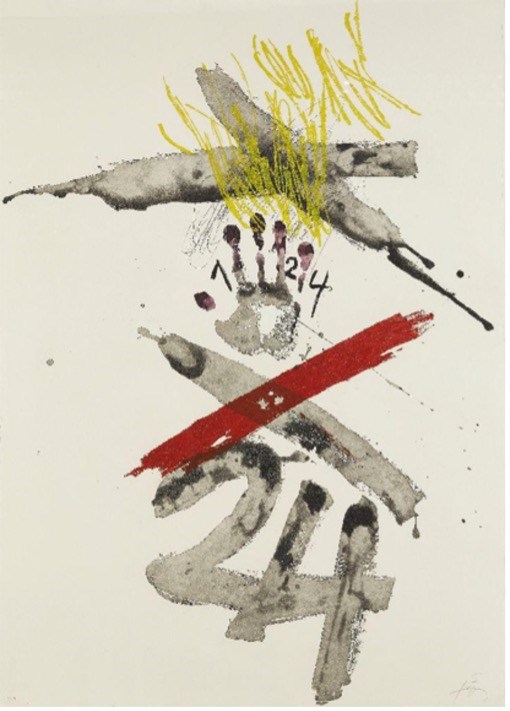 Antoni Tàpies, Spanish 1923-2012- Untitled [Galfetti 334], 1972; etching with aquatint and carborundum in colours
On offer at Roseberys with an estimate of £800-£1200
Tàpies is one of the most well renowned Spanish artists to emerge since the Second World War in 1948. His first painterly explorations, produced in the late-1940s and early-1950s, provided him with a base for research into physical nature of objects and their materiality. Very soon, though, his work began to focus on the search for new expressive parameters in which texture played a key role. He quickly began to produce works with relief, fragments torn off, lacerations, rips, etc., alluding to the horrors of the Civil War and linking him to informalism and to American abstract expressionism. He helped co-found a Post-War movement in Spain, known as Dau al set. Dau al set was heavily influenced by Surrealist and Dadist movements. The movement focused on translating the conscious and unconscious mind into art. It also focused on bringing elements of the Surrealist world of dreams were in Dau al set expands upon Surrealism by bringing scientific and philosophical articles with magical influences incorporated. The style, like many forms of art, was a rejection against the upper classes within society. There was a belief in Spain that the upper class had caused the war, so within bodies of work that are included in Dau al set, they often contain elements of irrationality and of chaos. Dau al set also included many of the techniques such as collage, photomontage, and Cubism.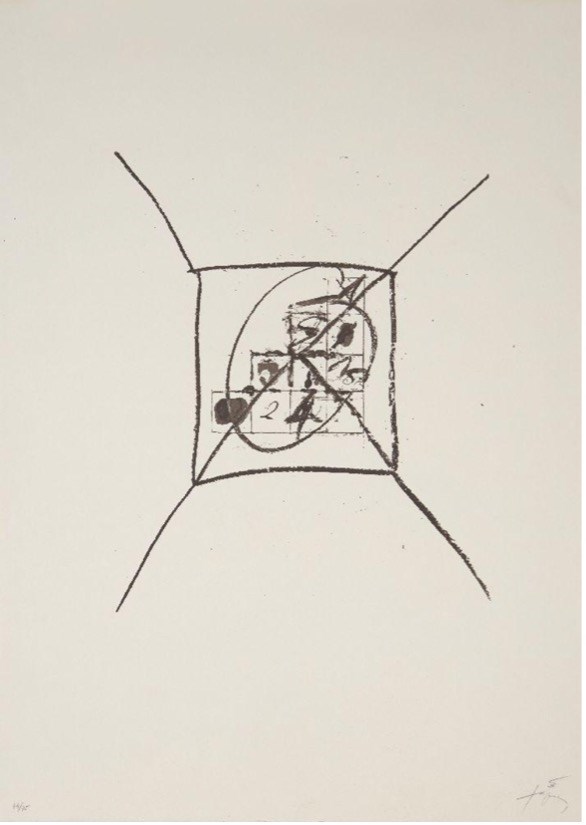 Antoni Tàpies, Spanish 1923-2012- Llambrec-9, 1975; lithograph on Guarro wove
On offer at Roseberys with an estimate of £300-£500
Early on in his career as an artist Tàpies was influenced by famous artists such as Joan Miro and Paul Klee. When he became an accomplished artist, he worked informally in a style known as Pintura Meterica, in which non artistic materials are used in the paintings. In 1953 he started using mixed media within his works, this is considered his original contribution to art as he is one of the first artists to create serious art using this method. Tàpies gained international reputation as an artist and was well established by the end of the 1950s. He worked with many famous Spanish artists of the time, including Antonio Saura and Manolo Millares. In the 1970s his work was influenced by Pop Art, and he began incorporating large objects into his paintings, such as pieces of furniture and the human body, and to use collage and assemblage in highly personal work that won him international recognition. Throughout his career Tàpies also wrote many essays that included subjects such as art, life and politics.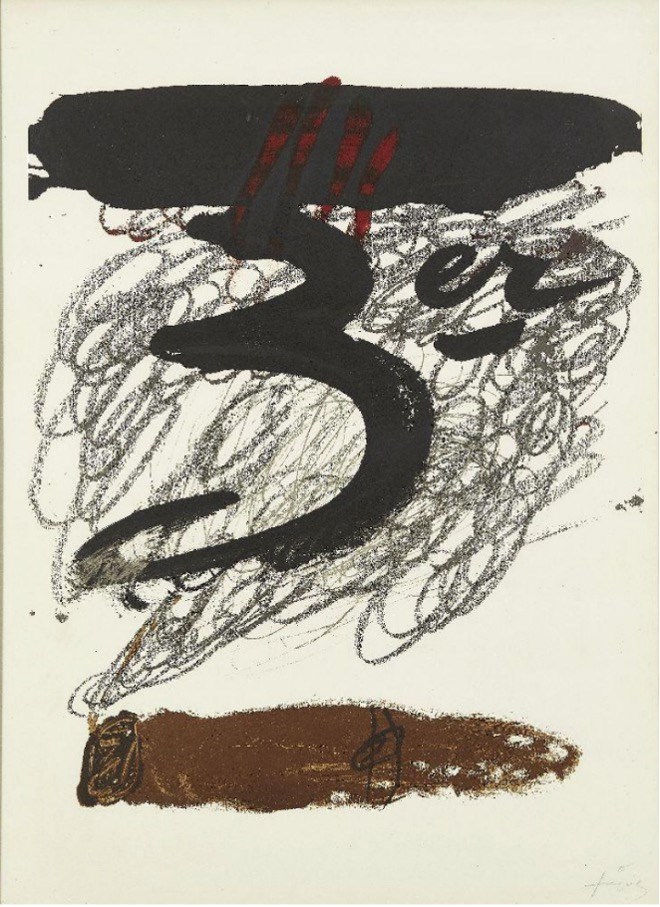 Antoni Tàpies, Spanish 1923-2012- Festival Internacional de Cadaqués [Galfetti 311], 1972; lithograph in colours on wove.
On offer at Roseberys with an estimate of £400-£600
Tàpies mainly lived in Barcelona and was represented by The Lelong in Paris and the Pace Gallery in New York. Tàpies died on the 6th February 2012, his health had been deteriorating since 2007. His work has been exhibited in many galleries across the world including the Guggenheim, The Musée d'Art Moderne de Paris, The Albright Knox gallery in Buffalo NY and the Museum National Centro Di Art Reina Sofia in Madrid, amongst many others. Antoni Tàpies auction record was set in 2014 at Christies in which a mixed media work by Tàpies sold for £1,400,000.
Tàpies received many awards throughout his artistic career with one of the most important occurring in 2010, when he was raised into the Spanish nobility by King Juan Carlos the first with the hereditary title of Marques de Tàpies.
A number of works by Antoni Tàpies Feature in our upcoming Modern & Contemporary Prints & Multiples sale on July 7.
You can view the fully illustrated catalogue here.