Artist Spotlight : Van Cleef & Arpels
8/11/2019 News Stories & Press Release, Jewellery & Watches
In recent years, Roseberys has been very fortunate to consign a number of iconic pieces of jewellery by the legendary French fine jewellery house, Van Cleef & Arpels. Founded in 1896, this Parisian jewellery giant is perhaps most widely renowned for its signature quatrefoil Alhambra designs, which were launched in 1968 to satisfy the demands of a new generation of women seeking versatile pieces of jewellery that could be layered and lived in. Indeed, the talismanic, Moorish-inspired clover leaves have since been branded "the first feminist jewellery'; a nod to their association with the social and cultural revolutions of their time.
Often seen adorning royals, film stars, heiresses and fashion icons, Van Cleef & Arpels jewellery has been favoured by some of fashion's biggest names, including Grace Kelly, Elizabeth Taylor and Margot Robbie. No surprise then that their pieces continue to fetch huge prices at auction…earlier this year a Van Cleef & Arpels iconic Zip necklace from the 1950s sold at Sotheby's for £392,492, a price ten times 10 times its low estimate. Rewind a few years and you may remember the sale of Princess Faiza's exquisite Van Cleef & Arpels emerald and diamond necklace at Christie's – the hammer came down at an astronomical CHF 3.8 million!

A pair of pearl and diamond set convertible ear pendants, by Van Cleef & Arpels
Evolution and innovation continue to dominate the Van Cleef & Arpels philosophy. Having patented the 'Mystery set' in 1933 - a technique that allows for the setting of stones so that no prongs are visible- the jewellery house has continued to remain at the forefront of jewellery and watch design; the 2019 Poetic complications watch collection is a case in point. It showcases the manifold skills of the Van Cleef & Arpels master craftsmen and horologists, combining outstanding grisaille enamelling and precision diamond-setting with the latest developments in watch engineering. We can't wait to see one for ourselves!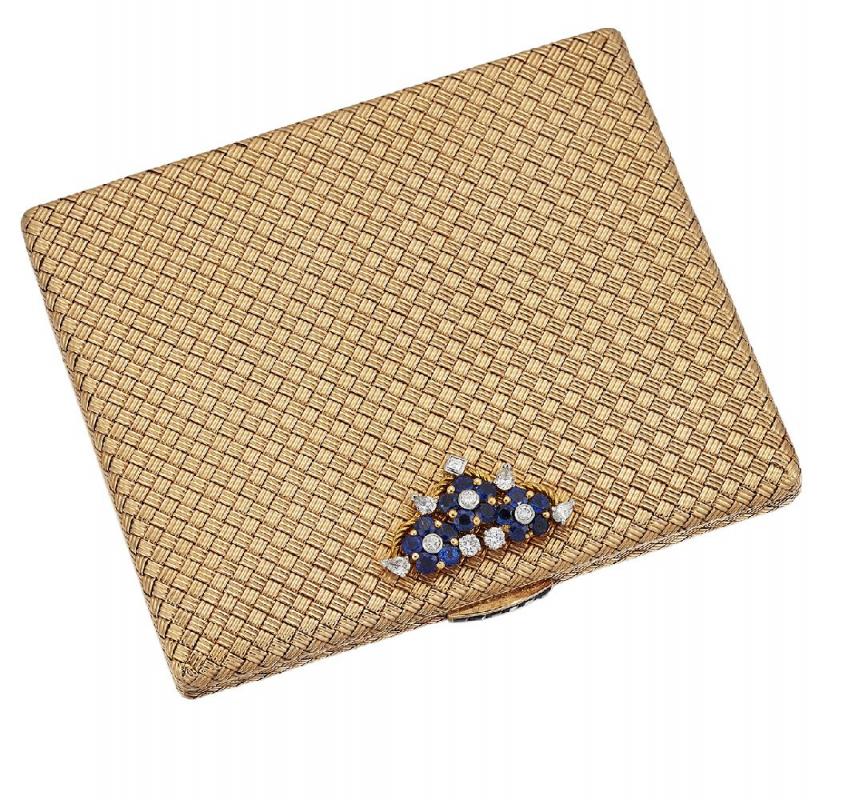 A diamond and sapphire-set compact, the rectangular compact of basket weave design with internal mirror and powder compartment
Our clients at Roseberys are always excited to see an item of Van Cleef & Arpels jewellery adding some sparkle to one of our catalogues, and last year we successfully sold a pair of mother-of-pearl Alhambra ear clips together with a contrasting black onyx necklace of the same design. This year has seen us depart from some of the more classical Van Cleef & Arpels designs, and with great results – in March, a gold, emerald, diamond and onyx 'Chat Maliceux' clip brooch sold for over four times the auction estimate!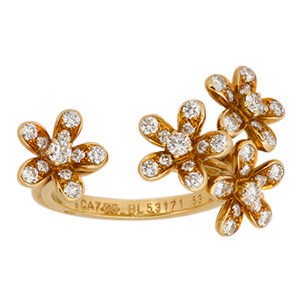 A diamond 'Socrate' ring, by Van Cleef & Arpels, of between the fingers design with four brilliant-cut diamond clusters to a reeded hoop
This November 20, 2019, we are excited to be offering yet another Van Cleef & Arpels treasure, this time in a design that effortlessly bridges the gap between classic and contemporary. The Socrate 'Between the Finger' cocktail ring perfectly embodies the core values of the Van Cleef & Arpels Flora collection: harmony, transformability and vitality. In short, it's good old sixties flower power…with a bit of added glamour and sparkle!
Text by Geogia Agnew 
Junior Cataloguer and Administrator
Silver & Jewellery