An auction showcasing expert craftsmanship by design icons
5/04/2022 News Stories & Press Release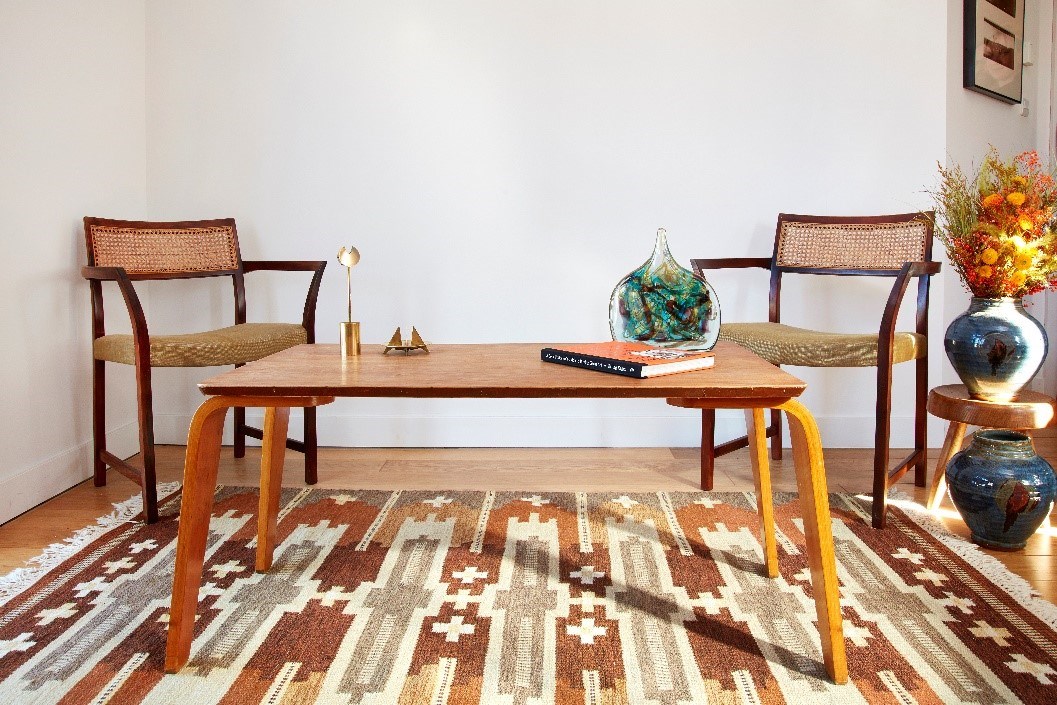 ROSEBERYS LONDON: Roseberys are delighted to bring the Design: Decorative Arts 1860 to the Present-Day auction to the market on Tuesday 26 April. This bi-annual auction embraces the Decorative Arts, from Gothic Revival to the present day, and includes the Aesthetic, Arts & Crafts Movements and the Art Nouveau and Art Deco periods. Alongside this, studio ceramics and modern designs of the post-war decades including ceramics, silver, metal wares, sculpture, jewellery, lighting, rugs, textiles and furniture are offered in the sale.
Fiona Baker, Head of the department comments: 'Roseberys Design department are pleased to offer a good range of both Pre and Post War Design on the 26th April, 2022, at 10.30 am. We are excited to offer a silver and ivory handled Claret or Water jug by Dr Christopher Dresser for Elkington & Co, dated 1885, and a René Lalique perfume bottle 'Bouchon Cassis', designed in 1920, which has a lovely Tiara stopper.  Also in the pre-war section is an interesting coffee set inscribed 'Anoakia' which was the Californian home of Anita Baldwin.  We also are pleased to include the second and final part of a Private collection of Loetz iridescent glass after the success in October, including one prototype. The Art Deco period is represented by a respectable selection of bronze sculpture, including the work of Chiparus. The post-war section of the sale includes a particularly strong selection of Scandinavian furniture, including a rosewood set of chairs by Illum Wikkelso, and a three piece leather suite by Arne Norell. For something more out of the ordinary, we are delighted to offer a scarce early 'Floris' chair by Gunther Beltzig, notable for its original biomorphic design, now seen as a design trophy amongst collectors. There is a varied array of striking objects on offer including French Ceramics by Jean Marais and a scarce 'Puntini' Murano vase by Paolo Venini. In studio pottery we have works by Richard Batterham and William Plumptre. The contemporary section includes a selection of furniture designs by Cecotti, as well as furniture designs by renowned minimalist architect John Pawson CBE.'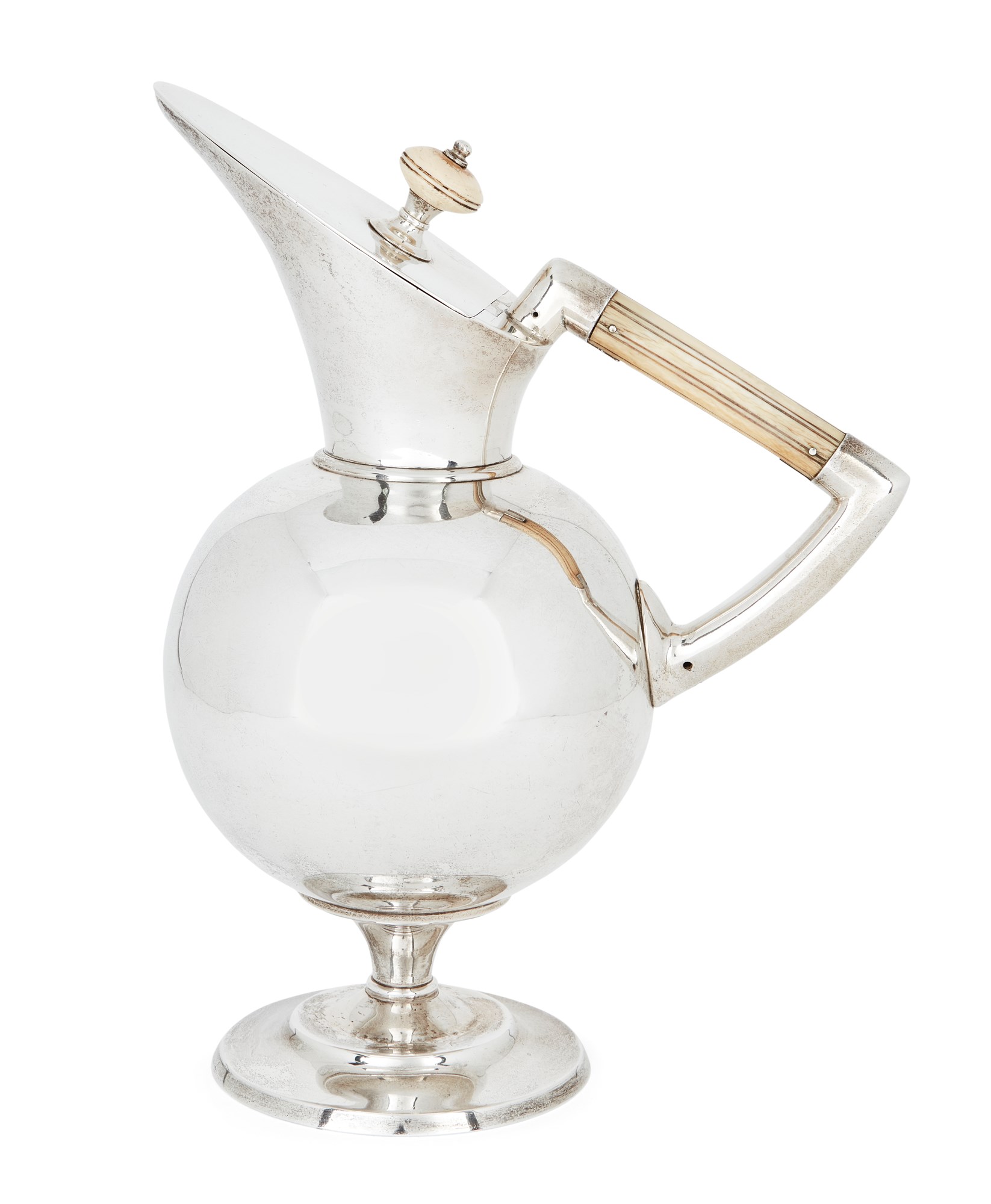 Highlighting the sale is lot 155, Dr Christopher Dresser (British 1834-1904) for Elkington & Co, a silver and ivory 'Claret or water jug' with hinged cover, Mark of Elkington & Co, Birmingham hallmarks 1885, base stamped Elkington & Co, 17559, Rd.22870. Christopher Dresser was a British designer and design theorist, now widely known as one of the first and most important, independent designers. This water jug is a rare survival of the innovative work he produced at the very peak of his career. Some now view his metalwork, with its strikingly rigorous and stark forms, as an astonishing prefigurement of the Modernist designs of the Bauhaus and or an extreme version of high Victorian aestheticism. The lot on offer comes with an estimate of £2,000-£3,000.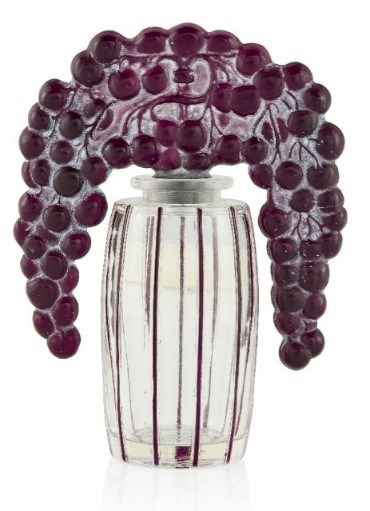 Lot 86 on offer is by René Lalique (French 1860-1945), a 'Bouchon Cassis' No.494 glass perfume bottle with 'Tiara' stopper and white staining, designed in 1920. Finely engraved 'R. Lalique' and partial moulded 'R. Laliq', the clear glass bottle moulded with vertical lines heightened with complimenting coloured enamel has an elaborate stopper of cassis colour moulded with pendant stems laden with blackcurrants, with white staining on the stopper. Lalique was at the forefront of marketing perfume during his career, an emblem of luxury and refinement in equally splendid packaging. His bottles bear witness to his technical prowess in the field of glass and embody his visionary spirit. This perfume bottle is offered to the market with a pre-sale price guide of £6,000-£8,000.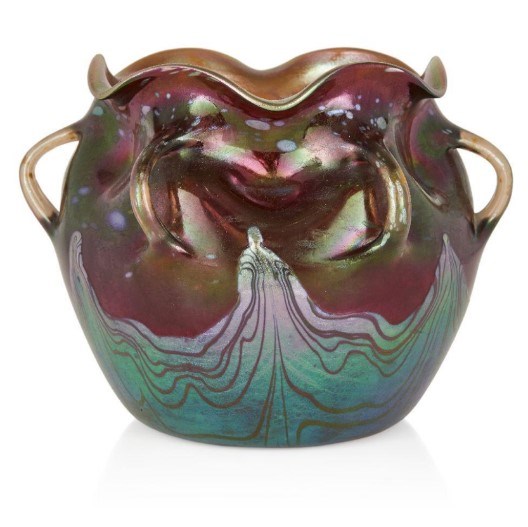 Lot 168, Loetz (Austrian), an iridescent 'prototype' Phaenomen Genre glass vase with six handles, c.1901/2, ground out pontil, is on offer with an appraisal price of £2,000-£3,000. The vase which comes from a Property from a Private Collection has six pulled loop handles and wavy rim, decorated with vibrant green iridescence on a puce ground with some random iridescent spots, with a Silberiris interior. Within the literature of Ricke, Helmut et al, 'Lötz Bohmisches Glas 1880-1940, Band I, Werkmonographie', Prestel-Verlag, 1989, the text records the decoration as unknown and goes on to comment that the form is related to a series of vases with handles that were designed around 1901/1902 and that "..since the colours of the strongly contrasting decoration are completely unusual for Loetz, it is reasonable to assume that it is a one-off piece made in 1901 for experimental purposes or a prototype".

Lot 157, Archibald Knox (British 1864-1933) for Liberty & Co, a 'Cymric' silver buckle with inset enamel, Mark of Liberty & Co, 'Cymric', Birmingham hallmarks 1901, comes with an estimate of £500-£800. Fashioned in one piece and inset with two enamelled leaf motifs and embellished with openwork sinuous tendrils, with a hammered finish, the silver buckle measures 6.1 cm high and 4 cm wide.  Knox, was a Manx designer of Scottish descent. He is best known as being Liberty's primary designer at the height of their success and influence upon UK and International design. Knox's work bridged the Arts and Crafts Movement, Celtic Revival, Art Nouveau, and Modernism.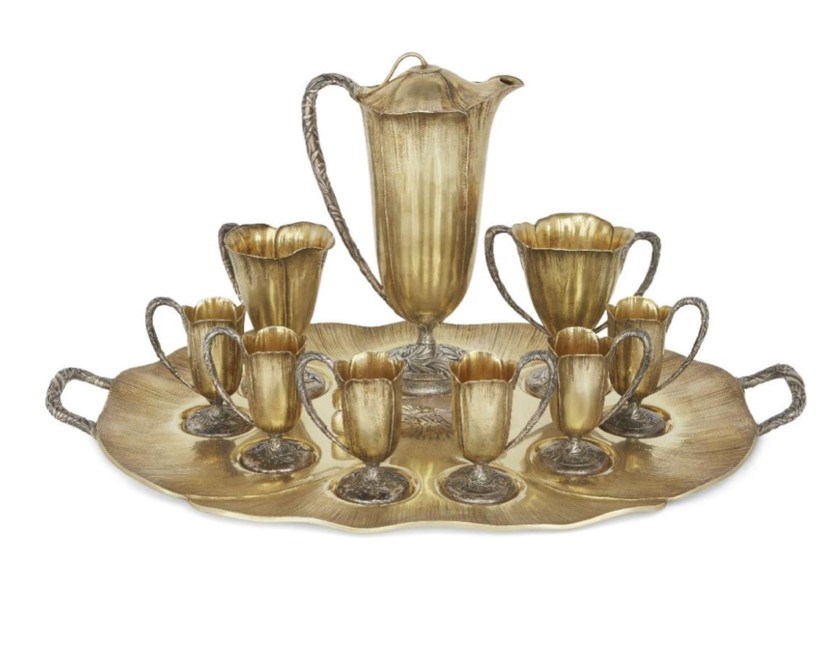 Lot 158, is an Art Nouveau silver-coloured-metal with gilt finish coffee set, probably American, with a pair of Gorham (American) silver-gilt sugar tongs, all inscribed 'Anoakia' except the tray, c.1914-1939, which comes with an estimate of £2,000-£4000. The set compromises of a coffee pot, milk jug, sugar bowl, six cups and a twin-handled tray with recessed circles for the receptacles, each piece fashioned with overlapping petals of the 'California Poppy', the state flower of California. Anita Baldwin, who hired the architect Arthur Benton to design and build her new home 'ANOAKIA' (1913/1914). The home boasted fifty rooms and murals painted by the American artist Maynard Dixon. The name Anoakia was created from the first two letters of Anita, the oak trees on the land, and the last two letters of Arcadia. Anita Baldwin (1876-1939) was the daughter of Elias Jackson 'Lucky' Baldwin (1828-1909) and both were significant figures in the history and development of Southern California. Not least in establishing Arcadia as a City and Lucky Baldwin became its first Mayor.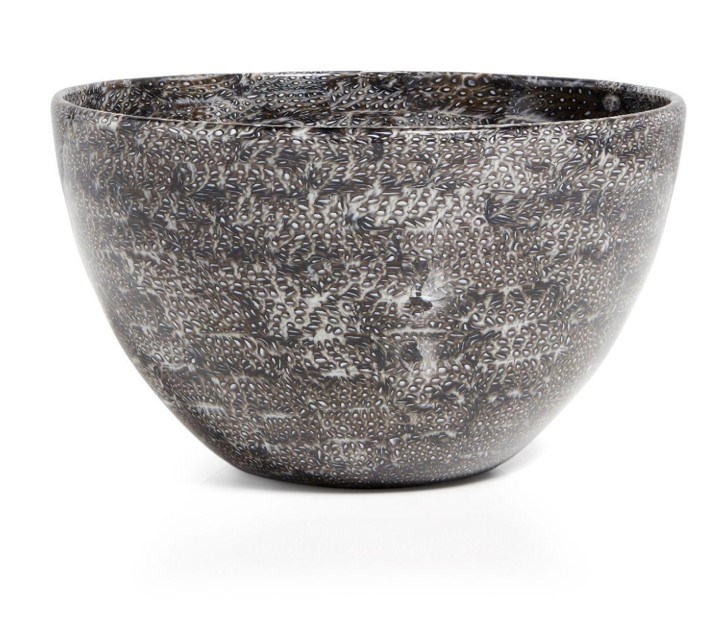 Lot 120, Paolo Venini (Italian 1895-1959), a 'Puntini' murrine glass bowl, c.1965, acid etched mark to base - 'Venini, Murano, Italia', has been entered into the auction with a price range of £1,500-£2,000.  Of round tapered form, comprising dotted 'talpa' (mole grey) and 'lattimo' (milk white) murrine decoration,  the glass bowl measures 12.5cm high and 21cm diameter in size. Venini emerged as one of the leading figures in the production of Murano glass and an important contributor to twentieth-century design.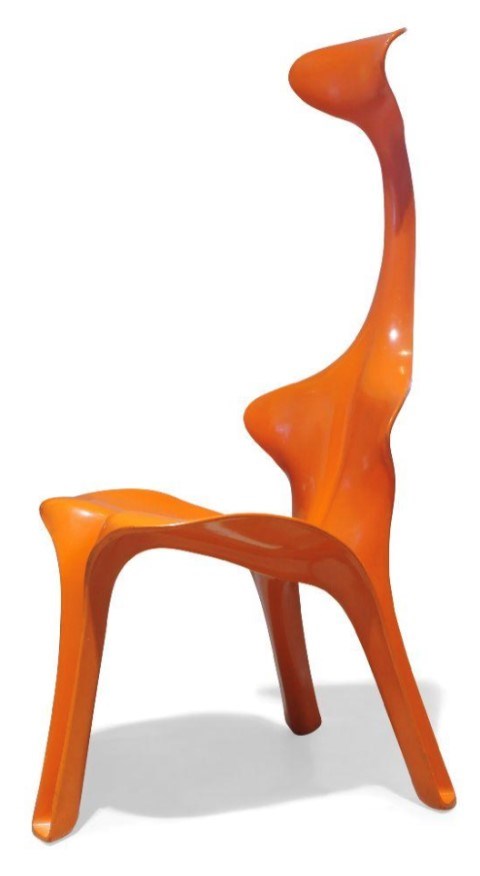 Lot 297, Günter Beltzig (German b.1941), a 'Floris' chair for Brüder Beltzig Design, c.1968, is an early and scarce example, in orange polyester reinforced with fibreglass. An unusual and elegant chair, Floris was concieved initially as a device to draw media attention to the range of outdoor and children's furniture then produced in limited quantity by the Beltzig brothers. The chair's form was determined by moulds that were taken of Gunter Beltzig's body. The chair on offer at Roseberys has an estimate of £3,000-£5,000.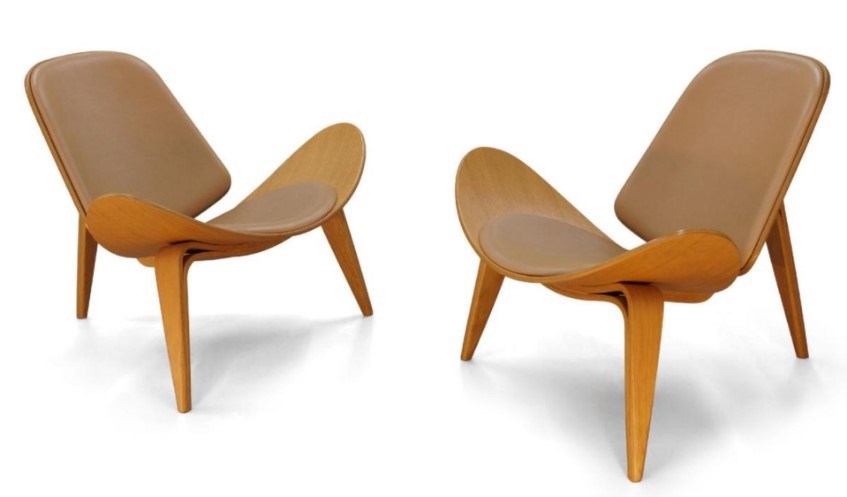 Lot 269, Hans Wegner (Danish 1914-2007), a pair of 'CH07' shell chairs and two ottomans for P.P Mobler, 2005, manufacturer's marks stamped to underside of ottoman, comes with an estimated price-guide of £2,000-£2,500. The oak plywood frames with tan leather upholstered seats on tapered bent ply supports, alongside the ottomans with pierced handles and matching tan leather seats on cylindrical tapered legs are iconic designs for Wegner. The furniture designer's work, along with a concerted effort from several of his manufacturers, contributed to the international popularity of mid-century Danish design. His style is often described as Organic Functionality, a modernist school with emphasis on functionality.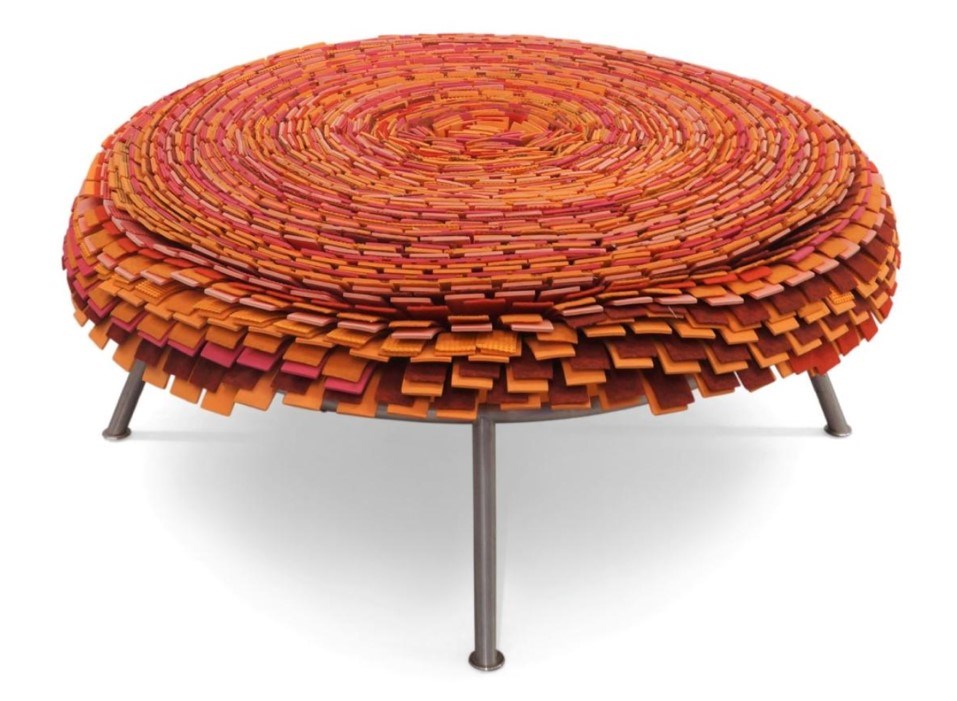 Lot 373, Fernando & Humberto Campana, (Brazilian), a 'Vitório Régia' stool for Estudio Campana, c.2002 is on offer to the market with the pre-sale price point of £3,000-£4,000. With a metal studio tag to underside, the circular seat comprising orange and pink ethylene vinyl acetate, rubber and fabric strips on splayed cylindrical aluminium supports, measures 45cm high and107cm wide. The Campana brothers are famed Brazilian furniture designers. Their studio continues to produce and develop furniture made from ordinary everyday materials that have been discarded, such as rope, fabric, wood, cardboard, plastic tubes, and aluminum wire.
Lot 293, Arne Norell (Swedish 1917-1971), an 'Ilona' three piece suite for Norell, c.1960, paper label to seat lining - 'Norell, Made in Sweden' has an estimated price projection of £3,000-£4,000. Comprising a two seat sofa and two armchairs, each are upholstered in tan leather, with beech frames and cylindrical supports. Norell was the founder of Norell Möbel, the only Swedish furniture manufacturer to design and produce original products through two generations. Norell was known for his versatile use of wood, leather, fabric, and metal in furniture characterized by comfort and ease.
Further highlights in the sale include lot 227, James Henry Sellers (British 1861-1954), a pair of satinwood, burr wood and parquetry dressing chests, with associated dressing mirror and stool, c.1930, which comes with an estimate of £1000-£2,000. Lot 267, Illum Wikkelsø (Danish 1919-1999), a set of eight rosewood and caned dining chairs for CF Christensen, c.1960 estimated to make £1500-£2,000. And lot 168, Demetre H. Chiparus (Romanian/French 1886-1947), 'Little Clown' a patinated and gilt bronze figure, projected to make between £1,200 - £1,800.
-Ends-
You can view the fully illustrated catalogue here
Design: Decorative Arts 1860 To The Present Day Auction
Tuesday 26 April, 10:30am
Viewing Times
 
Thursday 21 April 9.30am-5.00pm
Friday 22  April  9.30am-5.00pm
Sunday 24  April  10.00am-2.00pm
Monday 25 April 9.30am-5.00pm
Please contact decarts@roseberys.co.uk for condition reports and further information.