American & European Artistic Reactions to War
6/06/2022 Modern & Contemporary British Art, News Stories & Press Release, Impressionist, Modern & Post War Art
A large section of the art on offer in Roseberys Modern & Contemporary Art auction on the 8th June was completed during a tumultuous period in art, namely the decades following the first and second World Wars. Several artists in this sale were impacted directly by the wars, which consequently would have a huge influence on their artistic output.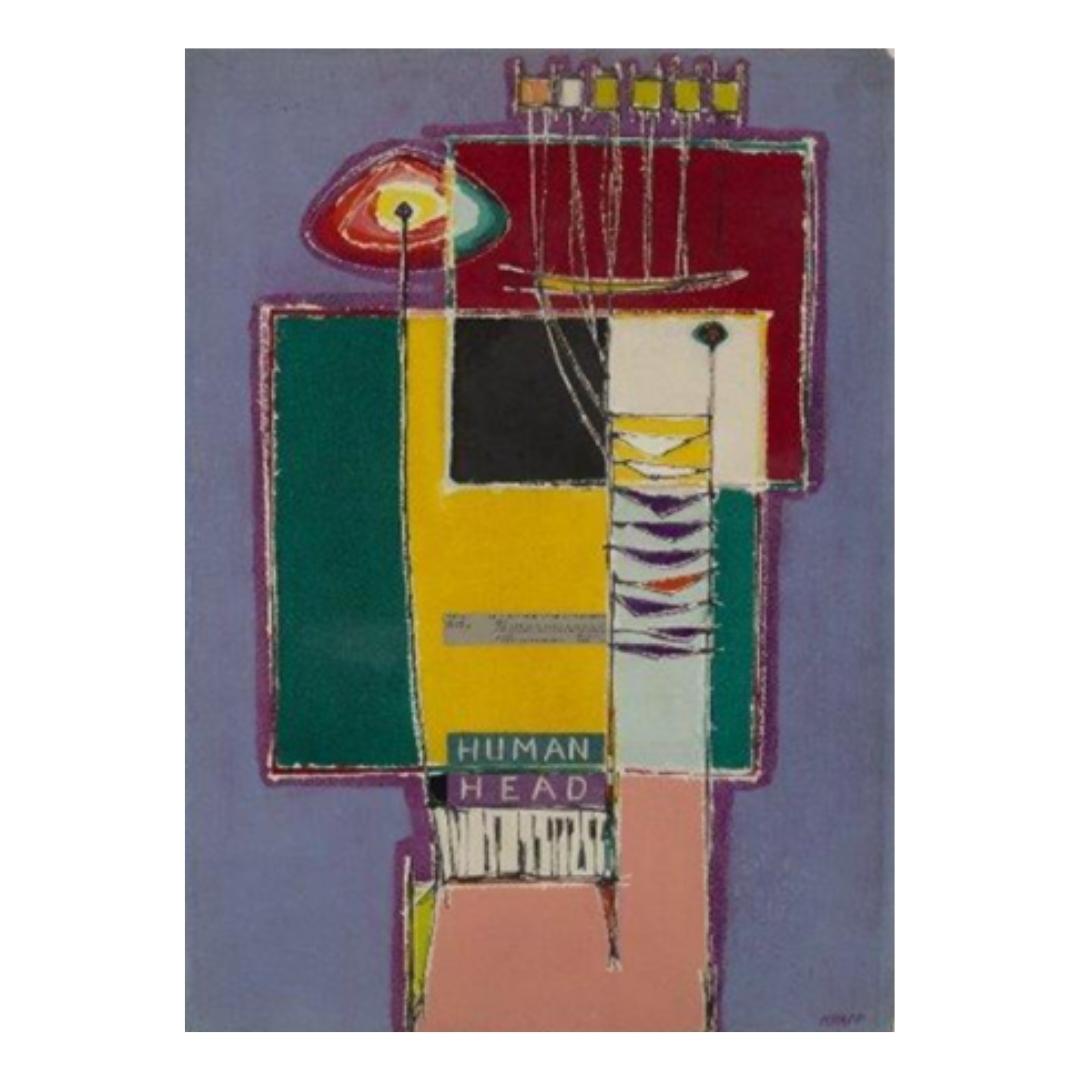 Lot 61: Stefan Knapp, Polish/British, 1921-1996- Human Head, 1956; acrylic on paper
Polish painter Stefan Knapp, (Lot 61 & 62 of this sale) was sent to a Siberian gulag at the outbreak of World War Two and stretched his creative impulse while interned by creating chess sets and playing cards from bread and garbage. He later volunteered and served in the British air force. Art remained a life-long therapy for Knapp dealing with trauma from the war and consequent insomnia.
The two World Wars had a shared psychological impact on both sides of the Pacific, namely that the concepts of unquestioning patriotism, the sanctity of life and the innocence of youth were destroyed (or at best, maimed) by the violence witnessed by soldiers and civilians. In 1944, Albert Camus wrote: "it is true that only one thing has ever been asked of our generation – that it should be able to cope with despair".
Existentialist ideologies took root in both continents as people questioned the purpose of life. Unlike the Lost Generation before them, this new generation of Existentialists didn't want to fix the world: they saw its broken nature and wanted to create new sub-worlds for themselves.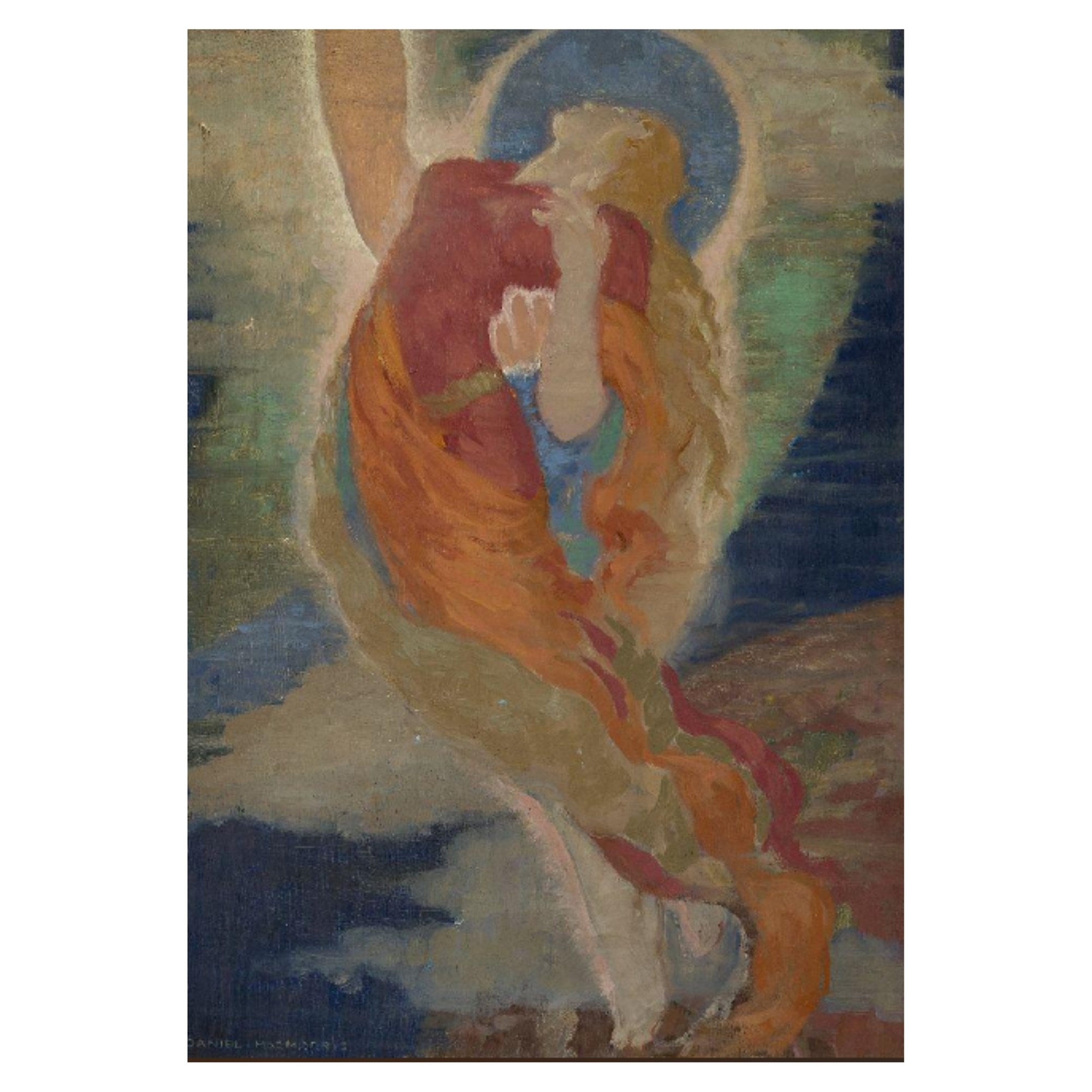 Daniel Leroy MacMorris, American 1893-1981- What is Desire?; oil on board

This existentialism took physical form in the art movements and groups of the day: the Angry Young Men and Kitchen Sink Realism in Britain, Beat Artists and Abstract Expressionists in America, Tachisme and Art Informel in Europe. In Lot 17, we see Daniel Leroy MacMorris' character fly into the ethereal sky asking the existentialist question "What is Desire?"
The subject of the human body took on new interpretations following the corporeal devastation witnessed by soldiers in the first half of the 20th Century. For painters like Pollock, the body became a tool - whereas for artists like Bacon, the human form took on a distinctly meat-like quality, as if the whole world were a butcher's shop.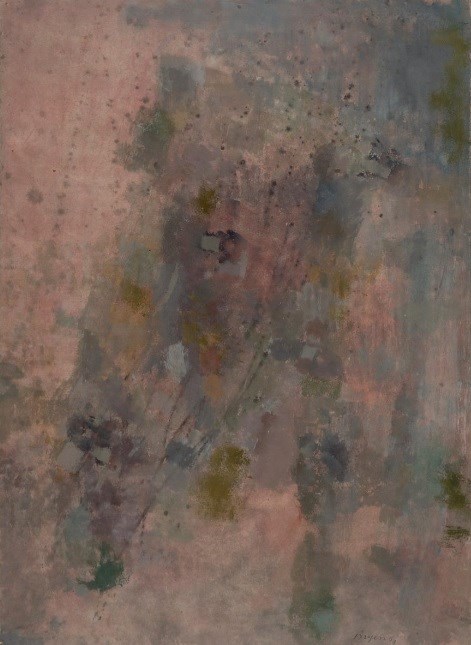 Camille Bryen, French 1907-1977- Untitled, 1961; watercolour
This convulsion towards the gestural was also occurring in Europe as Tachisme, under the umbrella of Art Informel. Lot 49, by artist Camille Bryen, shows typical Tachist lyrical-abstract style. Art Informel was all about rejecting reason for instinct because 'reason' had led mankind into two World Wars, a depression, European famine and catastrophic genocide. The 'rule book' of art was being thrown out by these new European artists.
A fundamental difference between the European and American experience of world War Two was that, while US soil was attacked a handful of times, huge swathes of Europe lay in complete ruins.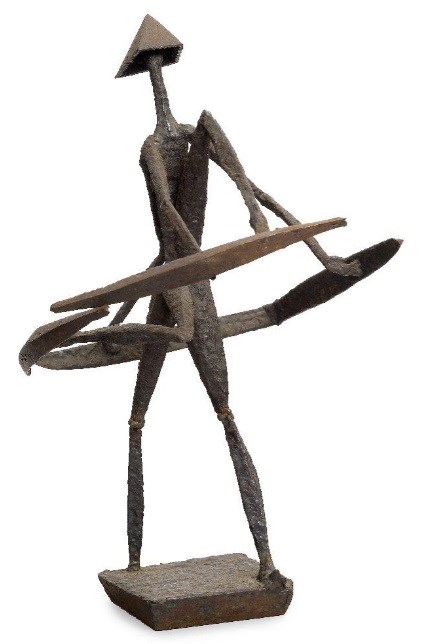 James Metcalf, American, 1925-2012- Abstract figure; bronze

Post-war, America had a vision of itself as a hero-nation who had swooped into Europe to snatch victory from the Nazis. James Metcalf – artist of Lot 53 – was a US war hero, who fought in the 88th infantry division aged just 18.  Metcalf served with heroism, lost three fingers while fighting, and went on to win the commission to forge the Olympic Torch for the 1968 games.
Many Europeans fled to America during the war to escape Nazi-occupied territories. This influx of artists (and their money) into America made New York the new international art capital of the world. J Robert Oppenheimer said after the war that "we knew the world would not be the same".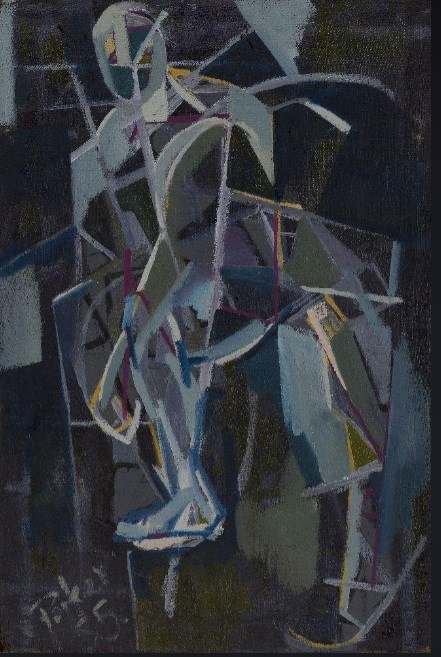 Bill Parker, American 1922-2009- Untitled abstracted figure; oil on sack-cloth


As many artists, writers, and philosophers relocated from war-torn Europe to America the lines between American- and European thinking became blurred. Key figures from the Bauhaus, as well as the likes of Mondrian, Ernst, Dali, Chagall, and Grosz all relocated to New York, bringing with them their artistic inspiration. A European influence is evident in the painting of American Bill Parker (Lot 51) who worked closely with Hans Hoffman and Fernand Leger.
The relocation of huge swathes of the population within Europe, too, had a massive artistic impact: Johnny Friedlaender (Lot 50) and his wife fled Nazi-occupied Germany in 1937 and relocated to Paris as political refugees. They were interned in several concentration camps during the war itself. German artist Francis Bott (Lot 59) also relocated to Paris in 1937 and his works went on to be exhibited in the 1947 Surrealist show organised by Breton and Duchamp.
How both continents dealt with the aftermath of the Second World War is currently being explored at the Post-war Modern exhibition at London's Barbican, which features 48 artists and 200 artworks.
-Ends-
The Modern & Contemporary Art Auction: Live Online-Only Auction
Wednesday 8 June, 11.00 am

We will be unable to facilitate room bidding or telephone bidding for this particular auction, however, you can leave absentee bids and online bidding is encouraged of course.
There will be no in-person viewing for the auction. Please contact sophiehetherton@roseberys.co.uk for condition reports and further information.
Please note the conditions of sale that relate to this catalogue.