A wide range of impressive works across various movements that define recent Western Art 
22/06/2020 News Stories & Press Release, Impressionist, Modern & Post War Art
ROSEBERYS LONDON : Roseberys is pleased to announce the much-anticipated Impressionist, Modern, Post-War & Contemporary Art auction to be held on 15th July 2020, starting at 1 pm.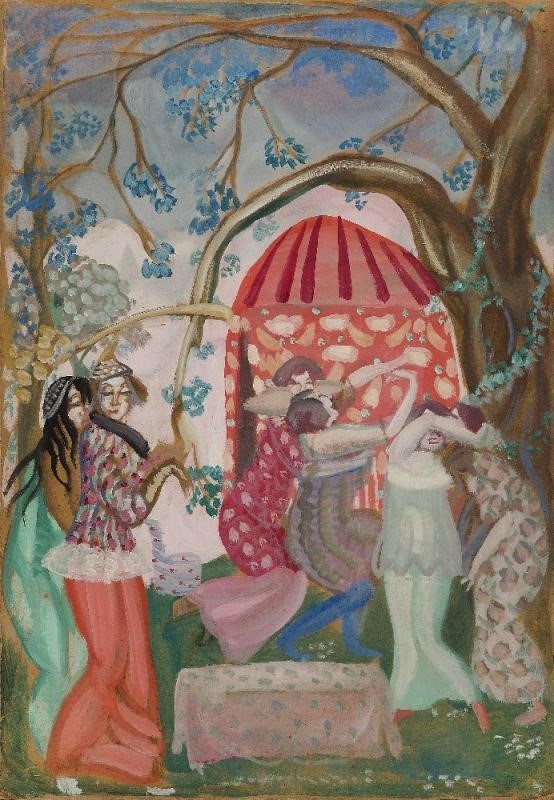 Boris Grigoriev, Russian 1886-1939У палатки (At the Tent), circa 1913; gouache
Highlights of this sale are to include an early gouache by the renowned Russian artist, Boris Grigoriev, titled 'At the Tent' (Lot 2). This painting originally came from the pre-revolutionary St. Petersburg collection of Alexander Evgenievich Burtsev, and remained with him until the 1917. Burtsev was a Russian bibliophile, bibliographer, publisher, art collector, author of ethnographic works and merchant of the first guild. As an honorary citizen of St. Petersburg, he gathered a large library of rare books and acquired a significant collection of autographs. On top of curating the library, he also arranged exhibitions of his collections and had ambitions to create a museum dedicated to new and innovative Russian art. Burtsev published journals on his collection including; 'My Journal for the Few', and it was for volume 9, issue 12 that this particular artwork was executed by Grigoriev. Burtsev also went on to publish a book about the artist; 'Boris Dmitrievich Grigoriev and his Artistic Work'. Lot 2 is entered into the auction with an estimate of £40,000 to £60,000.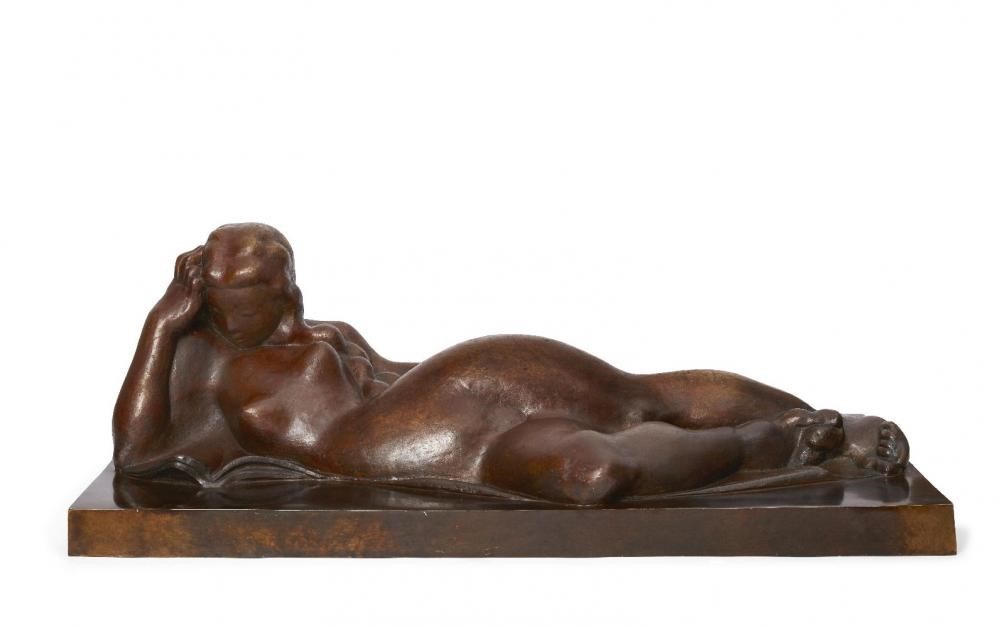 Joseph Csaky, Hungarian/ French 1888-1971; La Liseuse, 1938; Bronze, signed and numbered HC1 on the base
Lot 32 presents an impressive sculpture by Joseph Csaky, titled 'La Liseuse', cast in 1938. The artwork is a posthumous edition from the Blanchet-Landowski Foundry in Paris, after the original work of 1920, estimated to sell for £40,000-50,000. Csaky is considered one of the most important sculptors of the 20th Century. Initially studying in Budapest, Csaky moved to Paris in 1908, basing himself in a studio at La Ruche where his neighbours included Alexander Archipenko, Marc Chagall, Henri Laurens, Fernand Léger, and Chaim Soutine. Picasso and Braque at the time had just begun experimenting with Cubism, and Csáky and Archipenko were among the first artists to create Cubist sculptures. Csáky's present sculpture shows his more figurative style found towards the second half of his artistic career.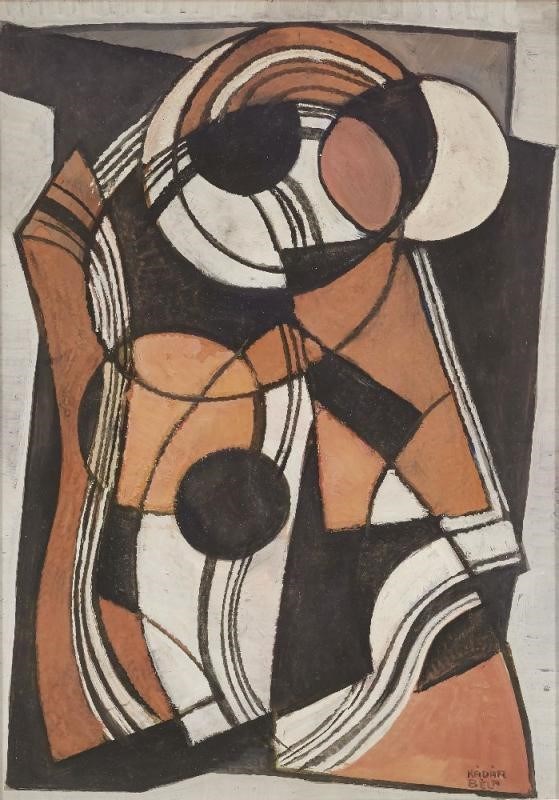 Béla Kádár, Hungarian 1877-1956, Abstract untitled, circa 1940; gouache on board
Another Eastern European piece within the sale is by the Hungairan artist Béla Kádár (Lot 38), Kádár became one of the most famous members of the early twentieth century Hungarian avant-garde movement. He notably employed aesthetics from a range of movements, such as Constructivism, Cubism, and German Expressionism, and focused on traditional Hungarian folklore to inspire his imagery. This abstract piece is estimated to sell between £6,000-£8,000.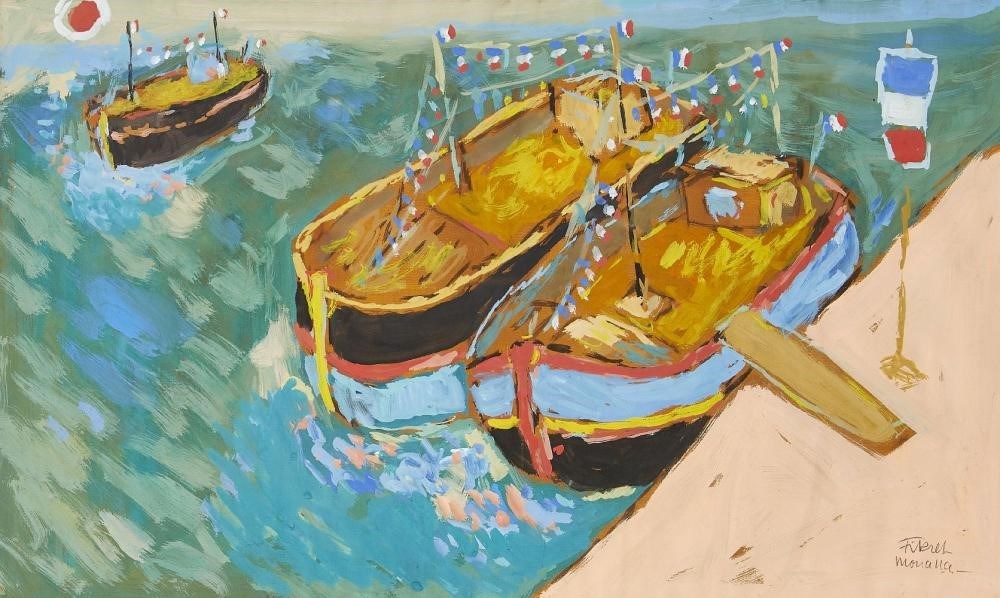 Fikret Mualla, Turkish 1903-1967- Péniches sur la Seine; gouache
Also included in the sale is a rare Fikret Mualla gouache, titled 'Péniches sur la Seine' (Lot 22), estimated to sell for £6,000-8,000. Turkish born Mualla - alongside Abidin Dino - is considered to be one of Turkey's most important 20th Century artists. Mualla moved to Paris in 1939. During this period in Paris he was influenced by the Fauvist artists and created these gouaches of block colours depicting scenes from Parisian society and life, such as the present work to be sold at Roseberys.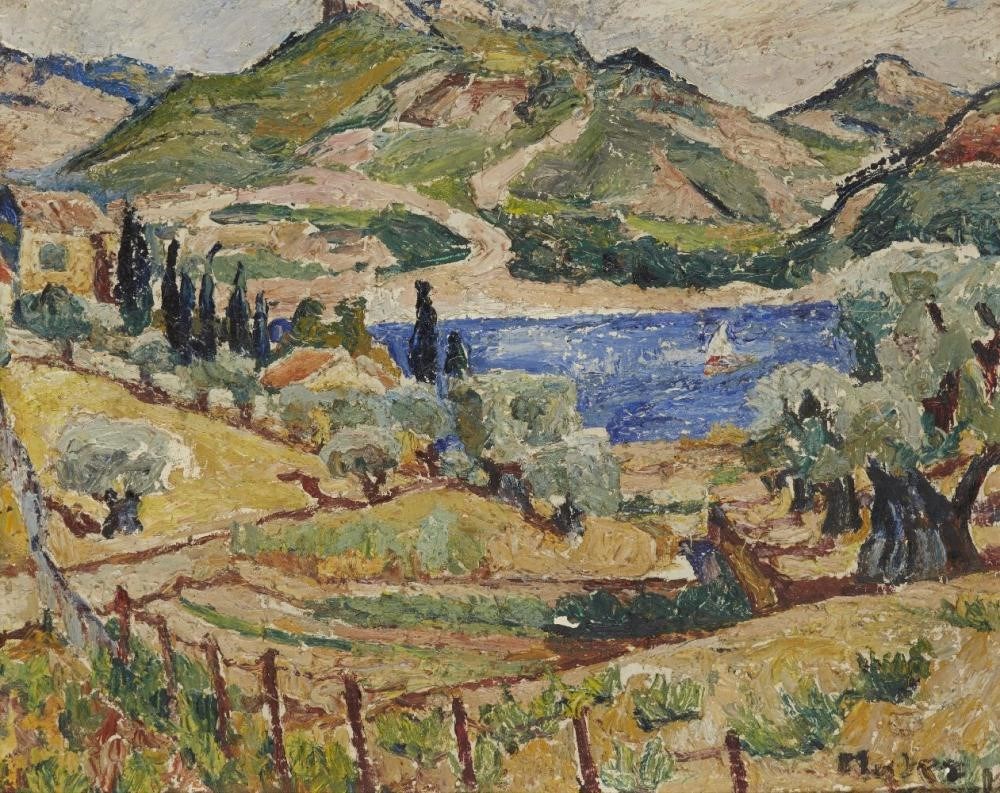 Maria-Mela Muter, French-Polish, 1876 - 1967- Landschaft; oil on board
Mela Muter - the pseudonym of Maria Melania Mutermilch, was one of the most significant Polish/Jewish female painters in Paris in the early 20th century. She studied at the Académie de la Grande Chaumière and the Académie Colarossi under Etienne Tournés. In Paris, Muter swiftly built a reputation as a portrait painter and exhibited her work regularly, first at the Paris Salon in 1902, and subsequently at the Salon des Indépendants, the Société Nationale des Beaux-Arts, the Salon des Tuileries as well as the Salon des Femmes Artistes Modernes. During her early years in Paris she was associated with the Polish elite; Leopold Gottlieb, Wladyslaw Reymont, Leopold Sraff, Stefan Żeromski, and Henri Barbusse, as well as other artists Auguste Peret, DiegoRivera and Rainer Maria Rilke, who would become one of her closest friends.  During the Second World War, Muter went into hiding in the South of France, from this point on she created Fauvist landscapes of the area, such as Lot 23 presented in this auction. 'Landschaft' is entered at a price of £5,000-7,000.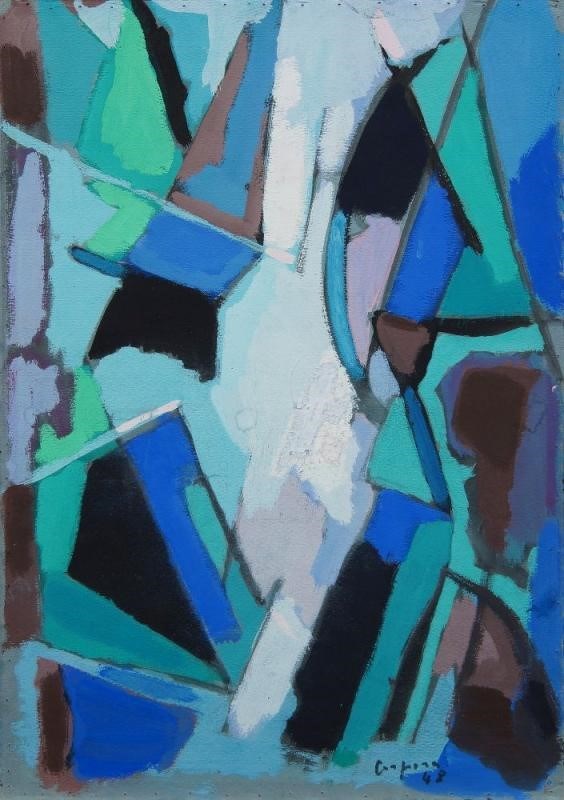 Antonio Corpora, Italian 1909-2004- Abstract in blue and green, 1948; gouache on card
A rare blue and green abstract by Antonio Corpora from 1948, estimated to sell for £3,000-5,000 is also included in the auction (lot 37). Corpora studied under Arman Vergeaud, at the art Academy in Tunisia.  Later he travelled to Europe and in 1931 settled in Paris, where he met Sergio Signori and Alberto Giacometti. In 1945, he would make Italy his home, where he collaborated with Guttuso, Fazzini and the other members of the 'Neo-Cubista' group. Towards the end of the 1940s, when this piece was created, he began to reject Cubist formulae and adopted a freer formula idiom.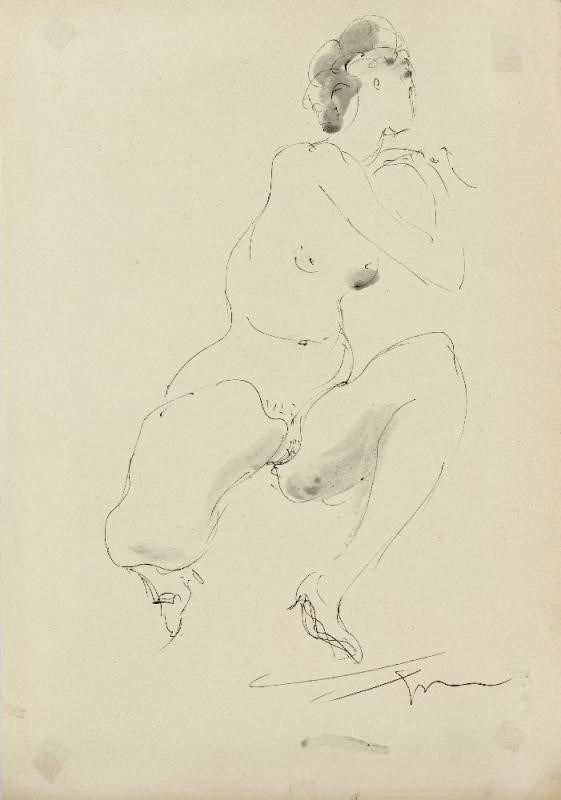 Lucio Fontana, Italian 1899- 1968 Nudo; black ink and wash on paper
Lot 35 presents the opportunity to own a work by the Italian artist Lucio Fontana; this nude drawing is one of the many drawings the artist produced during his artistic career. The drawing comes with strong provenance with it being originally from the Aliette Olivar sale at Sotheby's in 1980.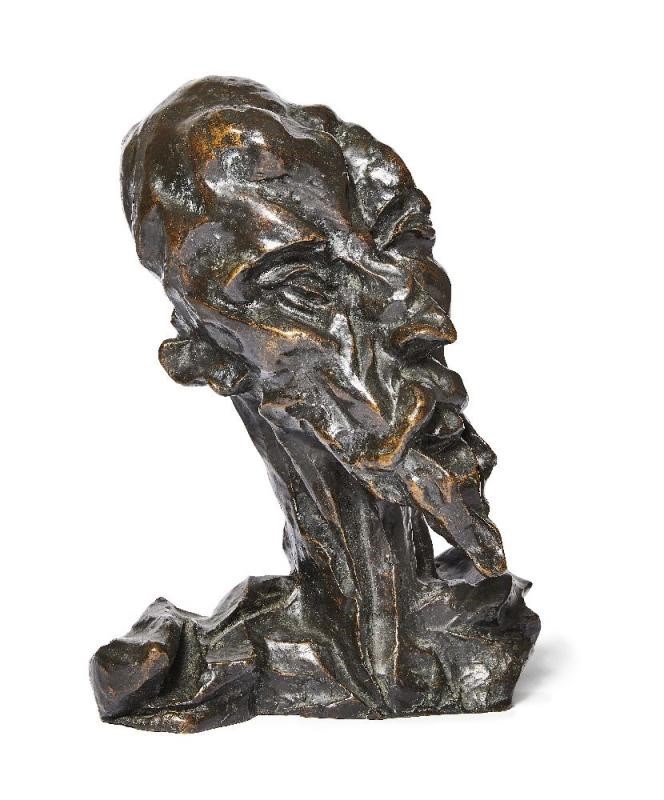 Otto Gutfreund, Czechoslovakian 1889-1927- Don Quixote, 1912/13; bronze
Lots 13 to 15 are sculptures by Otto Gutfreund.  The collection originated from the estate of Abe Gottlieb (died 1976), whom was President of Liberty Fabrics of New York based at 105 Madison Avenue, New York. He bought 45 recorded works from Eric Estorick from 24th July 1961 to 1st August 1966 including works by Kirchner, Archipenko, Mane-Katz, Epstein and Michael Ayrton. Lot 13 is estimated to sell for £1,200- £1,800 and Lot 15 estimated £1,500- £2,500.
Lot 117 Nicolas Pol, French b.1977- White You Eat Shit (at NeverLodge), 2015; mixed media on canvas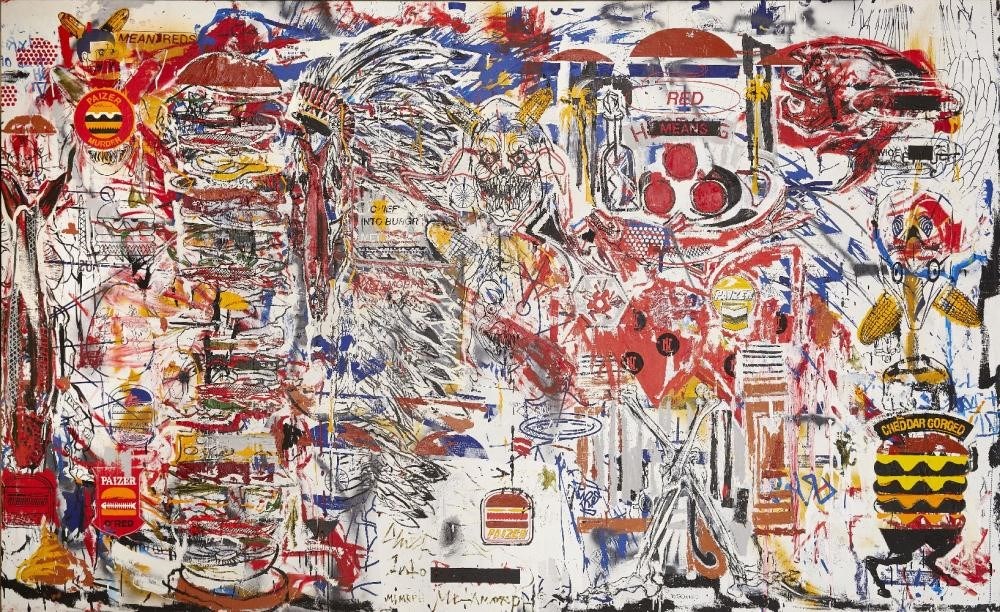 Lot 118 Nicolas Pol, French b.1977- Mean Reds, 2015; mixed media on canvas
Works by Paris based, French contemporary artist Nicolas Pol are also included in the sale. The two mixed media on canvases (Lot 117 and 118) are both inspired by Basquiat. Both canvases were exhibited at the OSME Gallery in Vienna in 2015. Lot 117, pictured above is estimated to sell for £5,000 - £8,000.  Lot 118, titled Mean Reds, is estimated to sell for £4,000 - £6,000.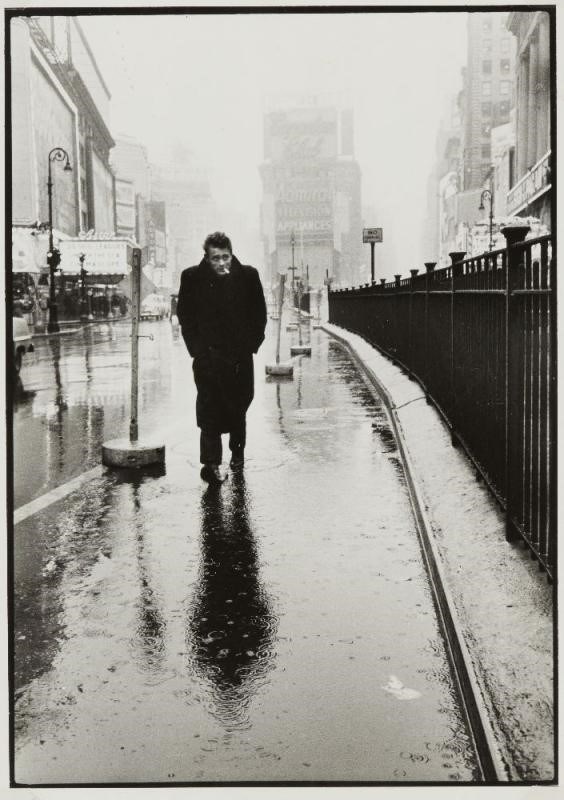 Dennis Stock, American, 1928-2010 James Dean on Times Square, New York , 1955; gelatin silver print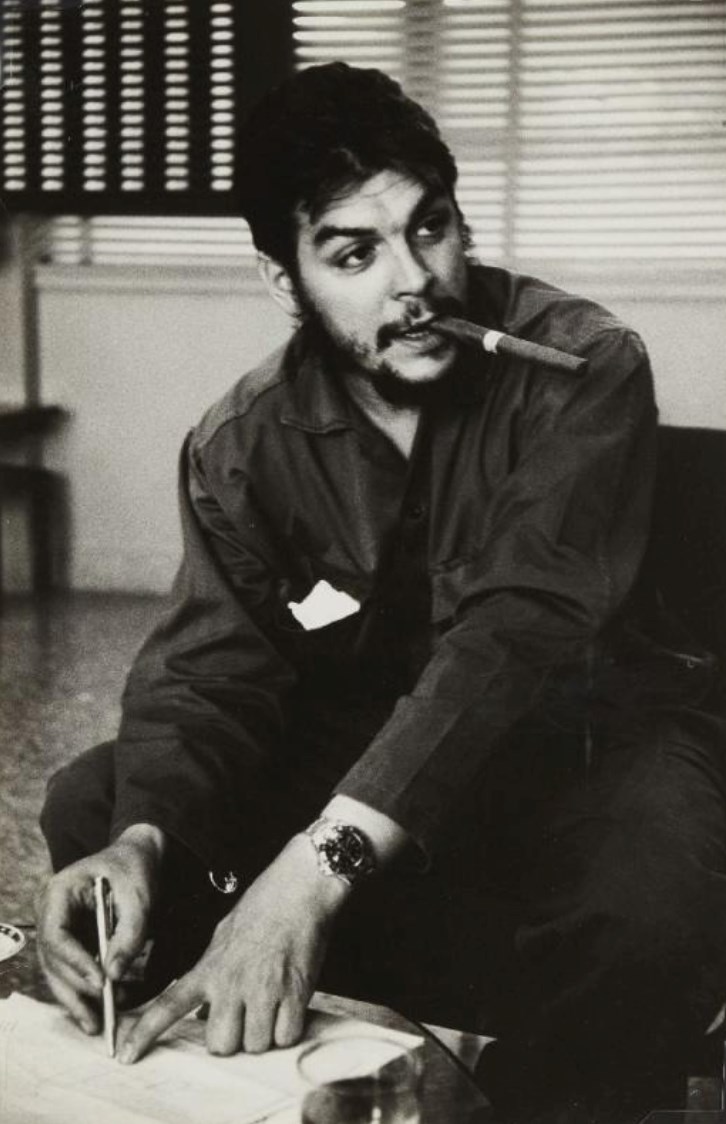 René Burri, Swiss 1933-2017- Che Guevara, Havana Cuba, 1963; gelatin silver print
Finishing off the sale is a small collection of Magnum black and white photography, including pieces by René Burri, André de Dienes and Dennis Stock (Lots 121-125). The sale features Dennis Stock's 'James Dean on Times Square, New York' one of the photographer's most iconic images. The collection has been acquired from Atlas Gallery, London, by the present owner. Estimated prices for this collection range from £300 to £3,000.
-Ends-
Impressionist, Modern, Post War & Contemporary Art
Wednesday 15 July 2020, 1 pm
Contact Head of sale Tess O'Brien for more information : tessobrien@roseberys.co.uk

Viewing information 

We will be facilitating time slot appointments of one hour each

Friday 10 July 10am-4pm (final time slot 4pm-5pm)
Monday 13 July 10am-4pm (final time slot 4pm-5pm)
Tuesday 14 July 10am-4pm (final time slot 4pm-5pm)

To make an appointment please email : pictures@roseberys.co.uk