A spotlight on Scottish Art
29/05/2020 News Stories & Press Release, Old Master & 19th Century Pictures
Scenes of distant highland vistas and rugged landscapes are usually the images most associated with Scottish art pre-1900, perhaps made famous by the likes of Alexander Nasmyth (1758-1840), his son, Patrick Nasmyth (1787-1831) and Horatio McCulloch RSA (1805-1867).
However, throughout the 18th and 19th Century a number of other Scottish artists were at the forefront of the European artistic scene, producing highly accomplished and engaging works which would go onto contribute and influence Modern Art.
Within Roseberys upcoming Old Master, 18th & 19th Century Pictures, there is a wide range of works of art by Scottish artists. The highly anticipated auction that will take place on Thursday 4 June, 1pm includes works by Alan Ramsay, Sir David Wilkie RA, John Robertson Reid RI ROI, amongst other renown names.
Here we get to know more about the Scottish artists and lots in the upcoming sale.  
Allan Ramsay (1713-1784)
Ramsay is considered to be one of the most prominent Scottish portrait painters. A likeable and well-educated character, he saw a productive career across Europe that led him to be appointed Principal Painter in Ordinary to King George III in 1761.
In his lifetime he travelled extensively, which ultimately contributed to his accomplished and fashionable style. A number of his sketches and portraits display French influences, particularly the portrait of his second wife, Margaret Lindsay of Evelick (Scottish National Portrait Gallery, NG 430).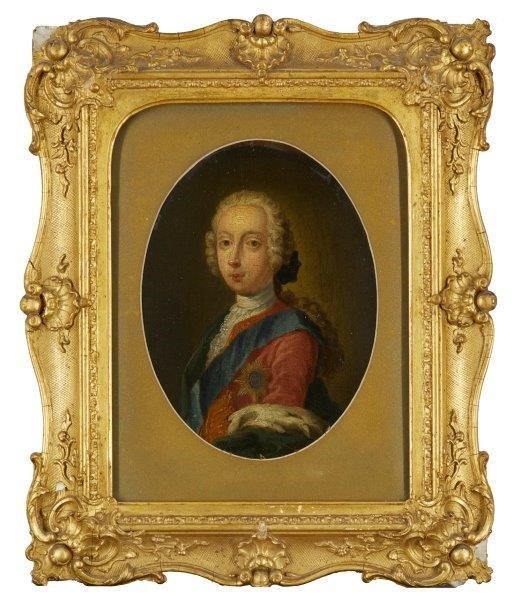 Lot 154 : After Allan Ramsay, Scottish 1713-1784- Portrait of Prince Charles Edward Stuart, three-quarter-length, in a red coat and blue sash and star of the order of the garter; oil on board
His portraits would also go onto inspire other artists; Lot 154 in Roseberys' Old Master, 18th & 19th Century art auction 4th June displays a portrait of Prince Charles Edward Stuart, after Allan Ramsay. The original work by Ramsay was completed in 1745 and is currently held in the Scottish National Portrait Gallery (PG 3762). Numerous copies of this painting along with copies of Antonio David's portraits (official painter to the exiled Jacobite court in Rome) were circulated to the family's followers around Europe as a propaganda tool for instilling support for the Jacobite cause.
Sir David Wilkie RA (1785-1841)
Another Scottish appearance in Roseberys' auction comes in the form of sketches by Sir David Wilkie (Lots 202 and 203). Known for his genre scenes depicting the traditions and simplicity of rural life, these works are preliminary sketches to some of the artist's more well-known paintings, including one sketch of the figures from The Peep-o'-Day Boys' Cabin, in the West of Ireland, 1835-6, held by the Tate (N00332).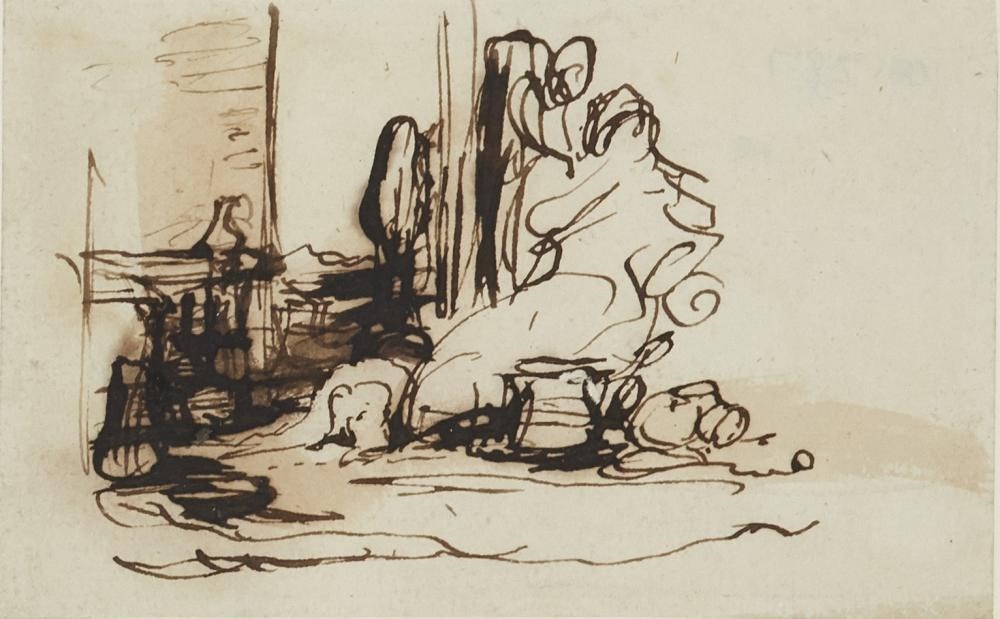 Lot 203 : Sir David Wilkie RA, Scottish 1785-1841- Sketch for the painting The Peep O'Day Boys Cabin in the West of Ireland; pen and brown ink
Lot 224 ' Circle of David Wilkie RA, Scottish 1785-1841- An evening banquet; oil on panel' - most likely inspired by Wilkie - shows a scene of elegantly dressed figures attending an evening banquet, in what appears to be a rocky, outdoor landscape. Although we are unable to determine the event which is being depicted, the composition and the use of chiaroscuro (the strong contrasts between light and dark) display many similarities to Wilkie's other works.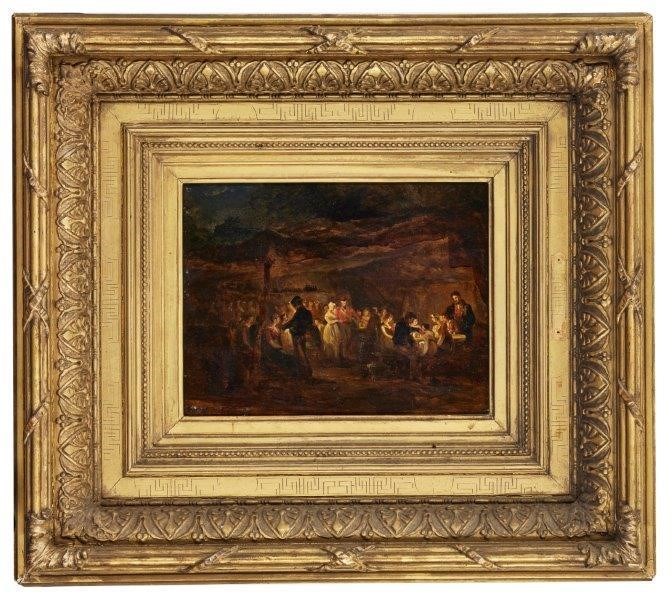 Lot 224 : Circle of David Wilkie RA, Scottish 1785-1841- An evening banquet; oil on panel
Ultimately, Wilkie's style falls into two brackets; his early paintings - showing Dutch and Flemish influence through the depiction of genre scenes and detailed finishes, and the later period, arising from his tour of the Continent between 1825 and 1827. A visible change is seen in his style and compositions after this period; paintings were produced in richer palettes and a more expressive technique, portraying historical events associated with the numerous places he visited during his travels.
Unfortunately his popularity dwindled amongst the public at the time - their preference was for his genre scenes, but his continuation of Royal portrait commissions never saw him short of work in his later years. When he died at sea in 1841, his death was captured by his friend J.M.W. Turner, in Peace - Burial at Sea.
John Robertson Reid RI ROI (1851-1926)
Another Scottish highlight included in Roseberys' Old Master, 18th & 19th Century Art auction is an oil painting by this Scottish artist, titled Idle Moments, completed in 1876 (Lot 320)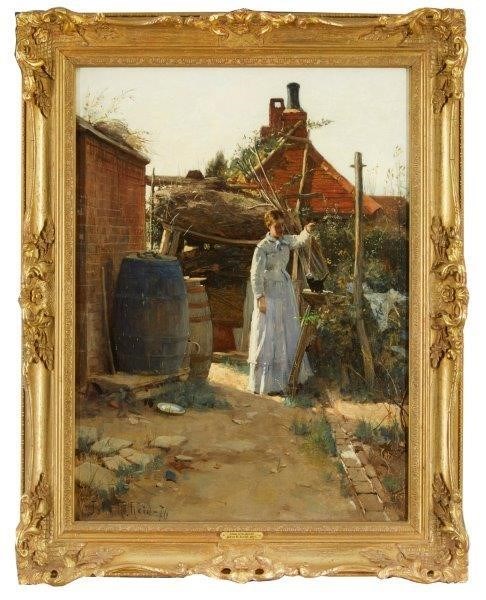 Lot 320 : John Robertson Reid RI ROI, Scottish 1851-1926- Idle Moments; oil on canvas
Reid originally trained at the Edinburgh School of Art and the Royal Scottish Academy under the guidance of George Chalmers and William MacTaggart, before heading to the South of England in the 1870s.
It is thought he began painting en plein air in 1874, the same year of the first Impressionist exhibition in Paris, and two years before the present work was completed. Clearly, this practised skill has had the desired effect and Reid confidently depicts the sun casting its light on the back of the young female figure, focusing the eye on her playful interaction with the kitten on the pedestal, whilst leaving the foreground in subtle shadow. Reid often hired local villagers to pose in his scenes, fascinated with the gestures of candid social activity and the subtle expression of character in his subjects.
Reid was pioneering in Britain for publicly supporting the en plein air method, but instead of his style following the path of the Impressionists it subsequently displays similarities with the French Realism of Jules Bastien-Lepage and the Naturalism of Sir George Clausen. He began exhibiting at the Royal Academy from 1877 onwards, and eventually became the President of the Society of British Artists in 1886 and the Society of Sculptors, Painters and Gravers in 1898.
James Paterson PRSW RSA RWS (1854-1932)
'The Glasgow Boys' should be the first thought to spring to mind when discussing this artist. A leading figure of this group, Paterson is an important artist to address when looking at in Scottish Art during the second half of the 19th Century.
Paterson's work predominantly focused on landscapes, with figures playing a minor role in the composition. After studying at Glasgow School of Art and in Paris, Paterson travelled around France and Italy in the following years, settling in Moniaive, Dumfriesshire with his wife in 1884 before finally moving to Edinburgh in 1905 and becoming a prominent member of the Royal Scottish Academy.
Alongside James Guthrie (1859-1930), John Lavery (1856-1941) and Paterson's school friend William York Macgregor (1855-1923), their paintings present the beginnings of Scottish Modernism. (Back in 2015, Roseberys set an auction record for a painting by Macgregor at £9,840 (inc. buyer's premium)(Lot 627).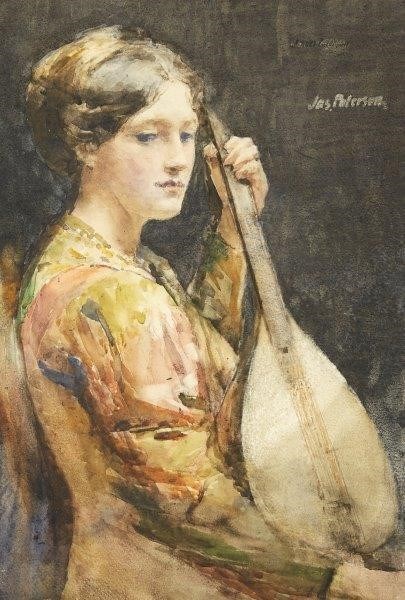 Lot 319 : James Paterson, Scottish 1854-1932- The lute player; watercolour and pencil
Lot 319  by James Paterson, titled 'The lute player' a watercolour and pencil' is one of Paterson's rare portraits completed in watercolour, portraying a seated woman holding a lute - an excellent example of his draughtsmanship and typical of his portrait style. Paterson completed a number of sketched portraits of high-profile contemporaries after he had settled in Edinburgh.
Paterson was elected to the Royal Scottish Society of Painters in Watercolour in 1885, became an associate member of the Royal Scottish Academy in 1896 and was awarded full membership of the Royal Scottish Academy in 1910, and eventually became President of the Royal Scottish Society of Painters in Watercolours in 1922.
Summarising two centuries of Scottish Art is no easy task, and ultimately the artists listed above only provide a very small spotlight on the vast expanse of styles and artists around in the 18th and 19th Century. These Scottish masters were inspired by their cultural heritage, surrounding landscape and their European neighbours, to ultimately bring a unique contribution to the artistic scene.
The Scottish paintings included in Roseberys' Old Master, 18th & 19th Century auction on the 4th June showcase some excellent and rare examples of art produced by prominent Scottish artists of the period.
REGISTER TO SIGN-UP FOR KEY WORD ALERTS
VIEW THE OLD MASTERS, 18TH & 19TH CENTURY CATALOGUE
CONSIGN OLD MASTERS WORKS OF ART