A magnificent portrait by the Studio of Sir Peter Lely highlights auction
5/08/2021 News Stories & Press Release, Old Master & 19th Century Pictures
The debut auction for Lara L'vov-Basirov, the newly appointed Associate Specialist of the Old Master & 19th Century Pictures department at Roseberys was a success, including many incredible prices for pictures.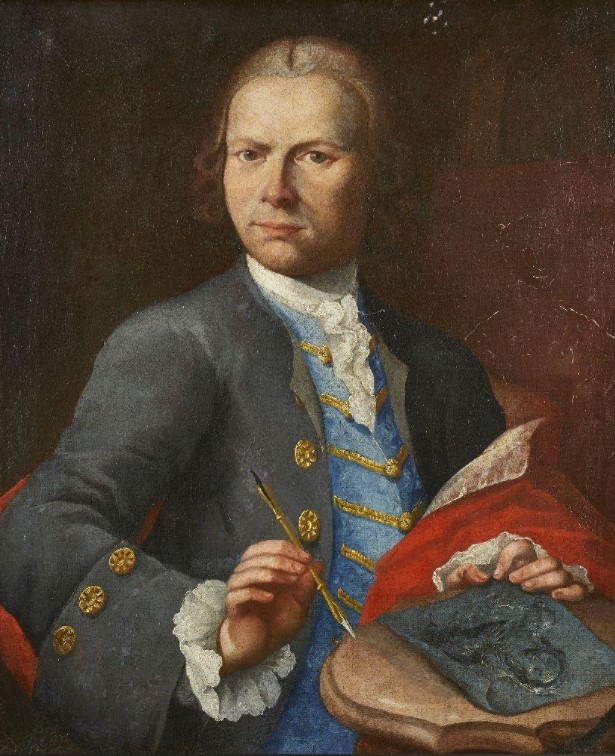 Nathaniel Hone RA, Irish 1718-1784- Portrait of an artist holding a drawing, an unfinished canvas beyond; oil on canvas
Lara L'vov-Basirov comments: Demand remains strong for works of quality and which are either fresh to the market or have prestigious historic provenance, in particular, for the early works, with the first third of the sale performing exceptionally well. 17th and 18th Century English portraiture had a particular strong presence in the sale. Portraits by Nathaniel Hone (lot 43), George Knapton, on pastel, which is rare in the artist's oeuvre, (lot 40), and a particularly charming work by the Circle of Hogarth (lot 45) contribute to this theme. The Lely was the outstanding highlight of the sale, fetching £18,750. The price realised reflects the portrait's historic importance, compositional strength, overall presentation, and its distinguished provenance. Bidders turned up for the small but important group of works on paper by George Frederic Watts OMRA, with all lots by the artist selling well. The final price realised for the Cooke of £12,250, demonstrates that the Victorian market is still very much buoyant when the works on offer are strong. The Cooke is a particularly fine example of the artist's work, is in excellent original condition, and has excellent provenance – all reflected in the strong price achieved. Portraiture had a successful time in the sale on the 20th July. Among the top 8 highest prices, four of these were portraits. Victorian portraiture in the sale did particularly well. Works by rarer 19th Century and Victorian artists, who don't come to the market so often, performed well, for example, William Charles Dobson (lot 132, £4,250), Louis Priou (lot 182, £1,500), Joshua Hargrave Sams Mann (lot 183, £1,500), F. Mason (lot 185, £3000), and Lucie Attinger (lot 226, £6,875). Two strong oils after Turner (lots 74 and 75) sold above their high estimates, reflecting the universal popularity for works connected to the great English Romantic painter. The 18th-century British landscape section performed well, reflecting the quality of the works on offer – those by Francis Nicholson (lot 56), John Nixon (lot 58), Samuel Atkins (lot 60), Julius Caesar Ibbetson (lot 61 and 62), William Marlow (lot 63), and John Cordrey (lot 66) all performing very well. As usual with our auctions, Golden Age Dutch portraiture had a good time at the sale, fetching strong prices. Roseberys are particularly strong in this area. A portrait after Sir Anthony Van Dyck, and previously attributed to William Dobson, sold extremely well at £4,750, against pre-sale estimates of £300-£500. The bidders clearly recognised the quality in the work, as well as the strong provenance.'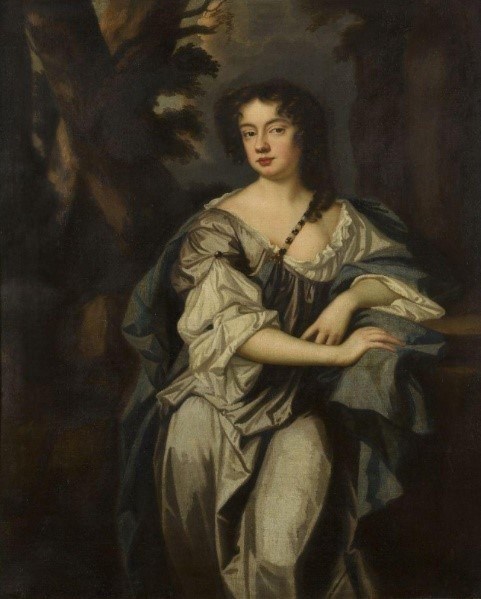 Studio of Sir Peter Lely, British 1618-1680- Portrait of Miss Elizabeth Lewis, standing three-quarter length, wearing a green cloak fixed by a jewelled clasp in a landscape setting; oil on canvas

A magnificent portrait by the Studio of Sir Peter Lely (lot 26) was the highlight of the sale. Estimated to make £4,000 - £6,000, the oil on canvas portrait of Miss Elizabeth Lewis, bearing old labels attached to the reverse and measuring 125.5 x 101 cm made £18,750 at auction. Elizabeth Lewis (c.1657-1696) was the daughter of a London vintner, Sir Thomas Lewis, who traded to Aleppo. Elizabeth married Thomas Whitley of Peele, Chester in 1680. After his children's two deaths in 1696, old Lewis sold the house and estate, which likely included the present work, to the Dashwood family. Later, the Dashwood family was connected to the Manners family through the marriage of Vice Admiral William Dashwood's daughter to the 2nd Baron Manners in 1828, and the portrait was sold at Christie's in 1971 with other pictures belonging to the 4th Baron. The present work was likely painted in around 1677, when Elizabeth was aged twenty, as a product of the increasing gentrification of her father. Lely is known to have painted many female portraits around this time.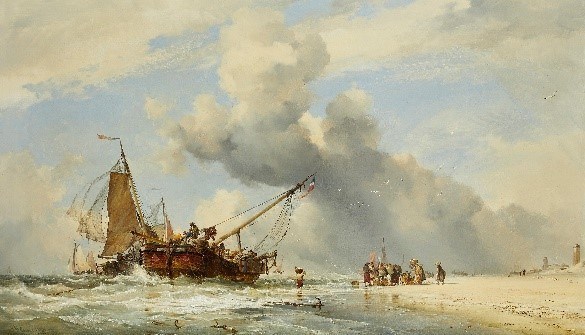 Edward William Cooke RA, British 1811-1880- Fishermen landing their catch at Scheveningen; oil on canvas
A highlight maritime work sold by a British Master, was lot 115 by Edward William Cooke RA, 1811-1880- Fishermen landing their catch at Scheveningen; signed and dated '1852', measuring 55 x 94.5 cm. The oil on canvas that came with a pre-sale guided price of £8,000 - £12,000 sold for £12,250. Cooke studied under the prominent landscape painter James Stark, and also received guidance from artists such as David Roberts and Clarkson Stanfield. He was particularly interested in marine landscapes, and was heavily influenced by the work of seventeenth-century Dutch marine painters, as is evident in this piece. Indeed, the setting of this work in Scheveningen, recalls one of Cooke's most notable works, 'Beaching a Pink at Scheveningen', which was exhibited at the Royal Academy in 1855 and is currently in the collection of the National Maritime Museum in London.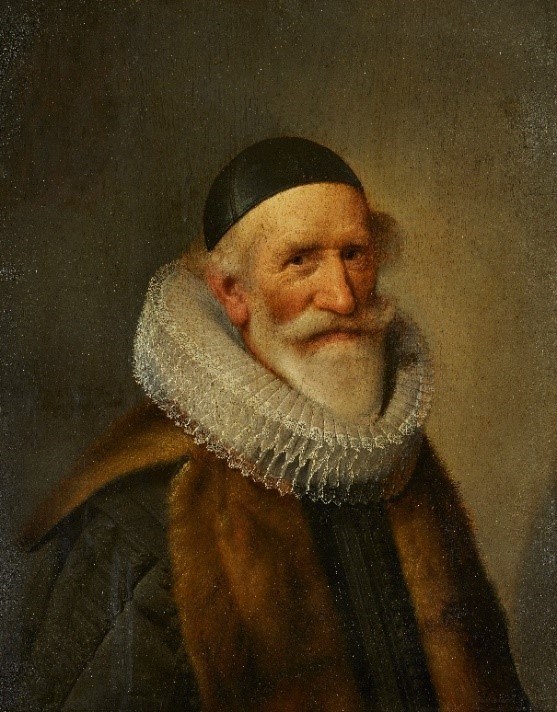 Willem Willemsz. van der Vliet, Dutch c.1584-1642- Portrait of a man, aged 52, traditionally identified as Reinier Pauw, in black embroidered dress, fur collar, white lace ruff and a skull cap; oil on panel

Following strong results in the last Old Master & 19th Century Pictures auction, Roseberys once again had a fine selection of Dutch portraits on offer, including a superb 'Study of an old man with a gold chain' after Rembrandt's original in the Museum Hessen Kassel in Germany (lot 18); and a sensitively rendered oil on oval canvas after Karel van der Pluym (lot 21), amongst others. An arresting portrait by the Circle of Johann (Jan) Kupetzki also featured. Highlighting this section was an exquisitely painted portrait by Willem Willemsz. van der Vliet, c.1584-1642 (lot 14), which was fresh to the market and a rare offering at auction. The portrait sold for £10,000 to a RoseberysLive online bidder based in New York.  The oil on panel, portrait of a man, aged 52, traditionally identified as Reinier Pauw, in black embroidered dress, fur collar, white lace ruff and a skull cap, measures 67.5 x 54.2 cm, and comes from a Private Collection, in the UK. Reinier Pauw (1564-1636) was born and lived in Amsterdam. He was an important Dutch nobleman and politician, holding the positions of Burgomaster, Councilman, Alderman and Mayor to Amsterdam as well as Ambassador to England. The traditional identification of the variant portrait to Pauw is based loosely on resemblance, and its accuracy should therefore be questioned. Although relatively little is known about Van der Vliet's life, he gained enough acclaim in his own lifetime to be included in the list of eminent Delft painters in Dirck van Bleyswijck's Beschryving der Stadt Delft (Description of the City of Delft, published in 1667). He began his career as a history painter, training with the court painter Michiel Jansz. van Mierevelt, before registering as a master at the local Guild of Saint Luke in 1615, and later becoming an accomplished portrait painter.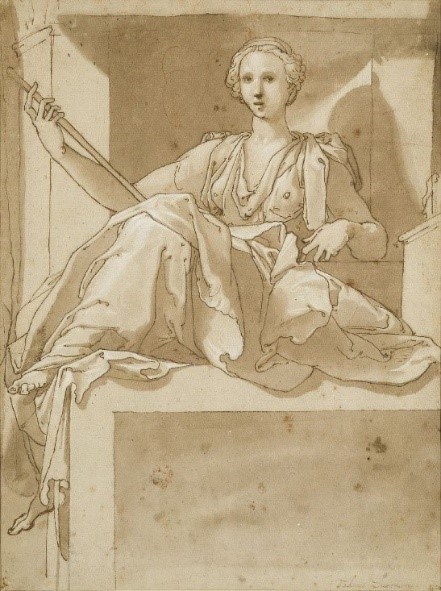 Studio of Taddeo Zuccaro, Italian 1529-1566- Seated woman holding a staff; 
pen and brown ink and brown wash heightened with white, with traces of red chalk on cream laid paper
A work on paper, coming from the studio of Italian artist Taddeo Zuccaro, was another leading portrait in the sale. Lot 2, Seated Woman holding a staff, sold for £7,500 to a RoseberysLive online bidder based in France. Taddeo Zuccaro was an Italian painter, one of the most popular members of the Roman mannerist school. The figure in this drawing appears over the window in the Sala dei Fasti Farnesiani of the Palazzo Farnese in Rome. Taddeo Zuccaro, was asked to complete the two short walls of the chamber in Palazzo, however, upon his sudden death in September of 1566 the work remained unfinished and was finally completed by his younger brother Federico. The present drawing is one of at least eight sheets related to the figure, thought to represent Valor. Initially the work could be interpreted as a studio copy due to the heavier use of wash and thinner white heightening to flatten the overall effect, however, it may also be a study of light and shade. It was meant to serve as a useful document as it moved through the design and production phases, and as such is a contemporary copy that had a purpose and function. The present drawing was probably executed under Taddeo's strict supervision between 1564 and 1566 or his brother Federico when he came on board later in 1566. This work of art is an essential part of the fabric and context behind the Farnese Palace's design. This lot has come from highly regarded collections over the last four hundred years.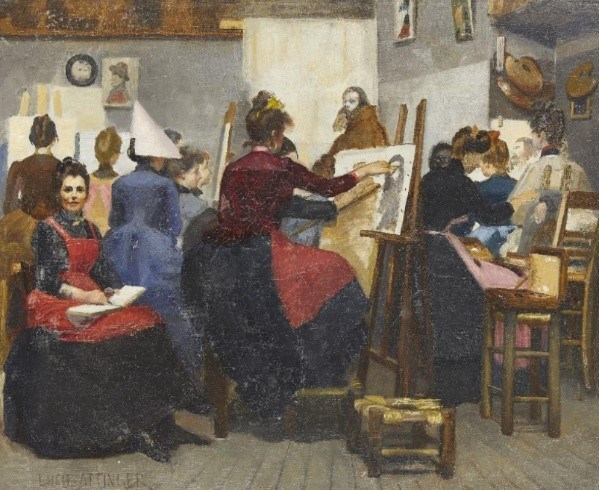 Lucie Attinger,  Swiss 1859-1928-  Mon atelier;  oil on canvas

Entered onto the market with an estimate of £1,500 - £2,000, lot 226, Lucie Attinger, Swiss 1859-1928- Mon atelier; oil on canvas, signed and inscribed, measuring 38 x 45.4 cm, sold for £6,875.  The work that came with a provenance from Christie's London, depicts an artist's studio from the perspective of the artist herself. Whilst the majority of the figures have their back turned, the woman on the left faces the viewer directly, clearly sketching what is in front of her, and making the viewer aware of the artist's position in relation to everyone else in the room. She is possibly a self-portrait.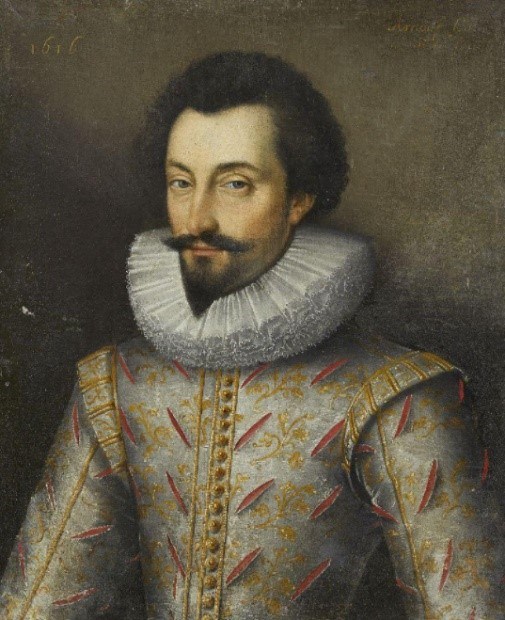 French School, early/mid 17th century- Portrait of a gentleman, quarter-length, turned to the left, in a silver doublet with gold embroidery and ruff; oil on canvas
Lot 15 an oil on canvas, French School, early/mid 17th century- Portrait of a gentleman, indistinctly inscribed 'Arnouf Go...' and dated '1616', sold for £6,875, against an estimate of £2,000 - £3,000. Measuring 65.5 x 55 cm, the portrait displays a fashionable gentleman of the period wearing a silver satin doublet with embroidered gold floral motifs and slashing. The use of slashing would have been to show off the sitter's red lining or shirt underneath, and also to create patterns in the doublet. It began appearing around the 1610s/1620s and was to become a common feature of fashionable men's clothing.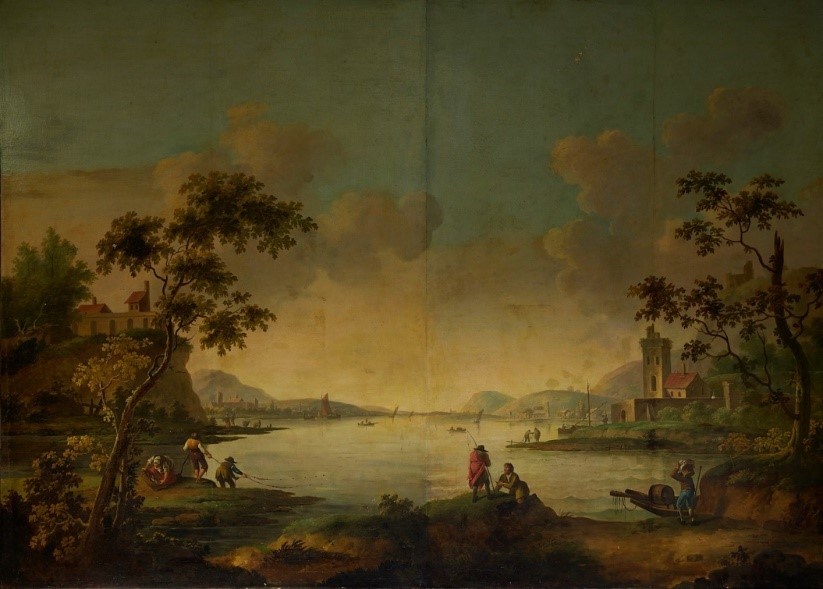 Circle of Claude-Joseph Vernet, French 1714-1789- Capriccios of fisherfolk unloading their catch on the shores of a harbour with shipping, fortified promontories and woodland; oil on canvas

Lot 227, a pair of oils on canvas, Circle of Claude-Joseph Vernet, French 1714-1789- Capriccios of fisherfolk unloading their catch on the shores of a harbour with shipping, fortified promontories and woodland; each measuring 225 x 335 cm, made £6,250 at auction. The works follow a similar style and format to Vernet's pairs of canvases produced during the second half of the 18th century. Vernet was renowned for his Mediterranean harbour scenes, particularly after he was commissioned to produce large scale topographical views of the Ports of France for Louis XV in 1753-65. Vernet completed fifteen of these compositions, all depicting the major military and commercials ports, around the French coast. The arcadian scenes are very likely Northern European, possibly French, capriccios with fishermen and locals included in the composition. Interestingly the works present an amalgamation of styles and themes: the atmosphere, along with the hints of classically inspired architecture, is predominantly Italian in feel, while the figures are constructed with northern European naturalism in mind – a technique typically adopted by Vernet.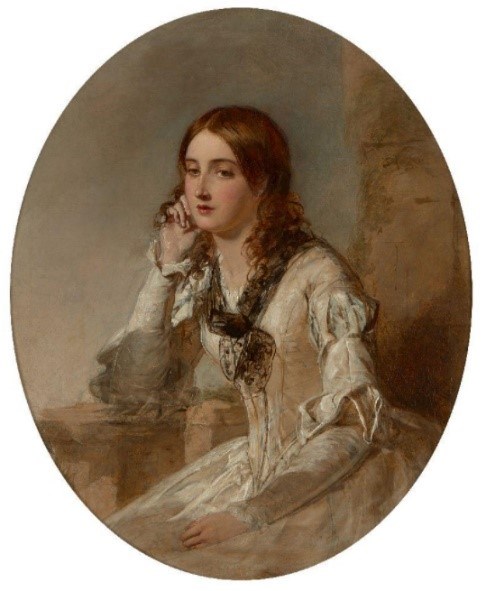 William Powell Frith RA, British 1819-1909- Olivia, c.1848; pencil and oil on canvas, oval
Lot 135, by William Powell Frith RA, British 1819-1909- Olivia, c.1848; pencil and oil on canvas, oval, sold for £6,000 against an estimate of £3,000 - £5,000. Measuring 35.7 x 29 cm, the work was originally commissioned by Charles Heath for his Shakespeare's heroines series; With Thomas Agnew & Sons, London. William Powell Frith, the leading painter of modern life in the Victorian age, began his career in the 1840s painting scenes of historical genre. As part of a group known as 'The Clique', which included the artists Richard Dadd, Augustus Egg, Alfred Elmore and John Phillip, Frith contributed paintings that were used as illustrations to editions of Shakespeare and poetry. 'The Clique' was a sketching society which regularly met and, as a member recalled, was 'principally devoted to the selection of subjects for illustrations and the adjudication of honours to those whose illustration was considered best. The subjects chosen were incidents chiefly from Byron or Shakespeare. This charming portrait is from this early period of Frith's career and depicts Olivia from Shakespeare's 'Twelfth Night', Act 1. Sc.5. In 1848, the engraver and publisher Charles Heath published his book of Shakespeare's heroines illustrated with 'drawings by eminent artists', which included works by both Frith and Augustus Egg. Frith chose Audrey and Olivia and painted these subjects for the engraver. Frith painted more than one version of 'Olivia' and was often commissioned to make copies of his paintings. William Henry Mote's engraving shows the Shakespearean heroine in a different position to this painting, and this work is probably Frith's first treatment of the subject.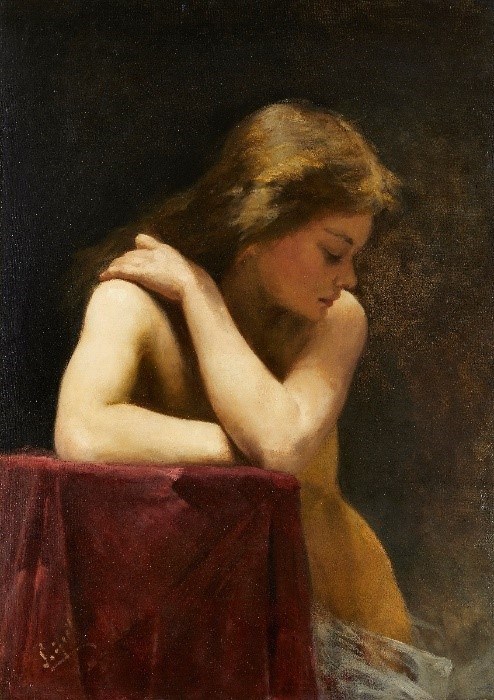 Alfred Seifert, Czech 1850-1901- Study of a standing nude; oil on canvas
Lot 181, Alfred Seifert, Czech 1850-1901- Study of a standing nude; oil on canvas made £5,000 against a pre-sale estimate of £2,000 - £3,000. Measuring 86.9 x 62.8 cm, this work came with a provenance from Sotheby's, London. Seifert was taught by Karl Würbs and Alois Kirnig, before moving on to study at the Academy of Fine Arts in Munich. He is best known for his serene and contemplative portraits of lone female figures, like the present work. Here, the sitter, seemingly lost in thought, is bathed in a strong light emanating from above.
-ENDS-
Please find all the results to this auction here
The next Old Master & 19th Century Pictures auction will take place on Wednesday 17 November
The department are now welcoming consignments for inclusion of this auction. Please contact pictures@roseberys.co.uk for a complimentary valuation of your item
Please contact Marketing & PR Manager for any further information : peigimackillop@roseberys.co.uk