A great range of top and middle tier British artist at attractive price points
24/07/2020 Modern & Contemporary British Art, News Stories & Press Release
Roseberys London: A wide range of work by significant artists will be on offer at Rosebery's Modern & Contemporary British Art auction on Tuesday 11 August, starting at 12 noon. Modern British art continues to be a growing sector within the art market and is a successful department at Roseberys. The collection on offer provides exciting opportunities for the new and seasoned collector alike. 
Vicki Wonfor, Joint Managing Director of Roseberys comments: The Modern & Contemporary British Art auction continues to present a really great range of top and middle tier British artist at attractive price points. The sale is always a popular one and we are delighted to have so many pieces that are fresh to the market on offer. With us all spending more time in our homes an auction like this is perfect to find a special piece of art. We also have some real statement pieces for the serious collector; a highlight is the large format red Verona marble sculpture by Stephen Cox RA, this piece titled 'Ecstacy: St Agatha' was exhibited on the Millbank lawn of the Tate, it would be a great investment for someone with such fantastic provenance and to be able to own an important work by a highly regarded and talented British Artist. The estimate is £3,000-5,000.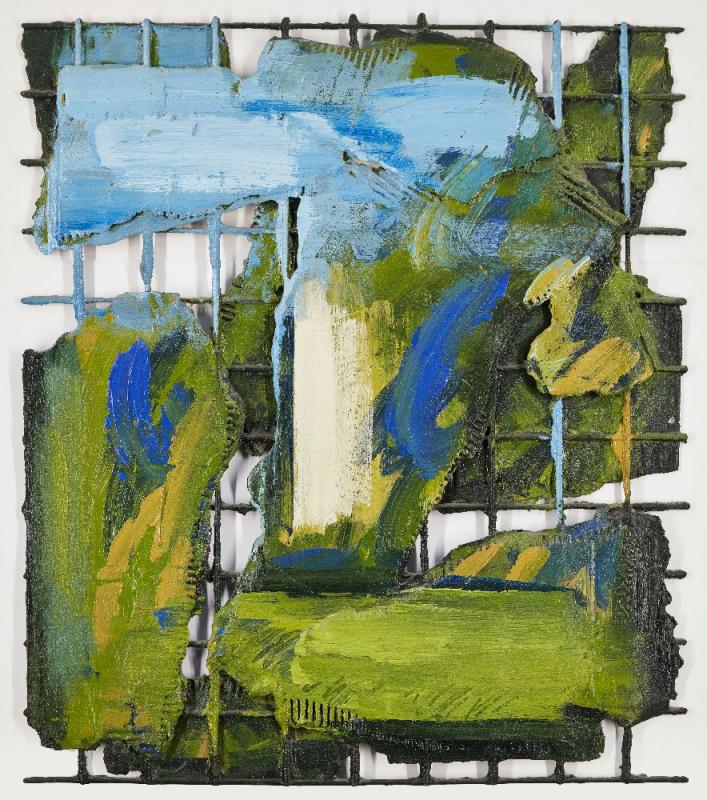 Lot 2 : William Tillyer, British b.1938- Untitled, 1980; mixed media, welded wire mesh, acrylic, and cardboard
Entered into the market at £5,000- £8,000, lot 2 is a mixed media artwork on welded wire mesh, acrylic, and cardboard, by contemporary British artist William Tillyer. Lot 2, was purchased from Bernard Jacobson gallery London in 1980s by the current owner's father. The artwork was exhibited at the Bernard Jacobson Gallery, London in 1980. Tillyer studied at Middlesbrough College of Art (1956-1959) and the Slade School of Art in London (1960-1962). In 1978, he moved to Wiltshire, where he first began to paint on wire mesh, such as this piece. Admired by fellow artists and collectors, his work has been shown frequently in the UK and internationally since the late 1950s. There are at least 15 works by Tillyer in the Tate collection, other examples of his work are also included in the collections of the Museum of Modern Art, New York, the Brooklyn Art Museum, the Fort Worth Art Museum, Texas, the Smith College Museum of Art and the V&A museum.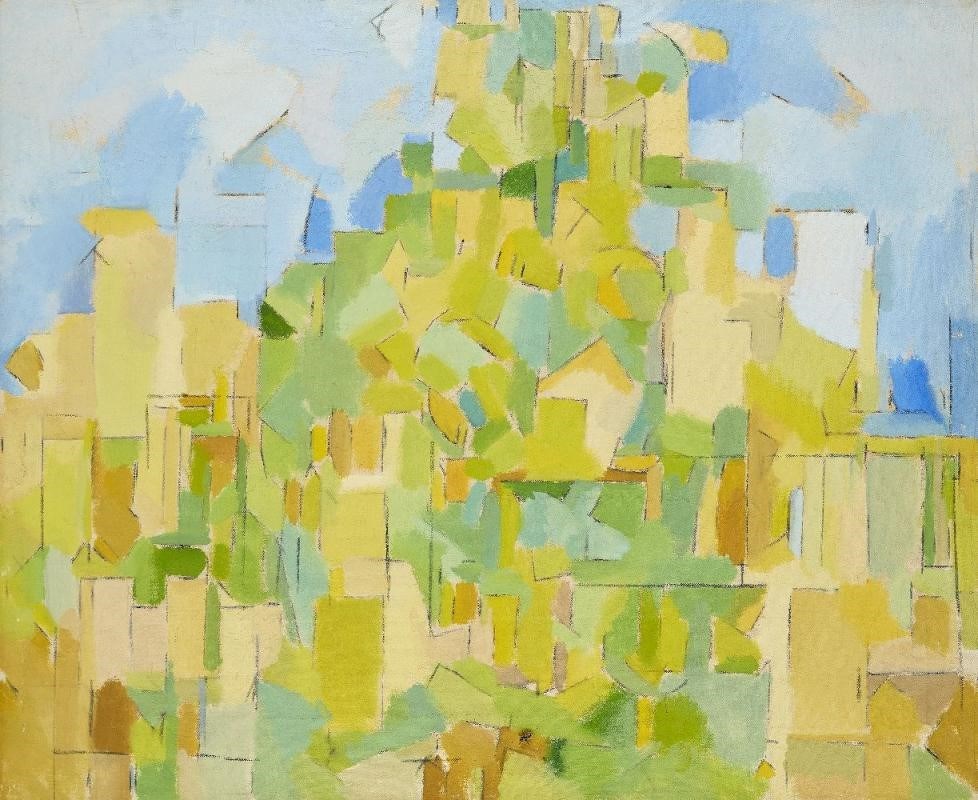 Philip Sutton RA, British b.1928- Village Garden, Jan Feb 1956; oil on canvas
Following this highlight is lot 3. The oil on canvas by Philip Sutton RA, titled Village Garden, painted in 1956, is estimated to sell for £1,000- £1,500. After attending the Slade School of Arts where his contemporaries were Craigie Aitcheson, Michael Andrews and Euan Uglow, Sutton's stylistic freedom and vivid use of colour swiftly attracted attention. After being asked to become a Royal Academician in 1988, Sutton has developed an international following. His work has been displayed at The Royal Academy, The Tate, The Globe, The Welsh Assembly, Kensington Palace, & The UK Parliament, and exhibited outside of the UK in Paris, Sydney, and Chicago.
After selling work by Richard Smith,CBE in the former Modern & Contemporary British Art sale for £102,500 earlier this year, Roseberys are delighted to offer work by the English painter and printmaker once again. On offer within the upcoming auction is six lots by the artist. One of the highlights out of the collection of work is lot 6 titled 'Manhattan II'. The acrylic on canvas, mixed media construction created in 1978 is estimated to sell for £4,000- £6,000. Another highlight by the artist is lot 7, titled 'Bucklee', created in 1972.  Bucklee" is a pun on the name Stephen Buckley, a dear friend of Richard Smiths who owned works by the fellow Pop artist. The oil, wood and canvas artwork, was bought from Christie's in 2013 and purchased by the present owner from the Roger Hilton Gallery.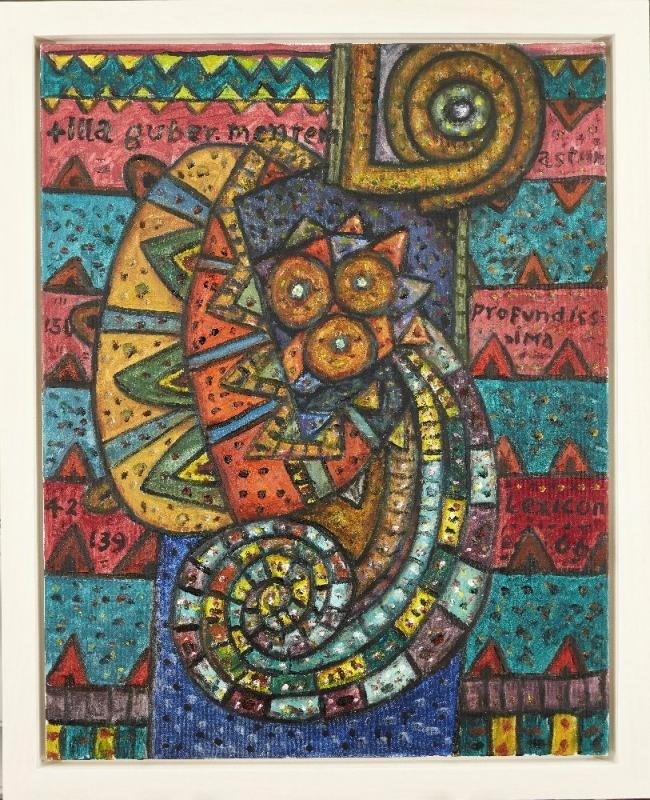 Lot 13 : Alan Davie CBE RA HRSW, Scottish 1920-2014- Illa Guber Mentem, 2010; oil on canvas
Estimated to sell for £8,000- £12,000, is lot 13 by Scottish artist Alan Davie CBE RA HRSW. Titled 'Illa Guber Mentem' this oil on canvas, painted in 2010, came from the private collection of the Estate of Alan Davie from Gimpels Fils Fine Art, London. Alan Davie is strongly inspired by Zen philosophies, his work usually consists of responsive and spontaneous primitive compositions painted with obsessive, conglomerate mark-making to form abstract images. His influences and references within his work are wide-ranging, and include Pictish symbol stones, Jungian psychoanalysis, contemporary abstract painters and his love of music.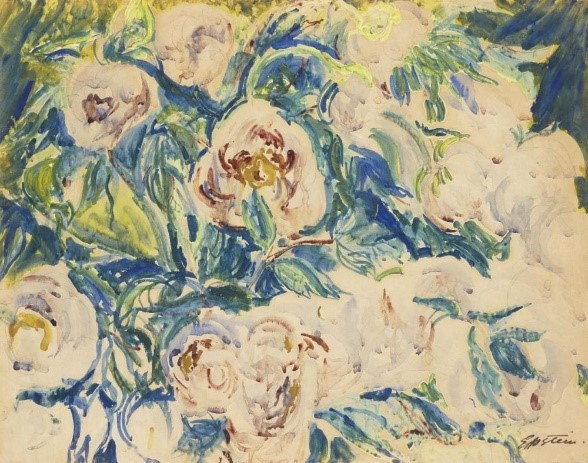 Lot 35 : Sir Jacob Epstein, British 1880-1959- Peonies; watercolour on paper
Among the other highlights on offer is work by Sir Jacob Epstein, titled 'Peonies'. Jacob Epstein made his name as a sculptor of monuments and portraits, as well as working as a painter and illustrator. The watercolour on paper (lot 35) is estimated to sell for £1,000 - £1,500 and comes from the Arthur Tooth & Sons Ltd. Gallery in London.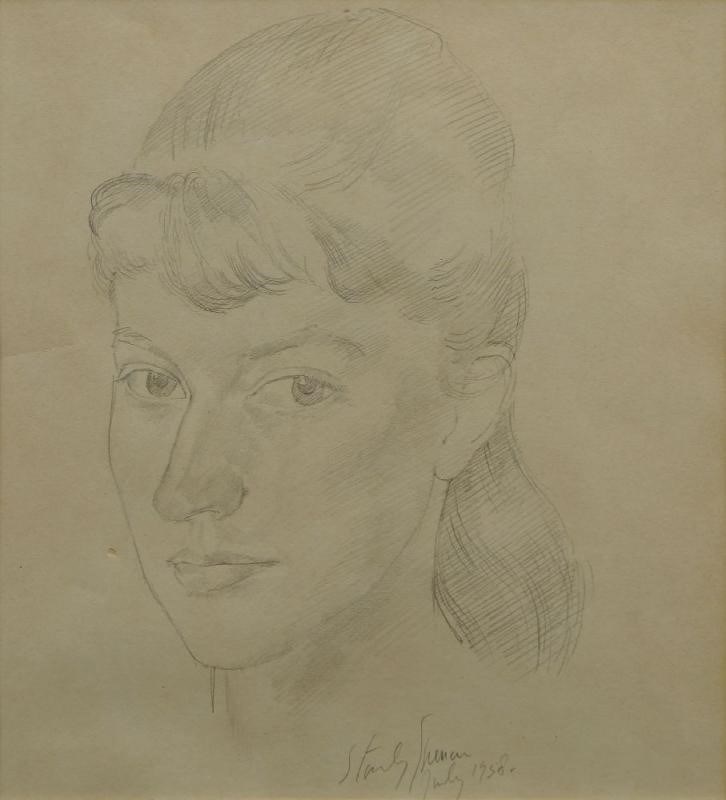 Sir Stanley Spencer CBE RA, British 1891-1959- Portrait of a girl; pencil on paper
On offer at £2,000- £3,000 is a beautiful piece of work by British artist, Sir Stanley Spencer CBE RA. Titled 'Portrait of a girl' the pencil on paper is signed and dated July 1958. This particular drawing would have been executed over a year before the artist's death on 14th December 1959. Spencer was frequently commissioned to complete portrait drawings - referred to as 'heads' - until the end of his career. The fine lines and precision of the drawing shows the influence of his time at the Slade under the tutelage of Henry Tonks between 1908 and 1912. The 'Portrait of a girl' was gifted to the present owner by Jackie Babcock, a friend of Sir Stanley Spencer.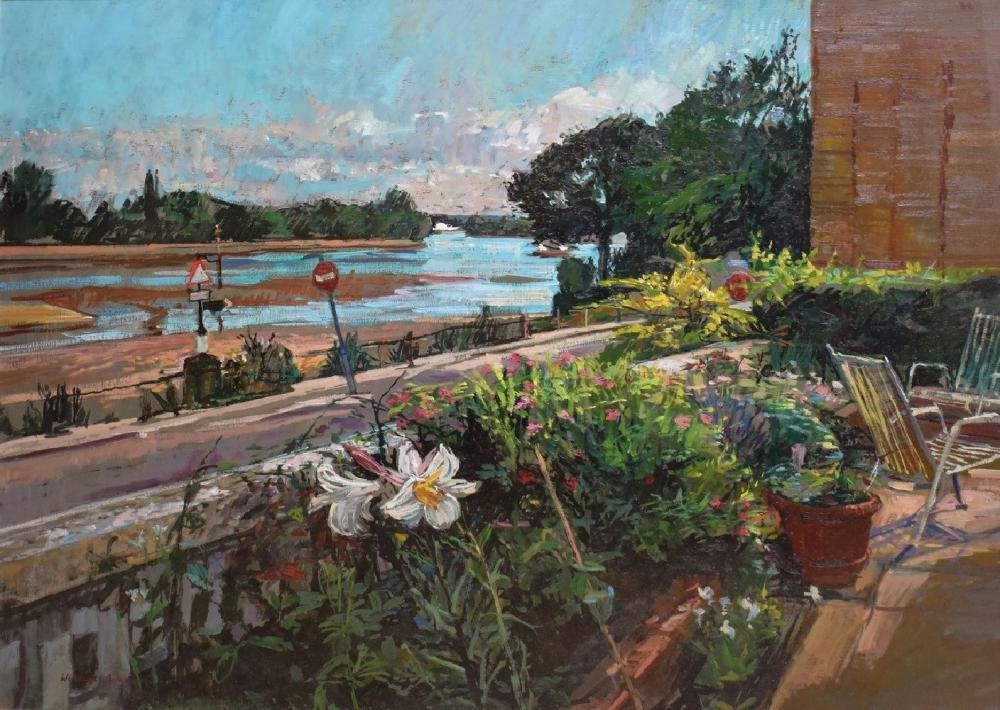 Lot 91 : William Bowyer RA, British 1926-2015- Heron House Garden, Chiswick; oil on canvas, signed
Entered into the auction at £1,500- £2,000 is an oil on canvas by William Bowyer RA titled 'Heron House Garden, Chiswick'. Heron House depicted in the artwork was first called The Hollies. From 1895 Mr Barnaby, John Thornycroft's chief engineer, lived here, followed by Neville Heaton, a senior civil servant who led the team that put through the 1944 Butler Education Act, which set policy for the next four decades, came to live here in 1941. Sir Gilbert Flemming, Permanent Secretary to the Ministry of Education, lived here during the 1950s and 60s.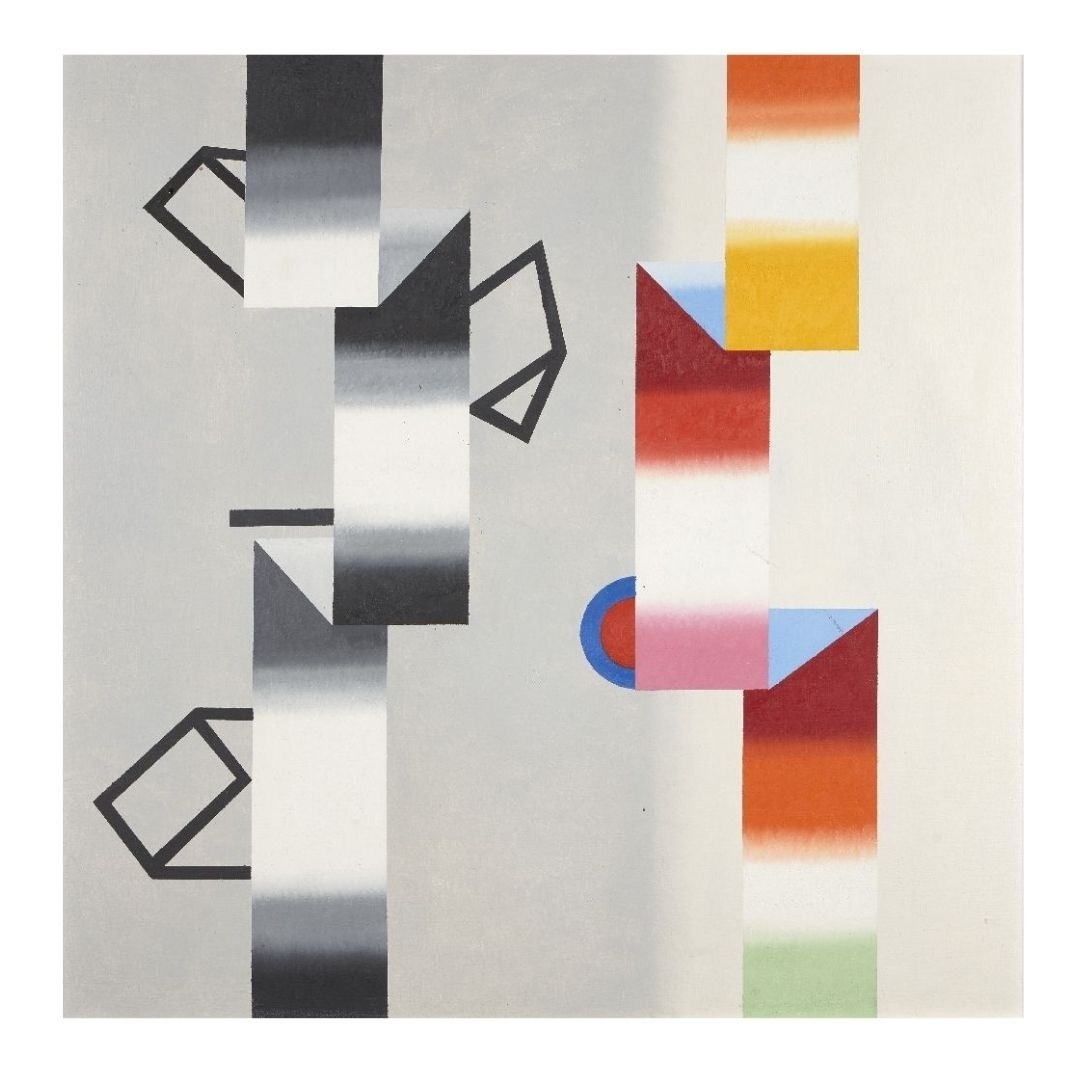 Lot 120: Jack Smith, British 1928-2011- Celebration. Light and Sound 1, 1989; oil on canvas
The work by British realist and, later, abstract artist Jack Smith is titled 'Celebration. Light and Sound 1'. The oil on canvas was painted later in his career in 1989 and came to Roseberys from the Robert Heller estate, and formerly at the Flowers Gallery in London. The abstract work is estimated to sell for £2,000- £3,000.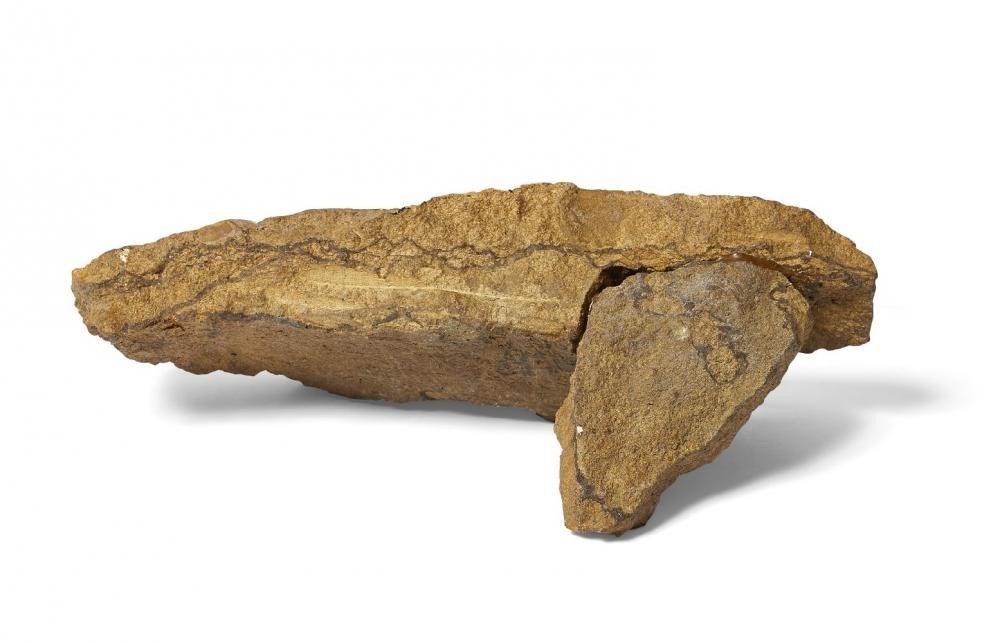 Lot 163 : Barry Flanagan OBE RA, Welsh 1941-2009- To Plough; Horton stone
One highlight from the sculpture section is lot 163 by Welsh artist Barry Flanagan OBE RA.' To Plough' is made from Horton stone and signed with the artists initials, titled and numbered IV VIIV. Executed in 1975, this work is unique and has been estimated to sell at £3,000- £5,000.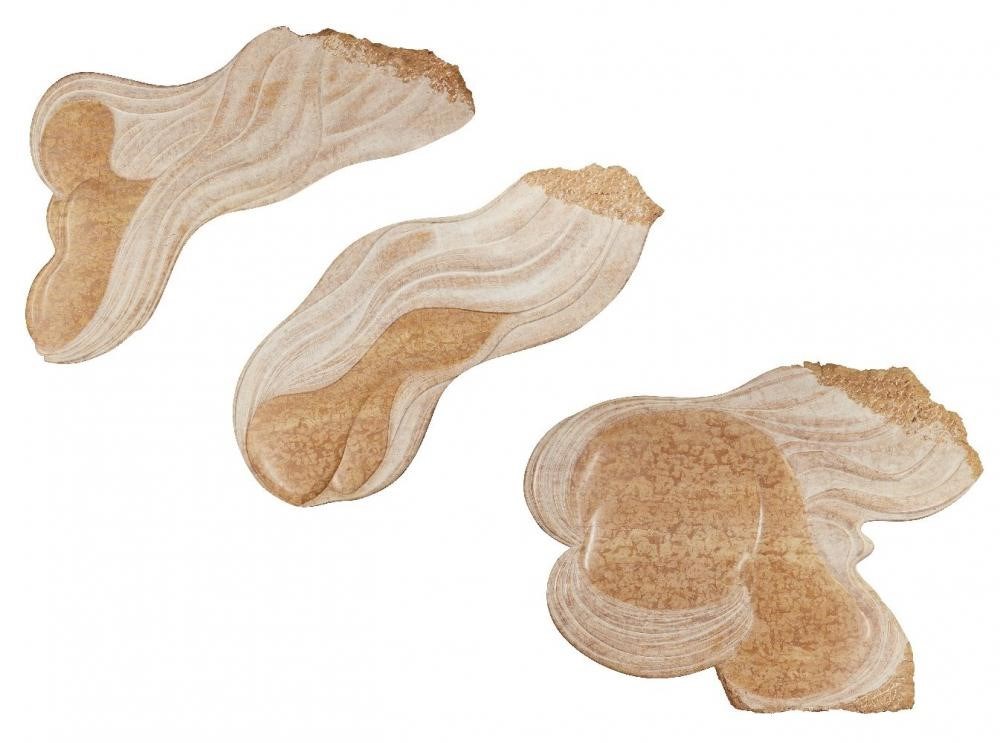 Lot 172 : Stephen Cox RA, British b.1946- Ecstasy: St Agatha, 1983; red verona marble
Estimated to sell for £3,000- £5,000 is lot 172, titled 'Ecstasy: St Agatha' by British sculptor Stephen Cox RA. Made in 1983 from red verona marble, the three pieces came from a private collection and has been exhibited in the Tate Gallery, Millbank lawn. Stephen Cox RA is known for his monolithic public artworks in stone. He trained at the Central School of Art and Design, London, from 1966-1968. and attended the sixth Indian Triennale in 1986 in New Delhi, to represent the United Kingdom. His style mixes Italian, Egyptian and Indian traditions.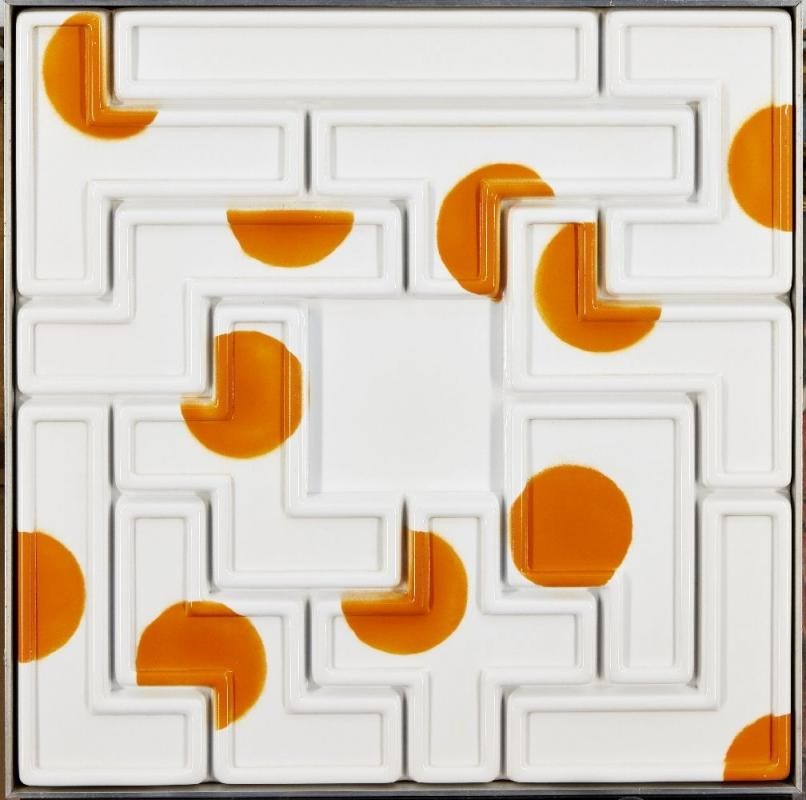 Lot 188 :  Joe Tilson: Joe Tilson RA, British 1928- Pantominoe, 1966; vacuum-formed acrylic sheet
Representing the English pop art culture is painter, sculptor and printmaker Joe Tilson RA. 'Pantominoe' was created in the height of the period in 1966. The vacuum-formed acrylic sheet, from the edition of 60 is estimated to sell for £800- £1,200, and is one of two examples of vacuum formed works by Tilson in the sale.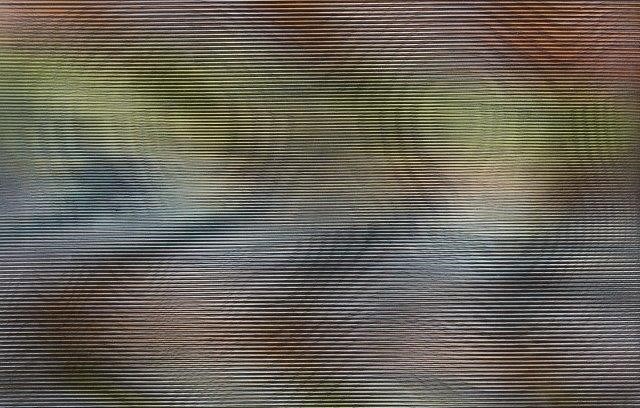 Lot 236  : Peter Sedgley, British b.1930- Mescaline Sensation II, 1984; mixed media, coloured pencils
From the Op Art movement is work by British artist and former architect Peter Sedgley, titled 'Mescaline Sensation II'. Created in 1984 using mixed media and coloured pencils this artwork is estimated to fetch £1,000- £1,500. Since the 1960s, Op artist Peter Sedgley has been producing luminous paintings of circles and optical explorations of light and kinetics. Trained as an architect at the Brixton Technical School and then serving as an assistant in architectural firms during the 1940s and '50s, Sedgley began to paint in 1963 and pursued his career as an artist. He was heavily influenced by Bridget Riley, with whom in 1968 he set up S.P.A.C.E. (Space Provision, Artistic, Cultural and Educational), a scheme for providing studio space for young artists.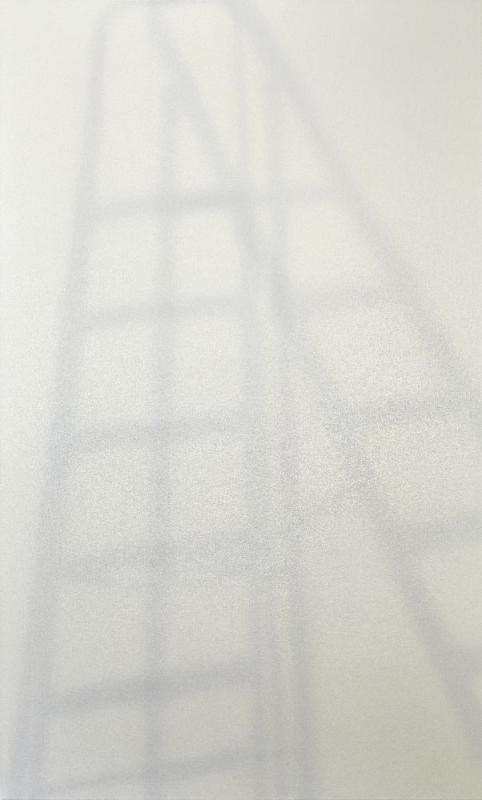 Lot 293 : Brad Lochore, British b.1960- Shadow No.64; oil on canvas
Our final highlight within the auction comes from British artist Brad Lochore. Titled 'Shadow No.64' the oil on canvas is a prime example of his paintings that combine light and shade, illusion and reality. It is estimated to sell for £2,000- £4,000.
Auction details
 The Modern & Contemporary Art auction will take place on Tuesday 11 August, starting at 12 noon.
 For more information please contact the pictures department:  pictures@roseberys.co.uk

Viewing information 

Viewing by appointment only
Thursday 6th August 10am-5pm ( final time slot 4pm-5pm)
Friday 7th August 10am-5pm ( final time slot 4pm-5pm )
Sunday 9 August 10am-2pm ( final time slot 4pm-5pm)
Monday 10 August 10am-5pm ( final time slot 4pm-5pm )
Please contact pictures@roseberys.co.uk  to book an appointment
View the full catalogue here