A collection of works from the descendants of Arthur Tooth & Sons (1842-1972)
1/02/2022 Modern & Contemporary British Art, News Stories & Press Release, Impressionist, Modern & Post War Art
Roseberys are delighted to announce they will offer works from the descendants of Arthur Tooth & Sons gallery which ran 1842-1972 on Monday 21 February, starting from 2.00 pm. This sale will be on view at the same time as the Modern & Contemporary British & Irish Art auction that will take place on Tuesday 15 February.
Arthur Tooth & Sons was a leading art gallery located at no. 5 & 6 Haymarket in London, founded in 1842 by Charles Tooth, a carver and framer, in order to set up his son Arthur in business. Arthur Tooth also had a New York location from around 1900 until 1924, as well as a branch in Paris. In the mid-1920s, Dudley Tooth (1896–1972) took up leadership of Arthur Tooth & Sons and rebranded the gallery, expanding within the pool of contemporary artists and further promoting artists by regularly hosting a solo show of each artist's work every two and a half years. Like other larger dealers, Tooth also published prints which helped them develop the business further. The Arthur Tooth & Sons gallery was renowned for being forward-thinking in their business practices and in the vanguard of introducing French Impressionism to the British market. They also specialised in Venetian paintings, in particular, works by Canaletto and Guardi. During their operation, the gallery had established a significant presence in the art world and supplied works to major collectors around the world, including industrial magnate Henry Clay Frick with works by Lawrence Alma-Tadema, Jean-François Raffaëlli, J. M. W. Turner, Frits Thaulow, Pascal Dagnan-Bouveret, and Rembrandt. The London gallery closed in the 1970s.

On offer within Roseberys forthcoming auction on Monday 21 February are prominent artists from the entire stage of the gallery's history, including work by Stanley Spencer CBE RA, André Derain, Stanislas Lépine, Sir Matthew Smith CBE, Albert Marquet, Jean-Louis Forain, Paul Nash, Eugène Baboulène, André Dunoyer de Segonzac, Nadia Benois, Alexandre Benois, Jules Cavailles, Paul Lucien Dessau, Kit Barker, as well as a collection of the gallery's publications. Also on offer is a collection of post-war artists from when Dudley Tooth (1896-1972) managed the gallery, including Paul Jenkins, Antonio Lago Rivera, Norman Bluhm, Roger Mühl, Thomas Erma, and Max Papart.

Tess O'Brien, Head of Sale comments: 'This collection reflects the narrative of the Arthur Tooth & Sons gallery, we have pieces from the 1800s to the 1970s. The sale includes works by renowned artists along with prints and catalogues published by the gallery over the years. I think what is of particular note is to be able to offer a collection of works that have not been on the market since they appeared in the gallery or in museums over the years. We are honoured to be working with this art dynasty.'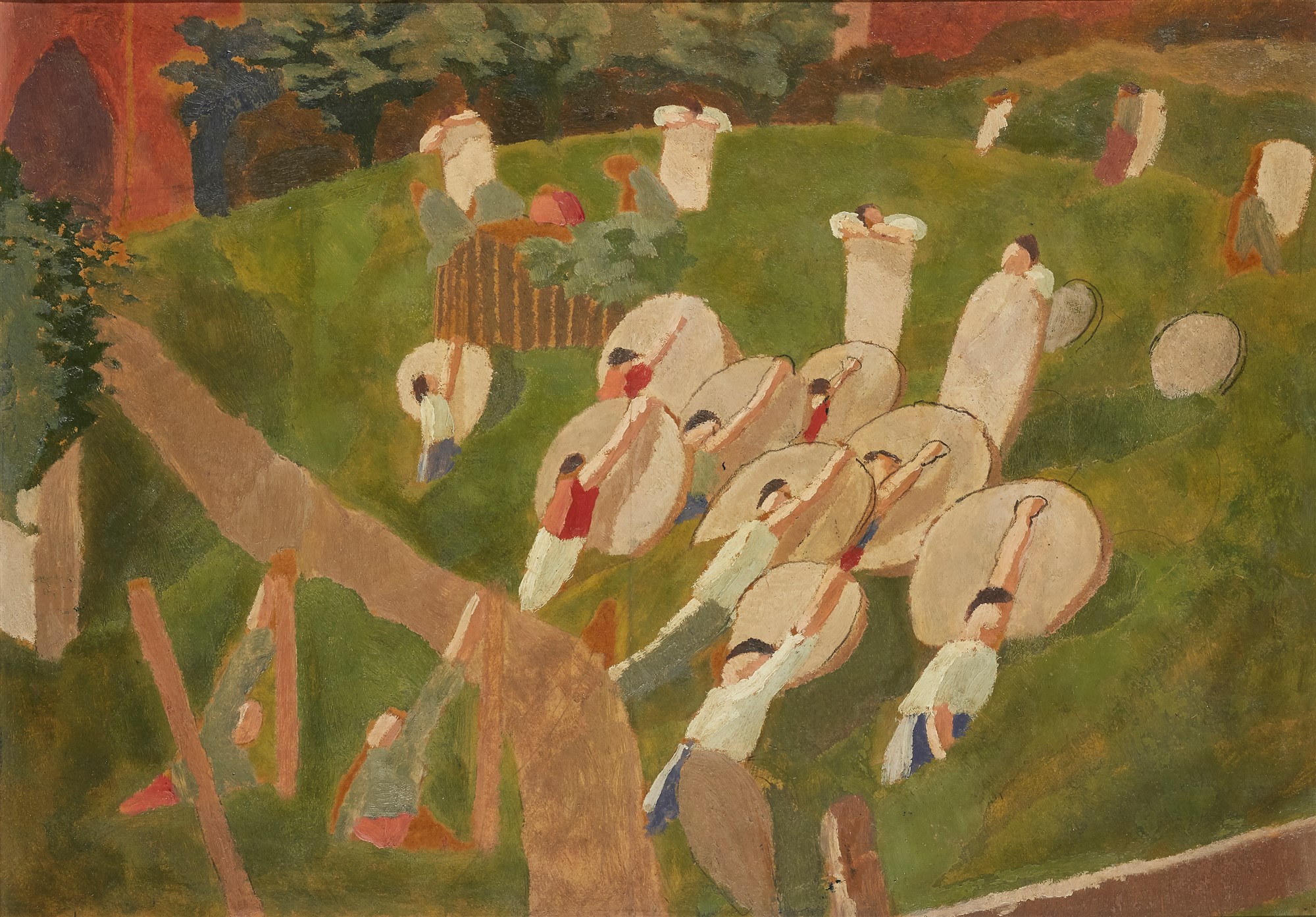 Sir Stanley Spencer CBE RA, British 1891-1959 - The Resurrection, Cookham, 1920-21; oil and pencil on paper laid down on board, 30.9x43.8 cm

Leading the sale is an oil and pencil laid down on board, measuring 30.9x43.8cm, by English painter Sir Stanley Spencer CBE RA, 1891-1959, titled 'The Resurrection', painted in 1920, estimated to make between £100,000-£150,000. Shortly after leaving the Slade School of Art, Spencer became well known for his paintings depicting Biblical scenes occurring as if in Cookham, the small village beside the River Thames, where he was born and spent much of his life. As a devout Christian, Spencer believed in a joyful day of resurrection where everyone would be raised from the dead to receive judgement or glory. The Arthur Tooth & Sons Gallery originally acquired the painting from artist Henry Lamb, who was a friend and patron of Spencer, the pair met in 1913. Both artists served in the war together. Spencer's masterpiece and perhaps most famous work, 'The Resurrection, Cookham, 1924–27', owned by the Tate Gallery, was made in a Lamb's studio in 1922, suggesting why he may have owned the present work previously. The work on offer at Roseberys was exhibited in the 1980 'Stanley Spencer' exhibition at the Royal Academy of Arts,' and 'Stanley Spencer' at the Tate in 2001.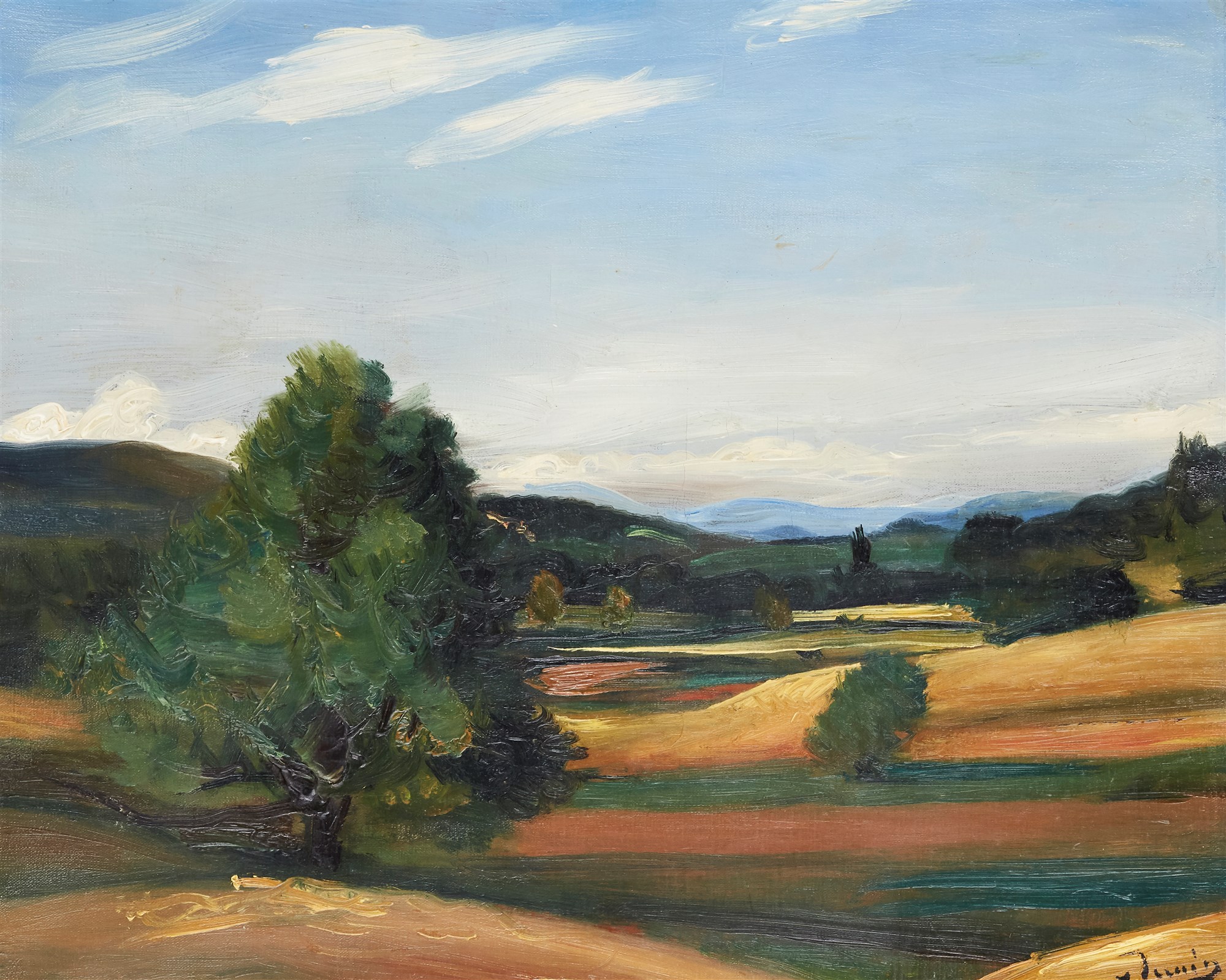 André Derain, French 1880-1954-Paysage de Provence, circa 1922; oil on canvas, 32x39.5cm


On offer with a pre-sale guide price of £15,000-£20,000 from French painter, sculptor and co-founder of Fauvism, André Derain, 1880-1954, is a signed oil on canvas titled 'Paysage', measuring 32x39.5cm. Derain's innovative approach to landscape, form, and colour, such as the work on offer, helped establish a framework for Fauvism in the early 20th century. A comparable work by the artist was recently sold at Christie's, New York, on 8 October 2020 for $52,500.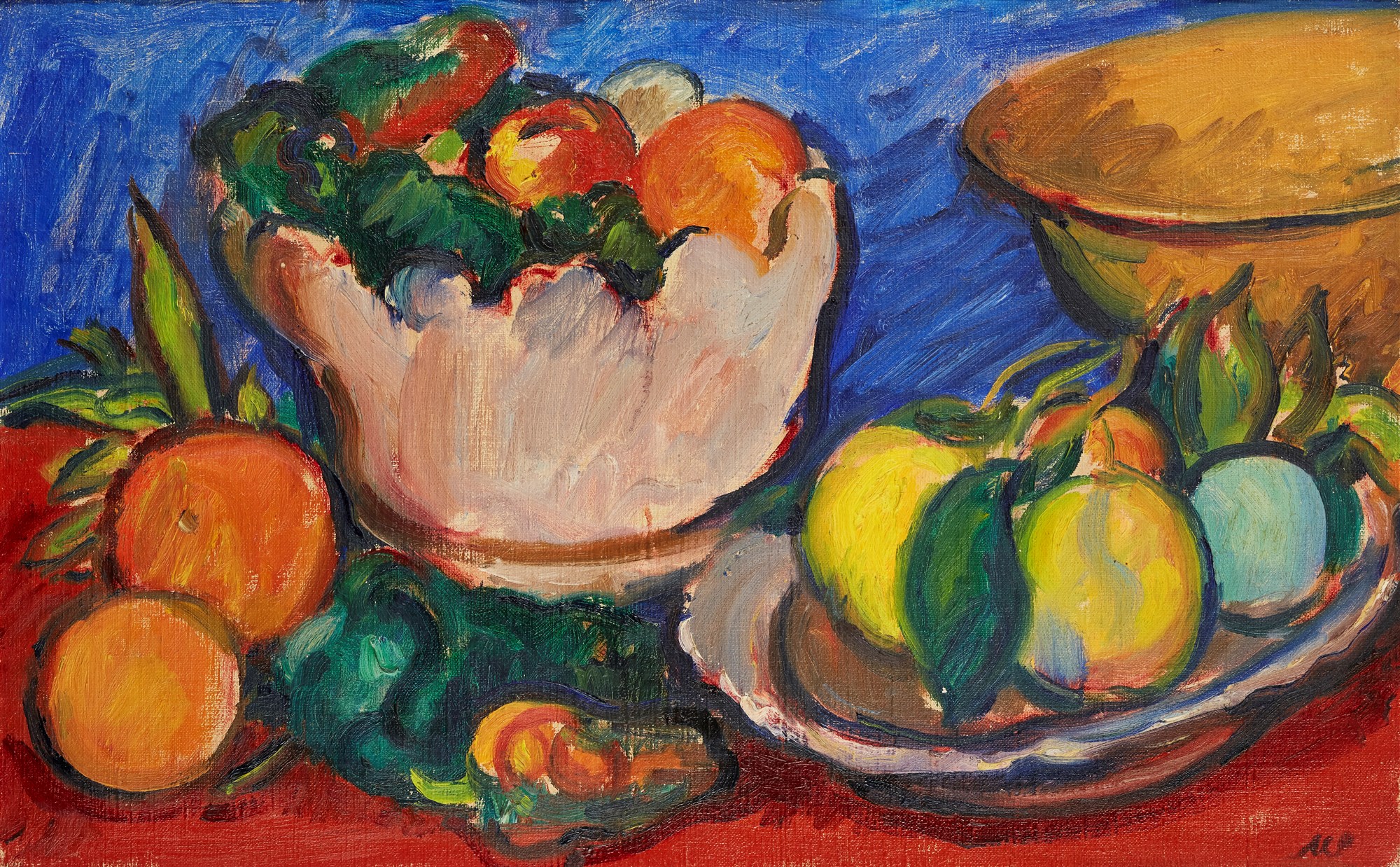 Sir Matthew Smith CBE, British 1879–1959 - Fruit and leaves, 1947; oil on canvas, 37 x 60cm
A signed oil on canvas, measuring 37x60cm by British artist Sir Matthew Smith CBE, 1879-1959, depicting flowers comes with an estimate of £20,000-30,000. A comparable work has recently been sold at Christie's London Modern British & Irish Art sale on 21 October 2021 for £40,000. A very similar painting can be found in Tate's collection titled 'Peaches', purchased from Arthur Tooth & Sons (Knapping Fund) in 1941.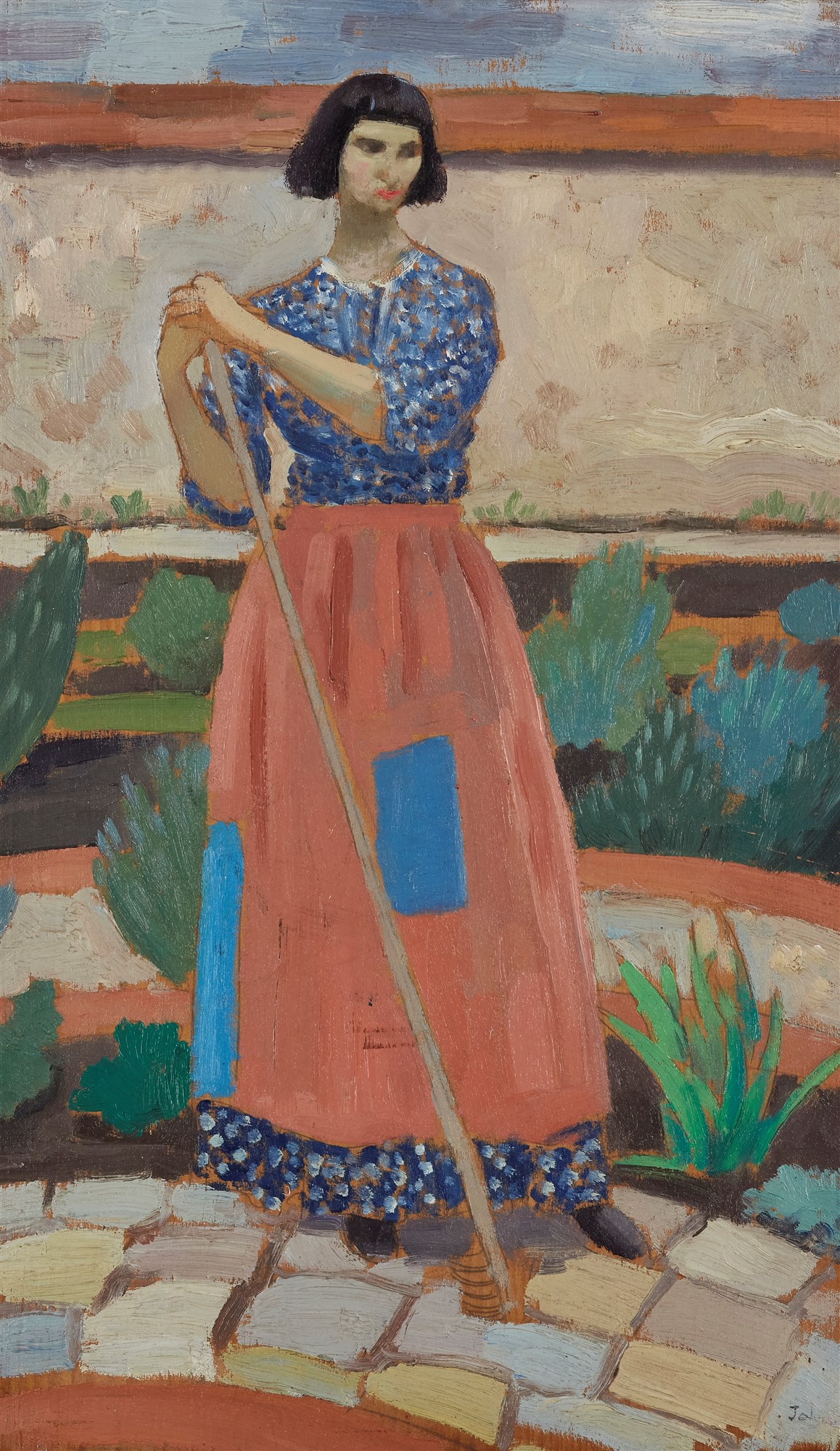 Augustus John OM RA, British 1878-1961- Dorelia in the Garden, 1912; oil on board, 50x30cm

A signed oil on board, measuring 50x30cm by Augustus Edwin John OM RA, 1878-1961, titled 'Dorelia in the Garden' painted in 1912, comes with an estimate of £12,000-£18,000. Although known early in the century for his drawings and etchings, the majority of John's later work consisted of portraits, such as the lot on offer at Roseberys. Another version of this painting, titled 'Dorelia McNeill in the Garden at Alderney Manor' is held at the National Museum of Wales. Dorothy (Dorelia) McNeill was best known as the partner and muse of Augustus John and has been credited for inspiring his first unequivocally personal work. In her time, she was regarded by some as an exemplar of bohemian fashion. The portrait's even areas of colour, sharp contours and flattened background reveal the artist's familiarity with the Fauves.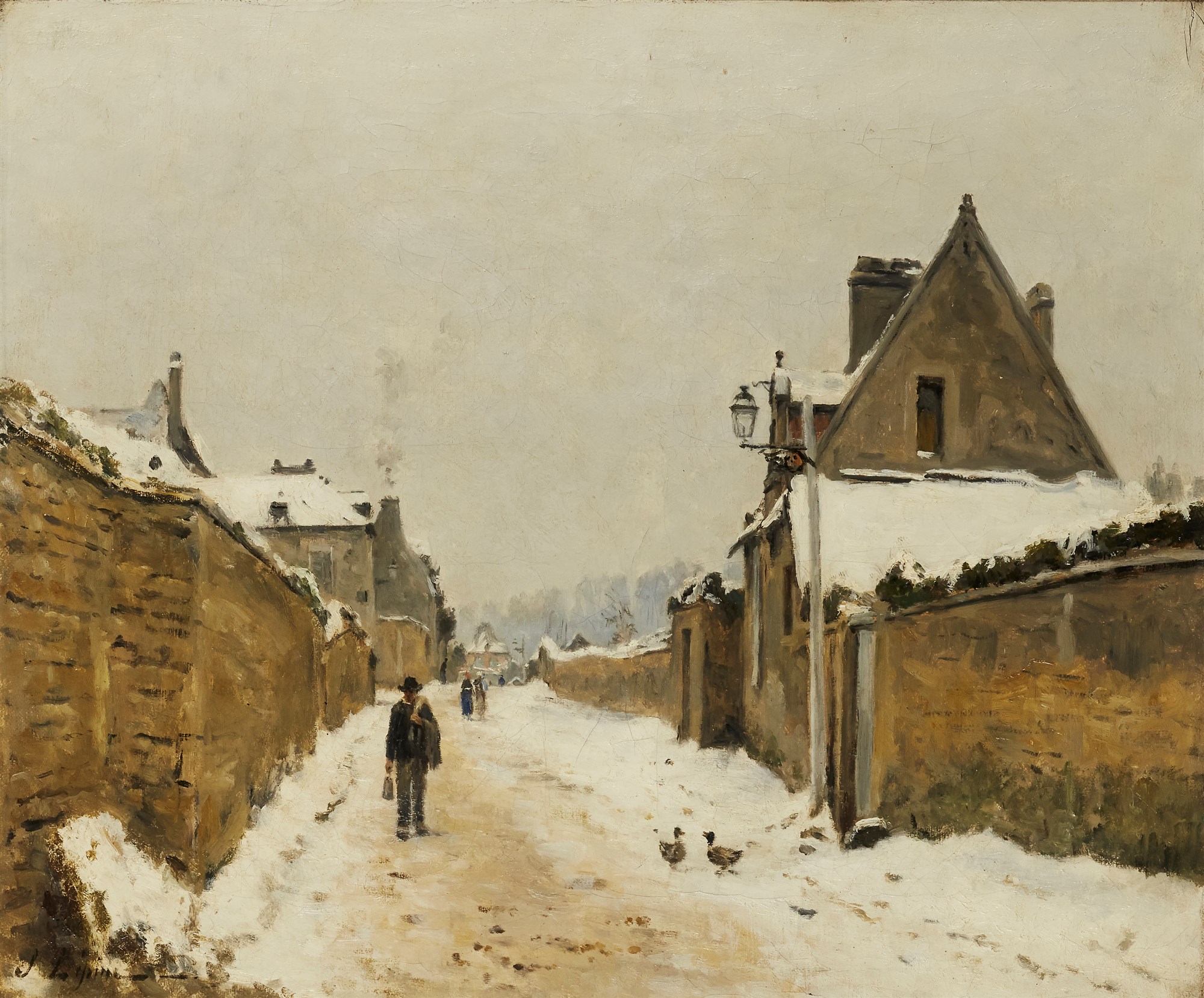 Stanislas Victor Edouard Lépine, Caen, oil on canvas, 42x53.5cm
Offered with an estimate of £15,000-£20,000 is a work by French painter Stanislas Victor Edouard Lépine, 1835 – 1892. The signed oil on canvas measuring 42x53.5cm depicts Caen in France. Lépine specialised in landscapes, often depicting Caen in his work. His paintings are placid in mood and are usually small in scale. Paintings of landscapes in the snow are rare, making this work even more exceptional. At the time when the gallery was exhibiting and selling Lépine, he was a contemporary artist.
Jean-Louis Forain, French 1852-1931-Après a diner, circa 1885; watercolour, 38x36.2cm

A signed watercolour, Après a diner, measuring 38x35.2cm by French artist Jean-Louis Forain, 1852-1931, comes with a pre-sale guide price of £4,000-£6,000. Forain was a French Impressionist painter and printmaker, working in mediums including watercolour, oils, pastel, etching and lithograph. Compared to many of his Impressionist colleagues, he was very successful during his lifetime. As a painter of modern life, the vigour and swiftness of his execution, using vivid colours is characteristic of his work.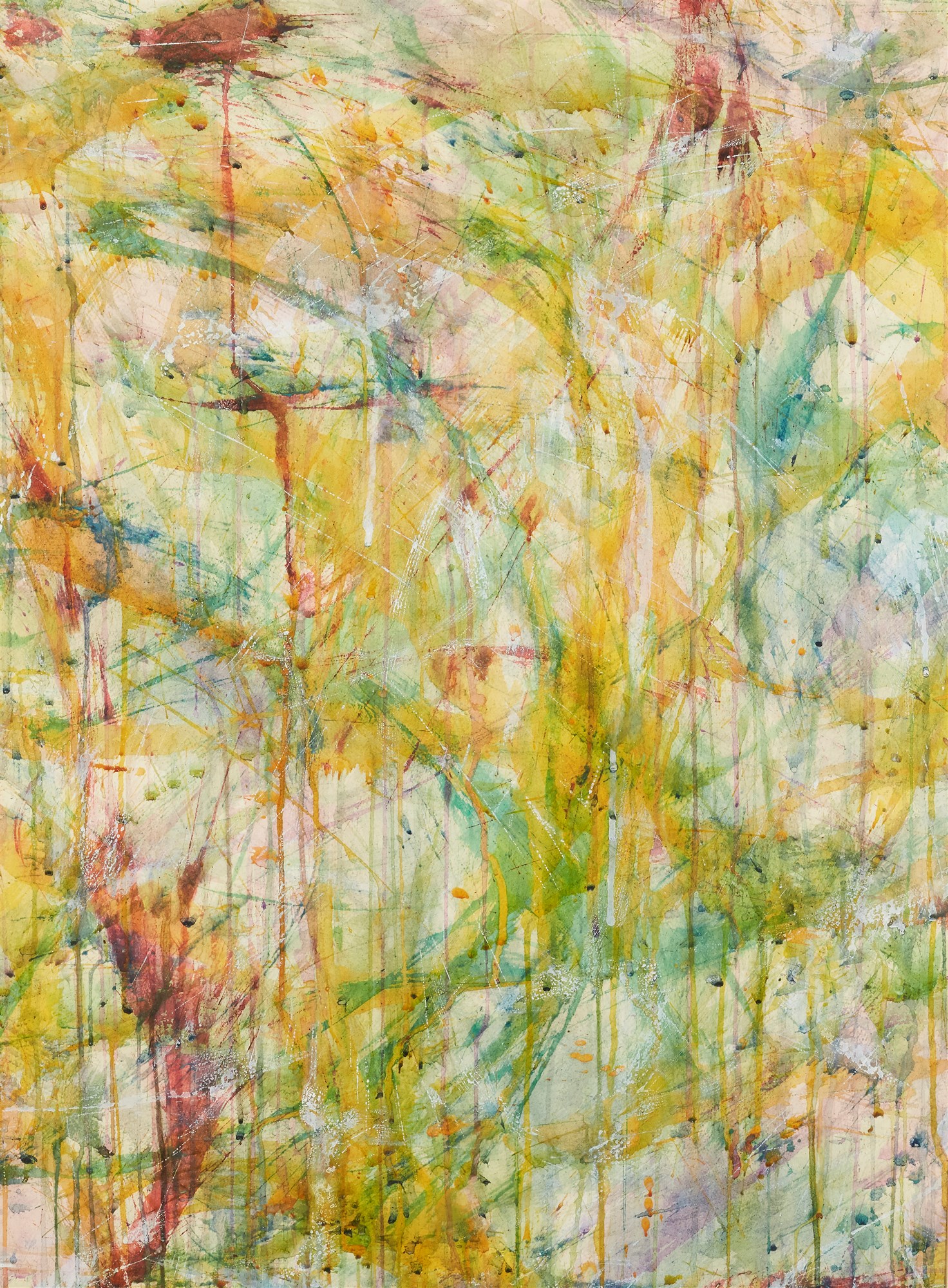 Norman Bluhm, Green Triptych', 1957, water and ink on paper, 74 x 55cm
Work by American painter Norman Bluhm, who is classified as an abstract expressionist, and as an action painter, is a highlight on offer from the 50s period. A panel from the artist's 'Green Triptych', measuring 74x55cm, painted in 1957, using water and ink on paper, comes with an estimate of £4,000-£6,000. This piece was in the artist's original exhibition at Leo Castelli, New York in 1957. Works by the artist have been critically acclaimed and are in the collections of many major museums.

-Ends-
View the fully illustrated catalogue here

To find out more information about the sale and Roseberys visit: www.roseberys.co.uk Email Head of Sale, Tess O'Brien: tessobrien@roseberys.co.uk