A Stable Art Market
16/10/2018 Modern & Contemporary British Art, News Stories & Press Release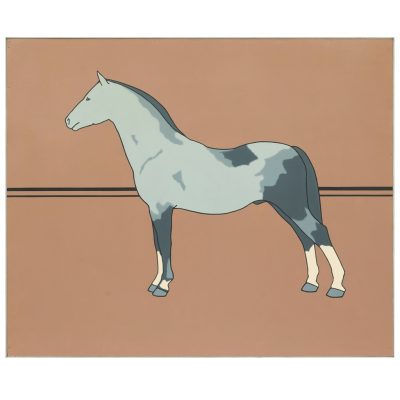 Lot 152:
Patrick Caulfield CBE RA, British 1936-2005- Pony, 1964; oil on board, 122x152.5cm, (ARR)
Purchased directly from the artist in 1964; thence by descent. Apart from two public appearances, the first when on loan to Tate Gallery in 1981 as a part of a retrospective on the artists (48 Paintings from 1963-81) and a second later inclusion in the 1999 retrospective of the artist at the Hayward Gallery (both in London) - this was the first time since its original purchase in 1964 that the painting was seen and offered on the open market.
Pony was the talk of much interest from specialists and collectors. The unusual dusty pinks and single subject imagery made this an exceptionally important piece in the history of the artist's career.
Pony signalled a turning point and personal revolution for the artists and his abandonment of the label as a pop artist which would continue to follow him throughout his career.
The simplicity of the imagery is laden with reference, which was explored in a documentary featuring the findings by paintings Expert and Roseberys Director, Marcus Grey.
The auction room was a buzz of excitement as the lot opened; after a succession of telephone bids and bated breath the final figure realised for Pony was £270,600.
The film can be viewed here PONY
Pony was in good company as strong bidding was seen throughout the sale.
This painting was purchased along with Still Life with a Dagger, (1963), now held by Tate Gallery, London, T02032.
Particular highlights from the 401 lot sale include:
Lot 146:
A bold piece by Alan Lowndes, (British 1921-1978)
Serene Sunset; oil on canvas, signed and dated 1965 and inscribed verso, 91x122cm
Provenance: Christie's, London, 9 March, 1990, lot 66; Sotheby's London, 2 June, 2004, lot 92. Please note: Alan Lowndes was a Stockport-born, self-taught artist. He is best known for his depictions of Northern life, although he also spent nearly a decade in St Ives and was associated with the St Ives School artists. Unlike L.S. Lowry and other Northern artists from the same period, Lowndes' work is characterised by a vibrant colour palette. We are grateful to Jonathan Riley for his assistance with the cataloguing of this work.
Hitting the mid of its estimate of £10,000-15,000 – the piece eventually went for £12,300
Lot 350:
A firm favourite from Scotland John Bellany CBE RA, (Scottish 1942-2013)
Cat Woman with Monkey; oil on canvas, signed, 91.5x61cm, (ARR) Provenance: McTear's, Glasgow, March 9, 2014, lot 1953, where purchased by the present owner
Please note: Born in a Scottish fishing village to a Calvinist family, John Bellany's paintings are often imbued with religious and marine imagery and focussed on themes of sin, guilt and death. Bellany studied at the Royal College of Art and in later life experienced severe ill health. In the 1980s he underwent a liver transplant, after which his artwork became more optimistic. Throughout his career, Bellany's work was characterised by bright colours and explosive brushwork.
Reaching above the high estimate of £3,000-5,000 with interest from the room, and online the final bid making it £9,600
Lot 323:
A strong graphic piece from Alan Michael, (British b.1967)
Untitled (Bottles/Grassroots), 2007; oil on canvas, signed and titled verso, 153x102cm, unframed, (ARR)
Provenance: David Kordansky Gallery, Los Angeles, where purchased by the present owner on 23 October 2007 Exhibited: London, Tate Britain, Art Now, 3 May- 20 July 2008
With competitive bidding on all platforms and in the room, this piece excelled all expectations from an original estimate of £800-1,200, the hammer finally fell at £8,000
Lot 18:
By esteemed landscape painter Bertram W Priestman RA RBA ROI, (British 1868-1951)
Bembridge Harbour; oil on canvas, signed and dated 20, 63.5x76.5cm, (ARR)
Provenance: with The Fine Art Society, London 1921, according to a label on the reverse of the frame, again the day saw strong bidding on all platforms, reaching a final figure of £6,150 from an estimate of £2,500-3,500.
Lot 130:
A modern British favourite, Carel Weight CH CBE RA, (British 1908-1997) was represented with: Figures in a Garden (Spencer Road, London), 1970; Oil on board, 54x61cm, (ARR) Provenance: private collection (acquired directly from the artist); Bonham, London, 10 March 2015, lot 49; with Keith Chapman Modern Art; private collection
Please note: while Carel Weight's early work is comprised largely of imaginative, Surrealist-inspired compositions, his post-war work is entirely more sombre. In the 1950s and 60s, Weight painted mainly urban landscapes centred around the artist's home in south London. Ghostly figures inhabit these streets and back gardens without interacting, creating a sense of desperate isolation. The figures also add a surreal dimension to these later realist works, injecting both drama and poignancy.
Final price £5,200 from an initial £2,000-3,000
Lot 16:
A surprising bidding war ensued for Fred Yates, (British 1922-2008)
Pont Creek Fowey; oil on board, signed and titled, 59.5x90cm (ARR)
Out of the three lots this was by far the most popular, from its initial estimate of £600-800 the bidding soared to a final figure of £3,600 
Finally Lot 295:
By Edward Povey, (British b.1951) Pay in Kind, 1999-2000;oil on canvas, signed, titled and dated on label verso, 66x91cm, (ARR)
Exhibited: Martin Tinney Fine Art, Cardiff, 'Edward Povey Paintings 1999-2000', 3-26 February 2000, illustrated on front cover of the accompanying catalogue
Known for his sculpted figures, this was a wonderful example of his work, and the bidders on the day agreed - The final price was £3,200 from an estimate of £1,000-1,500
~Ends~
*Prices include Buyers Premium of 25%.
For further information please contact the Press Office
pressoffice@roseberys.co.uk +44 (0) 20 8761 2522
Roseberys is a privately owned auction house operating at the heart of the fine art market for 30 years.
With offices in London's Mayfair and Lambeth Roseberys offer a calendar of more than twelve specialist fine art, antiques and collectibles auctions each year.
Specialist sales include a wide range of Asian and Islamic Arts, Modern and Contemporary Art and Design, Decorative Art, Fine Silver and Jewellery, Ceramics, Paintings, Prints, Photography, Antique Textiles, Vintage Fashion and Fine Wine and Whisky.
Roseberys team of world-renowned specialists also provide a wide range of art market services to professional clients, including valuations for insurance and probate.
Roseberys is a member of SOFAA – The Society of Fine Art Auctioneers.