A Man of Craft & Tradition
29/09/2017 Ceramics & Glass, News Stories & Press Release, Furniture & Rugs , Works of Art, Sculpture & Clocks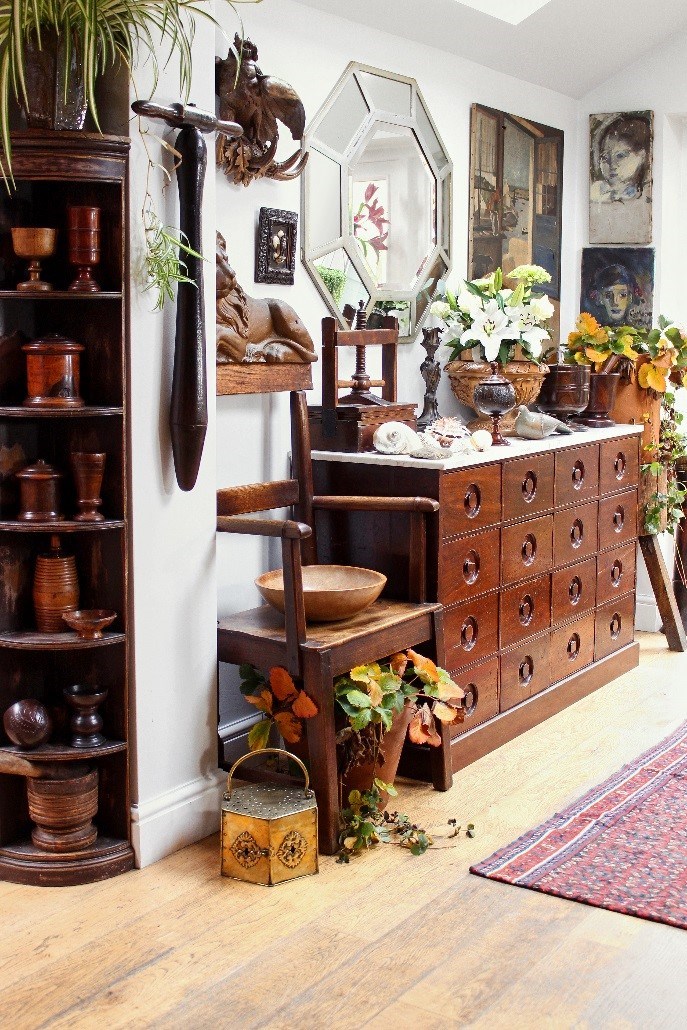 Roseberys London are delighted to welcome Nic McElhatton to the team. Joining us from a long and lively career at Christies South Kensington we spoke to Nic about memorable moments in the auction house to what the future at Roseberys holds.
Roseberys: Welcome Nic, You have had a long and successful career that started at CSK, spanning 30 years!
What was it that first interested you about working for an auction house?
Nic: I graduated from a Fine Art degree in 1980, and spent the following four years working at the Newcastle Playhouse as stage crew to supplement my meagre (if truth be told, none existent) earnings as an artist.
I met my wife Louisa there in 1983, she came up for a season as an assistant stage manager and when the season was over I followed her back to London. I couldn't afford a studio in London, so the art had dried up a bit and I was doing bar and shop work whilst looking for something a little more interesting. Louisa, pretty frustrated with me by this point, suggested I write to the London auction rooms because that was 'vaguely arty', and Christie's South Ken were the only ones to respond to my letter. I had a three-minute interview with the legendary Bill Brooks, who literally felt my biceps, not in a dodgy way you understand, and then asked me what my father had done in the war. I told him he was a flight sergeant in the RAF and had crewed Lancaster Bombers. That sealed it for Bill, who was also a Lancaster Bomber pilot, and like my Dad had seen active service towards the end of the war. I was duly offered a six-week contract to cover for the permanent porters whilst they took their summer holidays. I thought CSK was the most extraordinary and wonderful place, full of the most wildly eccentric characters all crazy about art and antiques, and that was just the staff, the clients were on another level again!
 
Roseberys: There must have been many memorable moments at CSK, but what in terms of items consigned and sale results has been the most exciting?
Nic: I don't have to think twice about that question, overseeing the sale of the Mark I Spitfire in 2015 wins hands down. It was the hardest item I've ever had to bring to the market, but also the most satisfying, especially when it achieved the world record price for a Spitfire at auction, selling at £3.2m. Also, all the more satisfying knowing that much of the proceeds were going to benefit the RAF Benevolent Fund.
 
Roseberys: Wow! That is definitely a dream sale scenario. So, what advice would you give to someone who is interested in the antiques world but never stepped into an auction house?
Nic: Talk to the people that know. Specialists love imparting their knowledge, and will give freely of their time. There's no such thing as a stupid question, so don't be shy. Before putting your toe in the water do lots of research. Follow the auctions in your area of interest, sign up with the auction houses online and register your areas of interest, they will contact you when specific items come up in their sales. Museum websites have the most wonderful search engines that allow you to explore their collections. It's important to follow your heart, but buying impulsively often ends in tears. Always ask for a condition report on a lot, and ask the specialist who catalogued the sale what their opinion is on any given lot. Buying at auction is infectious and fun, nothing sets my heart racing faster than when I'm bidding on something I really want.
 
Roseberys: In your new role at Roseberys what are you most looking forward to?
Auctioneering is in my DNA, I just love the whole process. There's nothing more satisfying than getting a consignment in and then climbing onto the rostrum and selling it successfully. But it's not just the auction itself, it's the comradery, working with a team to produce an end product. The pooling of knowledge with your colleagues, the shared passion and enthusiasm. You never stop learning when you work in a saleroom, there's something new to discover every day.
 
Roseberys:  Please tell us about your first auction with Roseberys?
Nic: As part of my consultancy role for Roseberys I'm currently working with the team to create a sale in July next year called Craft and Tradition. The sale will be a celebration of art and craft through the ages, but with a particular eye towards vernacular objects, furnishings and paintings from the late medieval period to the 19th century. The work of the carver; the carpenter; the turner; the founder; the potter; the sign painter; the blacksmith; the weaver; the stone mason and many more craftsmen and women will feature. It's an area of particular passion for me, if I was rich I'd live in an old timber framed house with a huge inglenook chimneypiece, whiling the hours away in my doublet and hose and practising my down-hearth cooking skills!
 
Roseberys: You are also an artist, has producing your own artwork helped keep you grounded in the busy environment of an auction house?  Are you exhibiting anywhere soon? 
When I first joined Christie's I was horrified that people were actually buying old paintings, I didn't get it, although I was quite stupid then. Christie's didn't have a contemporary art department in the 1980's, in fact when the first stand-alone contemporary auctions came along they hired a warehouse for the view and sale because they didn't want to lower the tone in the main rooms. It was all about the Old Masters and Impressionists then. My - how times change quickly. I purposely didn't join the 'smudges' department, as it was referred to by decorative arts specialists. Instead I went into the FOB department (furnishing objects). It was appropriately named, as basically we sold anything that didn't fit into any other category e.g. silver, ceramics, textiles, ephemera, oriental, furniture, dolls, toys, etc. etc. The FOB department would sell anything that would make money and I loved it. Sorry, digressing badly from the question, and yes my artwork is a wonderful escape from the stresses and strains of earning a crust. I haven't got an exhibition planned at the moment, but I did a great event here at Roseberys on the 7th December, along with a few other artist friends to support some local charities, which I really enjoyed.

 
Nic's first auction – Craft & Tradition takes place on Tuesday 17 July 2018.
Entry deadline to consign to this auction is Friday 15 June.
For further information please email info@roseberys.co.uk