A Magnificent Saltwater Pearl
18/10/2018 News Stories & Press Release, Jewellery & Watches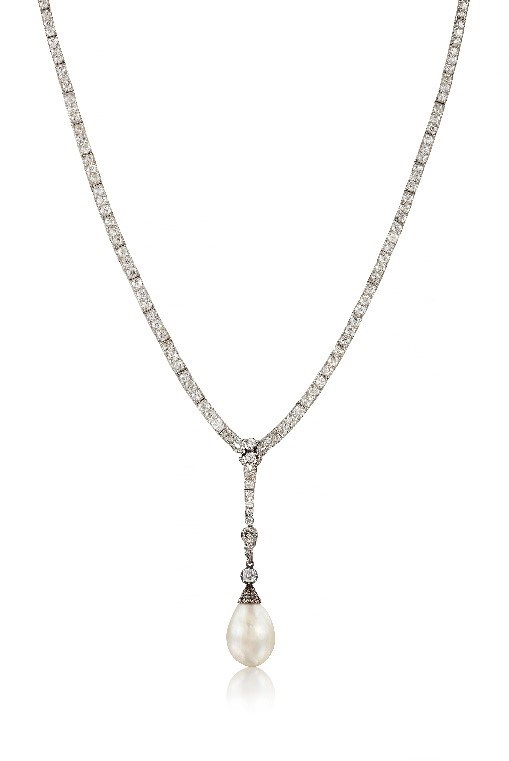 Offered for sale on 20th November; a wonder of nature… a 200 year old pearl that took probably 10-15 years to grow recovered from possible locations including the Arabian Gulf, The Coast of Northern Australia or the Panama waters of Venezuela; discovered, cared for and married to a beautiful diamond and platinum Belle Epoque necklace. Its exact history is still a mystery but, what we do know is a pearl of such radiant beauty, of great shape, intense lustre, weight; 128 grains and perfect dimensions is exceptionally rare.
Lot 287 An important antique natural pearl, diamond pendant and Belle Epoque platinum and diamond necklace, the drop shaped pearl weighing approximately 128 grains (32 carats)
The magnificent drop shaped saltwater pearl is being offered at auction from a private London collection this November; the pearl which is presented on a late 19th century mount, with rose cut diamonds is shown off with a stunning Belle Epoque necklace which was probably produced around 1915-1920. It's clear that this pearl has always been regarded as important – hence the mount and necklace. Perhaps made for a noble or royal family, the pearl has been carefully looked after.
Pearls are ranked among the most popular gems in the world. Throughout history they have fascinated man, and are associated with wisdom acquired through experience, attracting wealth and even protection. In ancient Vedic texts, the pearl is born of the Earth's waters and the heaven's powers, fertilized by a flash of lightning. It's considered to be the daughter of the Moon. In Western cultures, the pearl has astrological associations with the planet Venus. Like pearls, the goddess of love came from the sea.
So the attraction has continued through the centuries. The Pearl on offer compares very well in weight with a world famous pearl that was offered on the open market in 1987; La Pellagrina.
La Pellagrina's history spans over 500 years and was famously bought actor Richard Burton as a Valentine's gift for his then wife Elizabeth Taylor. It was sold in 2011 as part of the Elizabeth Taylor Collections for just over £7 million.
La Pellagrina weighed 133.16 grains, whereas The Pearl on offer at Roseberys is just behind it at approximately 128 grains.
Mark Bowis Head of Jewellery comments:
"Any Saltwater pearl of any size is rare, a pearl over 120 grains is incredibly rare, add to that, that it is uncommon for such pearls to come onto the open market and I think it's safe to say we are handling an exceptional pearl, which I am very excited to be offering this November and look forward to seeing what reaction we get!"
An important antique natural pearl, diamond pendant and Belle Epoque platinum and diamond necklace, the drop shaped pearl weighing approximately 128 grains (32 carats) dimensions 21.8mm x 16.6mm x 12.5mm, mounted in a rose-cut diamond cap with old-brilliant-cut diamond single stone surmount, suspended from a Belle Epoque platinum and diamond necklace of double row articulated panel design, the necklace c. 1915.
Accompanied by report number 78167-34, dated 23rd July 2018, from the Gemmological Certification Services, GCS, London, stating that the pearl is natural pearl, Saltwater with no indications of treatment, and report number 16117 dated 17th August, 2018, from the Gem & Pearl Laboratory, London stating that the pearl is natural pearl, saltwater
Estimate £70,000-100,000*
Viewing at: The Clubhouse
8 St James' Square, London
SW1Y 4JU
Tuesday 13 November 11am-6pm
Viewing of the pearl at Roseberys:
Friday 16 November 1-5pm
Sunday 18 November 10am-2pm
Monday 19 November 9.30am-5.30pm
Tuesday 20 November 9-9.45am
Or by appointment
Head of Jewellery & Watches: Mark Bowis FGA DGA FSA
~Ends~
*Prices include Buyers Premium of 25%.
For further information please contact the Press Office
pressoffice@roseberys.co.uk +44 (0) 20 8761 2522
Roseberys is a privately owned auction house operating at the heart of the fine art market for 30 years.
With offices in London's Mayfair and Lambeth Roseberys offer a calendar of more than twelve specialist fine art, antiques and collectibles auctions each year.
Specialist sales include a wide range of Asian and Islamic Arts, Modern and Contemporary Art and Design, Decorative Art, Fine Silver and Jewellery, Ceramics, Paintings, Prints, Photography, Antique Textiles, Vintage Fashion and Fine Wine and Whisky.
Roseberys team of world-renowned specialists also provide a wide range of art market services to professional clients, including valuations for insurance and probate.
Roseberys is a member of SOFAA – The Society of Fine Art Auctioneers.