A Collectors Guide to Qajar Ceramics
5/06/2020 News Stories & Press Release, Islamic & Indian Art
Iranian ceramics, and tiles in particular are a wonderful window into the world of industry, artistry and colour where form and function meet. Courtly life, nature and hunting, and regal portraits illustrate Persian ideas, stories and ways of life. The Islamic Arts and Manuscripts sale on June 16th presents a private collection of tiles from the Qajar dynasty (1789-1925AD) of the highest quality (lots 238-252).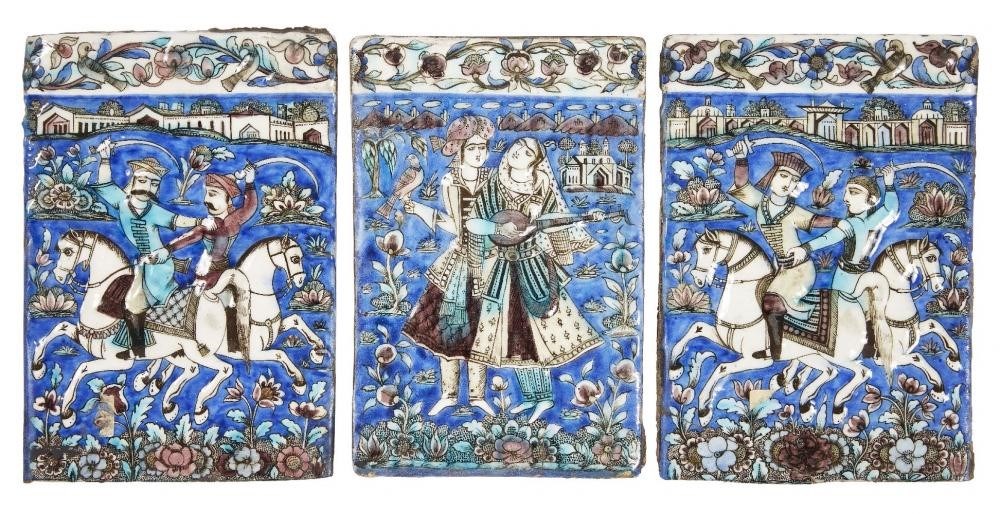 Lot 238 : Three Qajar underglaze-painted moulded pottery tiles, Iran, 19th century
Moulded tiles such as the courtly scenes presented in Lot 238 were likely made in and around Isfahan during the mid-19th century and used in friezes to decorate interior and exterior walls of many secular buildings. They were much admired by Europeans and sold individually to visitors, similar tiles are in the Victoria and Albert Museum acquired in 1886.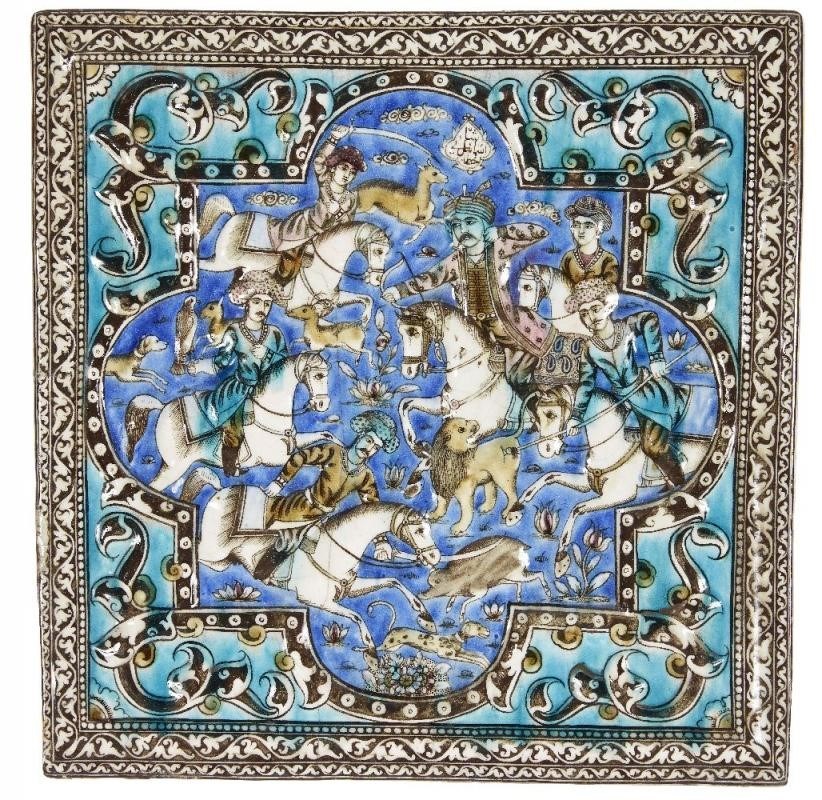 Lot 249 : A fine Qajar moulded pottery tile depicting Shah Ismail hunting, Iran, circa 1880
A major theme of Qajar tiles are portraits of kings and princes, both present and past, often engaged in hunting scenes. Lot 249 depicts Shah Ismail (R. 1501-1524AD) the founder of the Safavid dynasty hunting lions, deer, wild boar which his courtiers herd towards him. An inscription in Persian above his head identifies the ruler.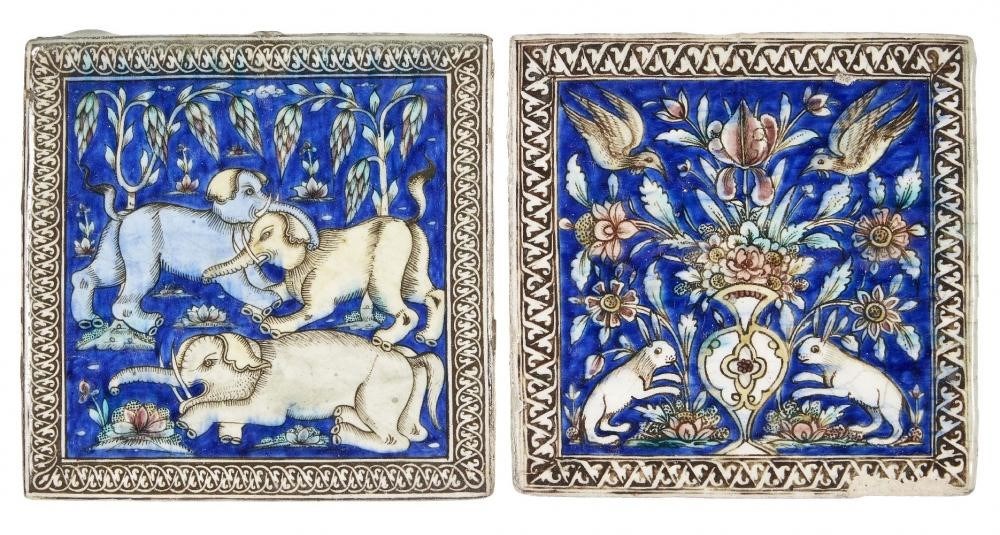 Lot 252 : A pair of moulded Qajar pottery tiles, Iran, 19th century
Animal motifs were amongst the most prevalent and important in the repertoire of a Qajar tilemaker. Naturalistic scenes featuring lions, deer, rams, horses, elephants and birds are amongst the most popular, such as lot 252 which depicts elephants and rabbits, but also fantastical beasts such as the simurgh and dragons decorated palace walls.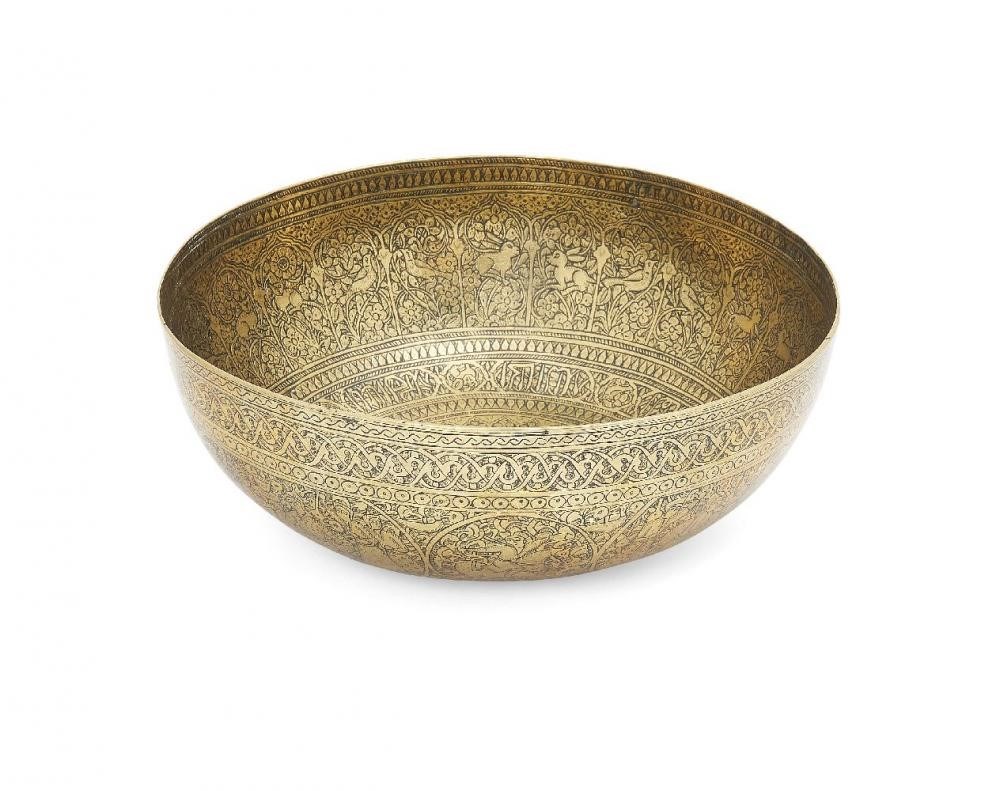 Lot 277 : Example of metal work within the auction : A Qajar engraved brass bowl, Iran, late 19th century
Amongst the most innovative designs introduced during the Qajar period was the use of intertwined scrolling arabesque bands in black against white (see the borders of lots 249, 252 both pictured above), also seen in metalwork of the period that can be seen Lot 277).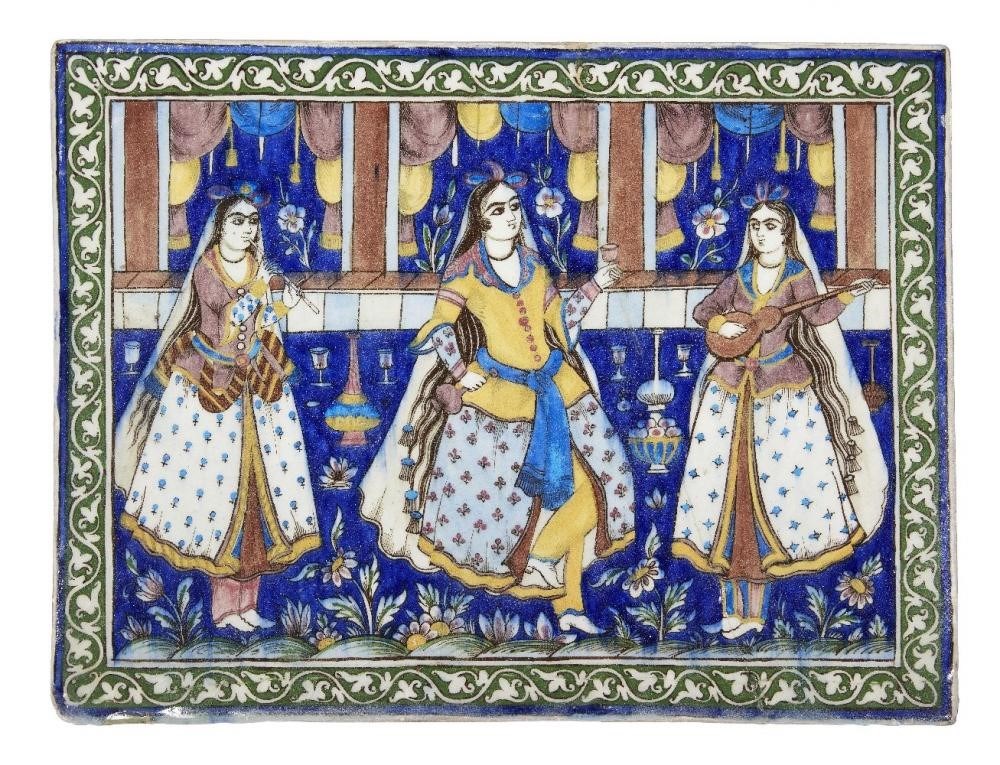 Lot 239 A pair of Qajar underglaze moulded pottery tiles, Iran, 19th century
The depiction of women (see the two tiles in lot 239 pictured above ) particularly focussed on the themes of dance and music. One such scene shows a musician playing the Ney (flute), while the other plays the Tar (stringed instrument). A third dances and holds the symbolic flask and goblet. A table laden with apples usually appears in representations of women in the Qajar era, representing love and fruitfulness. The idealised portrayal of beauty is seen in their stylised features; large oval eyes, curved nose, flower-bud mouth and heavy brows.
The Islamic Art & Manuscripts auction will take place on Tuesday 16 June at 10.30 am.
FIND OUT MORE ABOUT THE HIGHLIGHTS
SET-UP KEYWORD ALERTS FOR UPCOMING CERMANICS
FIND OUT MORE INFORMATION ABOUT THE ISLAMIC & INDIAN ART DEPARTMENT