A Collector's Guide to Japanese Prints
1/11/2019 News Stories & Press Release, Chinese, Japanese & South East Asian Art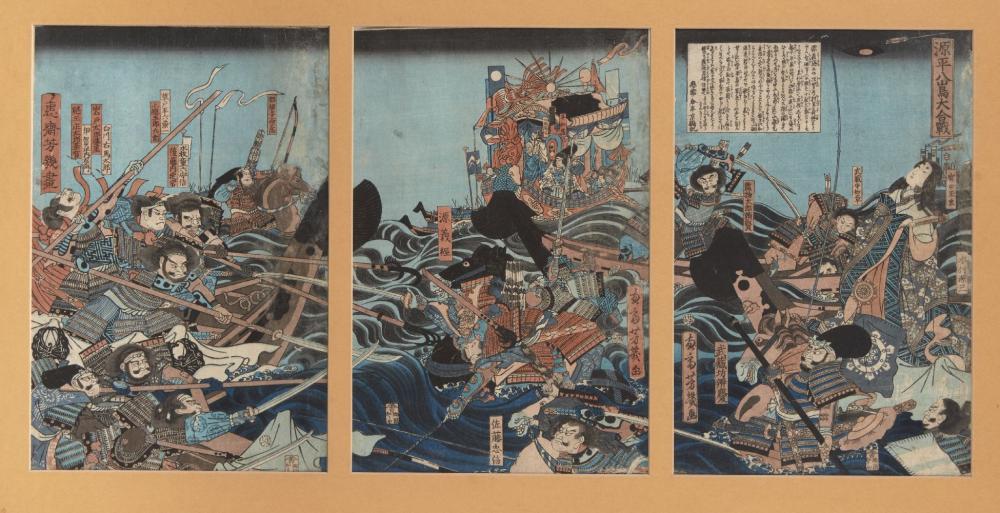 Utagawa Yoshiiku, Japanese 1833-1904, The great battle of Yashima in the Genpei War, 1860, complete triptych woodblock print in colours
Japanese woodblock prints invite the viewer to step back in time, to observe the culture, fashion and landscapes of 19th century Japan. The prints span five key genres landscapes, actors & plays, beauties, birds & flowers, and historical scenes. Woodblock prints have become emblematic of traditional Japanese culture and intricate design, as innovative artists and expert craftsmen come together to create beautiful, timeless works of art.
Japanese woodblock prints were originally made in large numbers for mass consumption, a way of letting the public engage with great poets and artists of the time. Auction houses, galleries and collectors consider prints to be original as long as they were produced within the artist's lifetime, and usually feature the artists seal and signature, which was hand carved into the block and not executed by the artists hand. Some blocks outlived their originator and as such you may come across a later print produced from the same blocks. Japanese craftsman continue to train in the art of woodblock printing, and reputable groups like the Institute of Woodcut Prints have replicated the original blocks to create stunning reproductions that reflect how the original work would have once been.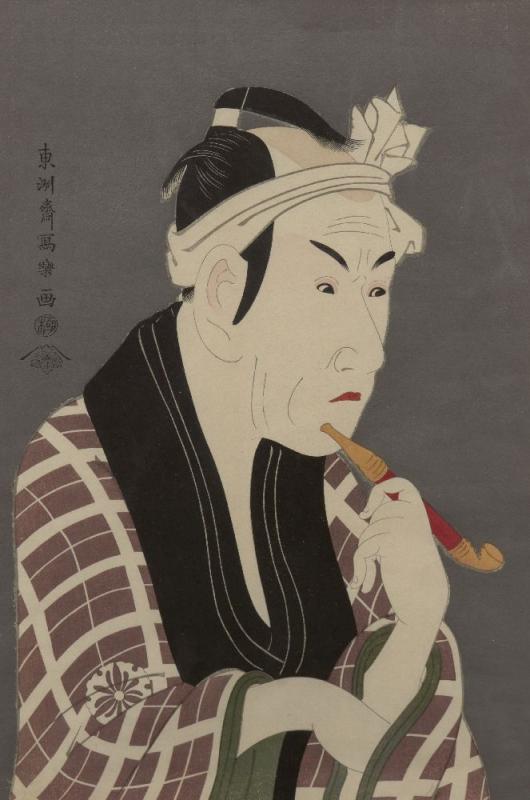 Lot 478 is a fine example of a stunning reproduction. After Toshusai Sharaku, Japanese active 1794-95, Actor Matsumoto Koshiro IV as Gorobei the Fishmonger, from the pay Katakiuchi Noriiai-Banashi,1960, woodblock print with mica ground, published by the Institute of Woodcut Prints.
Here Elizabeth Wormald, cataloguing assistant with expertise in Japanese art explains what to look out for when collecting Japanese prints.


Age, Rarity and Condition


Japanese prints vary in price in accordance with several factors, namely artist, age, rarity, and condition. Woodblock prints were initially designed for mass consumption; to be pinned to walls and passed around the homes of common folk. Thanks to these humble beginnings many prints were not treated with the same level of care as we do now, and amongst those that remain, you are sure to find a few folded and dog-eared examples. Though some may enjoy a print with a little Edo period grime, tastes vary, and this can pose a particular challenge for those hunting down classic prints. If you're looking for a sharp and vivid print, focus on finding later prints by the same artist, produced toward the end of their life. Later printings tend to improve a prints condition, but you may have to sacrifice rarity and the prestige of an artist's early works. The great variation of artist, age, rarity and condition mean that it's fairly easy to snap up 19th century prints with a well-known name for less than £200. Finding an old print, by a renowned artist in good condition is by no means impossible, though these rare examples will come with a heavier estimate.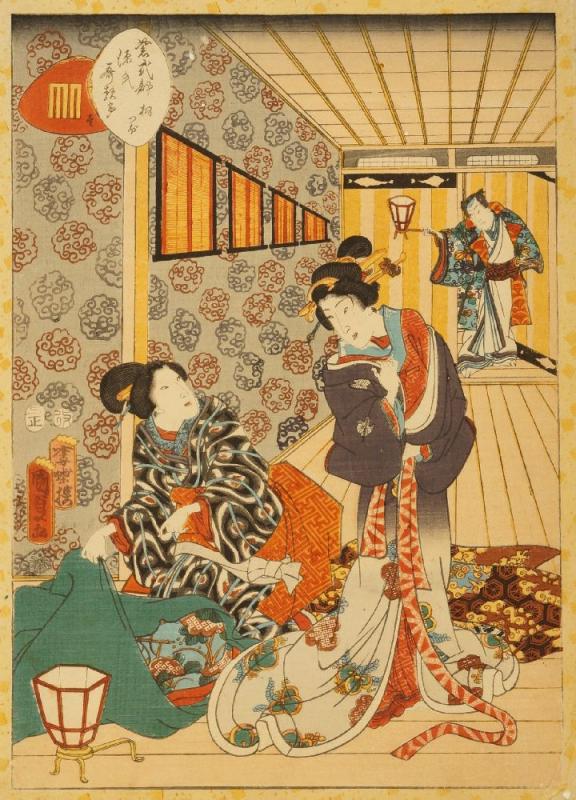 Utagawa Kunisada, Japanese 1823-1880, No. 1 Kiritsubo, 1857 1st month, from the series Murasaki Shikibu's Genji Cards, woodblock print  
Surimono


Unlike the average mass produced woodblock print, Surimono can offer the buyer a more exclusive and rare print. Surimono are a subgenre of Japanese woodblock prints which were published privately, sometimes used as gifts distributed inside private circles, never to be sold to the general public. Most surimono combine the art of the print and the poem, these would have been commissioned by the poet themselves and then distributed amongst their closed poetry circle, as in lot 504, which features poems by Gyokkaso Maruzumi and Kumodori Wataori. Thanks to surimono being an entirely private affair with little concern for economic cost, the prints were produced used the finest papers, pigments and techniques of the day. Surimono are usually produced as shikishiban, a small size, around 19 x 21.5cm, but occasionally rare large prints are seen, as in our upcoming Asian sale lots 483, 484and 497. Many works feature embossing, metallic pigments and mica, as seen in the kimono of the flute player in lot 506, making them luxurious and highly collectable.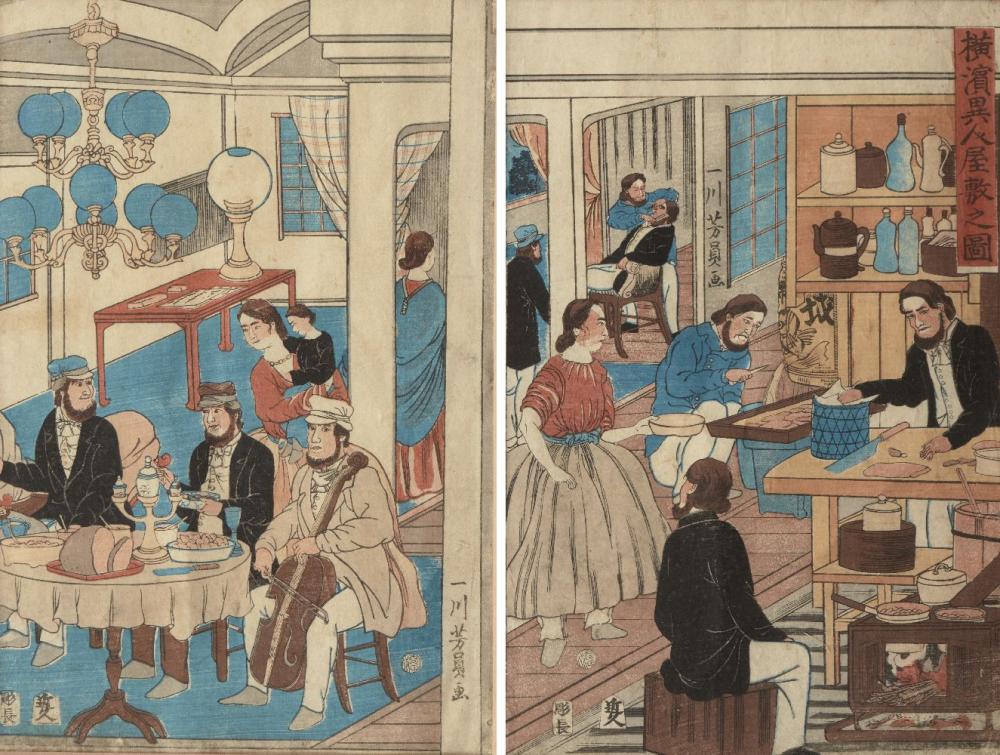 Utagawa Yoshikazu, Japanese active ca.1850-70, A Foreign Residence in Yokohama, 1861 1st month, woodblock print in colours, two panels from triptych
Shinhanga


Shinhanga, or new woodblock prints, tend to get overlooked in favour of their more well-known predecessors. Shinhanga developed in the early 20th century rooted in earlier traditions carved out by eminent artists such as Katsushika Hokusai and Utagawa Hiroshige. Most shinhanga works use western perspectives to depict classical Japanese scenes and use modern paper and pigments creating sharp and clear impressions. The artists tended to train through art schools and therefore had an in depth understanding of both Japanese and western art. These are great prints for those looking for Japanese work in good condition and enjoy the delicate balance of Japanese and Western art.
For more information on the upcoming Chinese, Japanese & South East Asian auction contact the Head of Department Bill Forrest.