A Christopher Dresser jug was the high point of recent Design auction
3/05/2022 News Stories & Press Release, Decorative Arts & Modern Design
The Design: Decorative Arts 1860 to the Present Day auction on Tuesday 26th April 2022, was an outstanding success, with a silver and ivory jug by Dr Christopher Dresser for Elkington & Co being the highlight. This sale included the second and final part of a Private Collection of Loetz, lots 57 to 72, which showcased the quality and variety of the manufacturer, a leader of Bohemian art glass. The collection on offer attracted interest and buyers locally in the UK and from across Europe and America. Also included within the sale were twenty-nine lots of Lalique, lots 86 – 114, with only one lot going un-sold. Roseberys were particularly thrilled to be able to offer such a rare perfume bottle as the Bouchon Cassis and also the small collection of Lalique glass pendants, brooches and a bracelet in the sale. In the furniture section, all pieces by Danish designer, Hans Wegner sold with an impressive price total.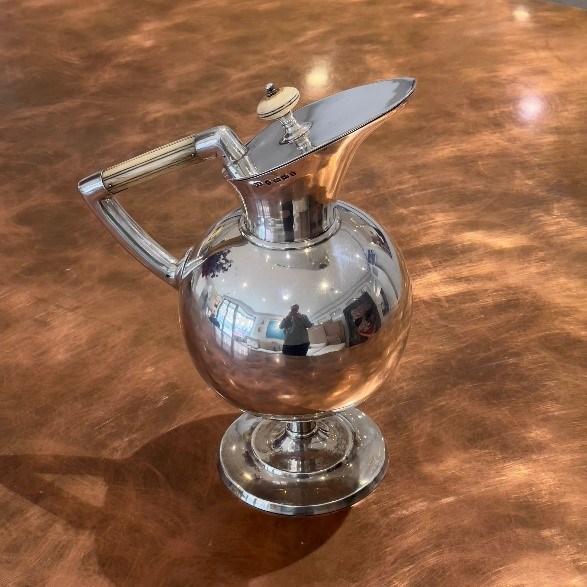 Fiona Baker, Head of the sale commented: 'We would like to think that this auction was representative of Roseberys trademark Design: Decorative Arts 1860 to the Present Day department. As a department, we aim to include interesting and diverse works by leading designers across the timeline, while also offering new and stylish works by less established makers. This approach makes our Design sales meaningful and approachable to established collectors and people starting out on their 'Design Journey'. We were absolutely delighted to achieve an overall sale rate of 84%. The highlight of the sale for me was the Christopher Dresser silver jug, as it was a pleasure to handle and catalogue the work of such an innovative designer.'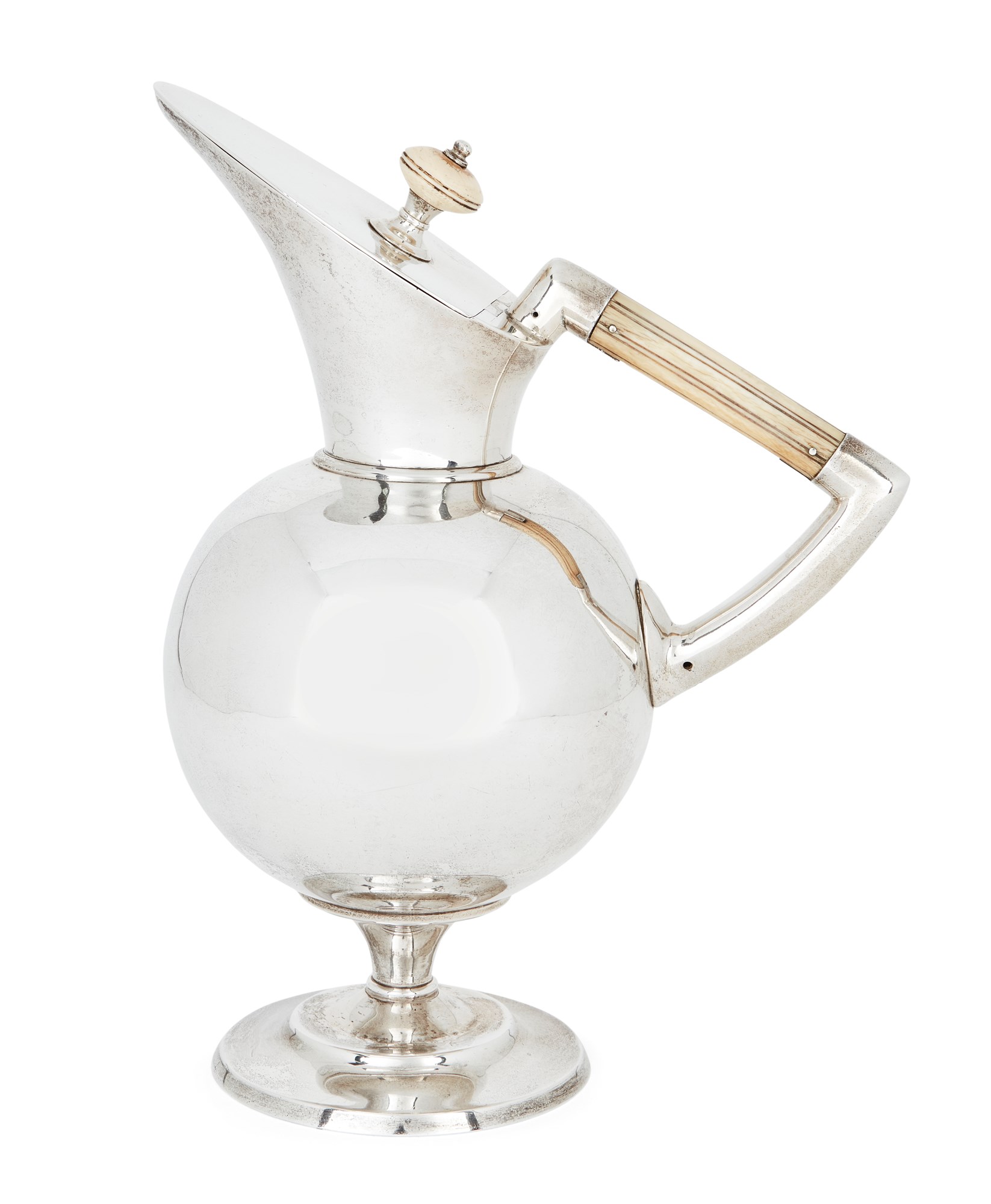 Leading the sale was lot 155, Dr Christopher Dresser (British 1834-1904) for Elkington & Co, a silver and ivory 'Claret or water jug' with hinged cover, beautifully made by Mark of Elkington & Co, Birmingham hallmarks 1885, base stamped Elkington & Co, 17559, Rd.22870. The lovely object designed by Dr Christopher Dresser, one of the 'greats' of the late 19th century applied arts, was fiercely battled for over six telephone bidders, alongside internet and commission bids, which was a testament to its appeal. Fiona Baker commented: 'It was a privilege as a specialist and a saleroom to handle and offer it for sale.' Estimated to make £2,000 - £3,000, this lot sold for £26,250 to a private buyer based in Paris.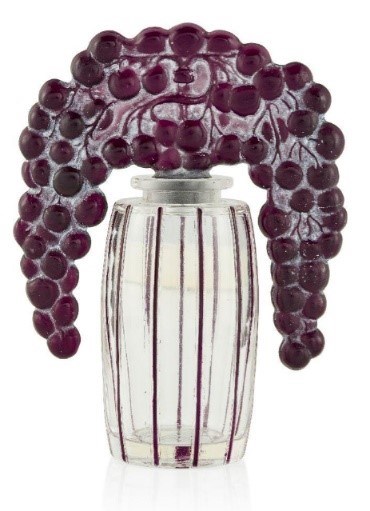 Coming with an estimate of £6,000 - £8,000, the 'Bouchon Cassis' (lot 86) by French jeweller, medallist, and glass designer, René Lalique sold for £35,000 to a New York-based buyer. The beautiful perfume bottle, No.494, was designed in 1920, with a distinctive 'Tiara' stopper. Fiona Baker commented: 'The warm blackcurrant colour of the stopper was picked out in similar coloured enamel in the vertical bands on the bottle. This lot is elegant and creative, as one would expect from Lalique, and highly prized by Lalique perfume bottle collectors.'
Lot 17, Constance Spry (British 1886-1960), a twin-handled 'Napoleon's Hat' earthenware planter made by Fulham Pottery, c.1940, realised £3,000 against an estimate of £150 - £250. Prices for Constance Spry's planters have gone from strength to strength, perhaps enhanced by the recent exhibition of her work at the Garden Museum in London last year.  Fiona Baker added: 'We always find them a popular seller, but this was a particularly good result'.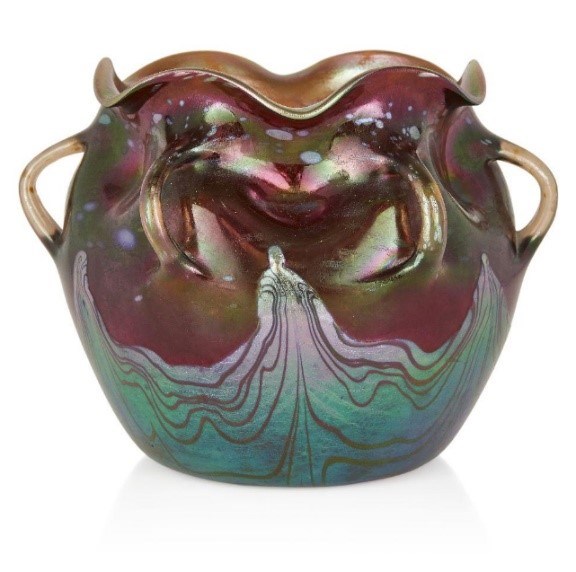 Lot 59, an iridescent 'prototype' Phaenomen Genre glass vase, created in 1901/2, was the highlight on offer from the collection of Loetz . The results for the second and final part of the single owner Loetz collection were equally as good as the first, perhaps the most notable in this sale being the six handled prototype vase with vibrant green and puce decoration. Estimated to make  £2,000 - £3,000, this vase made £5,750, going to a buyer based in Austria.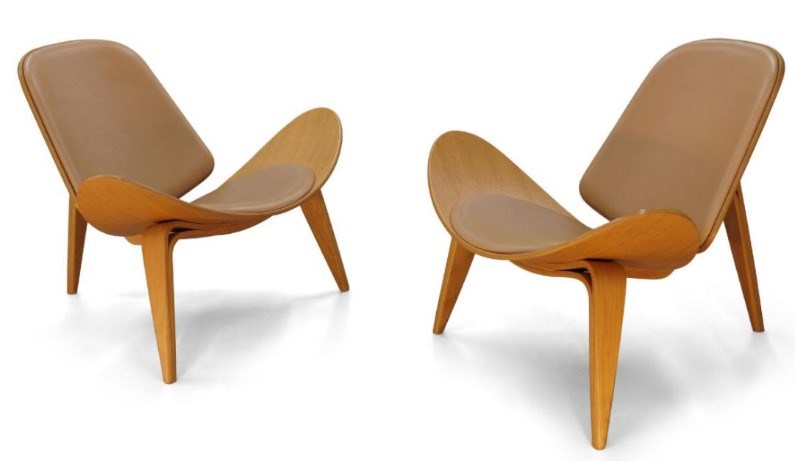 All furniture by Danish designer Hans Wegner sold, making a collective total of £23,375. The highlight from the collection on offer was lot 269, a pair of 'CH07' shell chairs and two ottomans, which beat the top estimate of £2,500 to make £11,250. Nigel Dawson Ellis, Specialist of 20th Century Design at Roseberys commented : 'The success of these modern Hans Wegner's shell chairs goes to show that buyers are indiscriminate when it comes to classic design. These examples were crafted in oak to Wegner's exacting standards by PP Mobler in 2005.'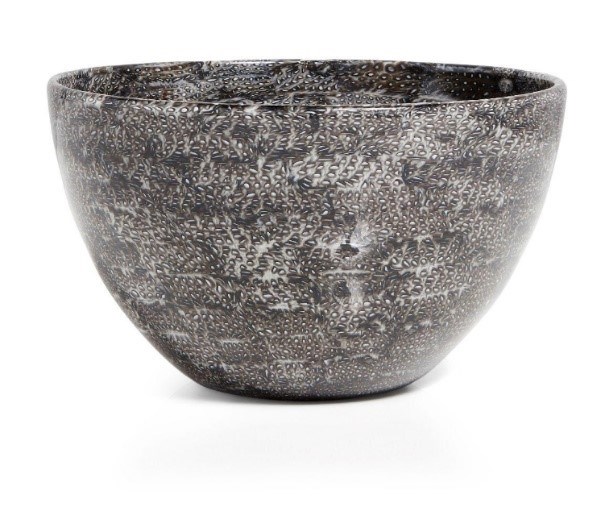 There was strong bidding on the day for this striking 'Puntini' bowl (lot 120). The murrine glass bowl, created in 1965, by Itallian Paolo Venini (1895-1959), is a rare example, with its intricate murrine work detailing by a true master of 20th Century Italian glass. Estimated to make  £1,500 - £2,000, this bowl by a leading figure in the production of Murano glass made £4,250.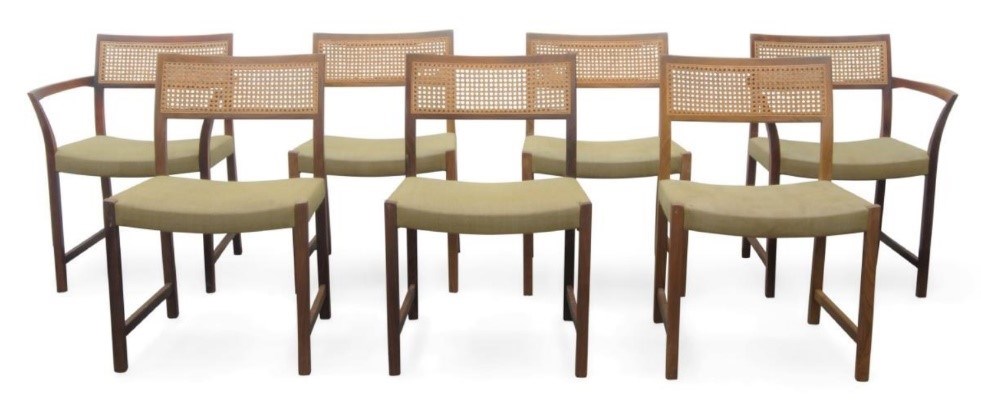 This handsome set of rosewood and caned dining chairs by Danish designer Illum Wikkelsø (1919-1999), drew much attention before and on the auction day, with multiple bidders competing against each other. The incredibly scarce set of chairs with caned backrests above green fabric upholstered seats, including two armchairs and six side chairs, has seemingly no archival records of armless versions ever being produced. With an estimate of  £1,500 - £2,000, this rare set went on to make double its top estimate, selling for £4.000.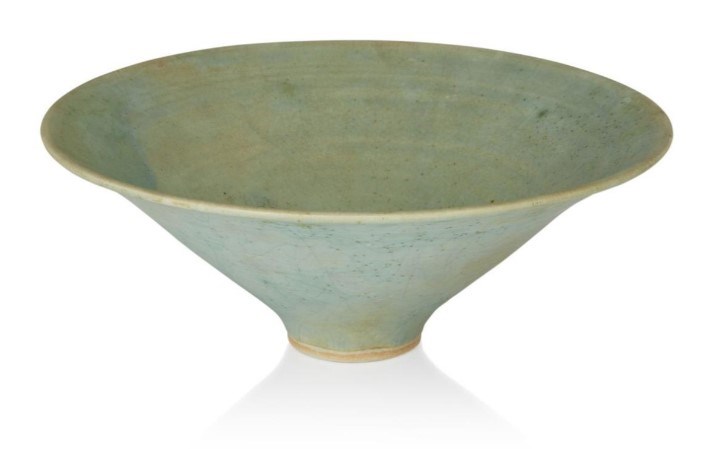 (Lot 28) This porcelain footed bowl  created in 1980 by British studio potter, Emmanuel Cooper (1938-2012), complete with impressed potter's seal to foot, made £1,750 against a pre-sale guided price of £300 - £500. The bowl that measures 10cm high and 25.5cm in diameter is a simple and elegant example of Cooper's works in porcelain, with its understated pale green craquel glaze.  The price and popularity of this item reflects how Cooper's designs continue to garner the deserved attention of studio pottery collectors.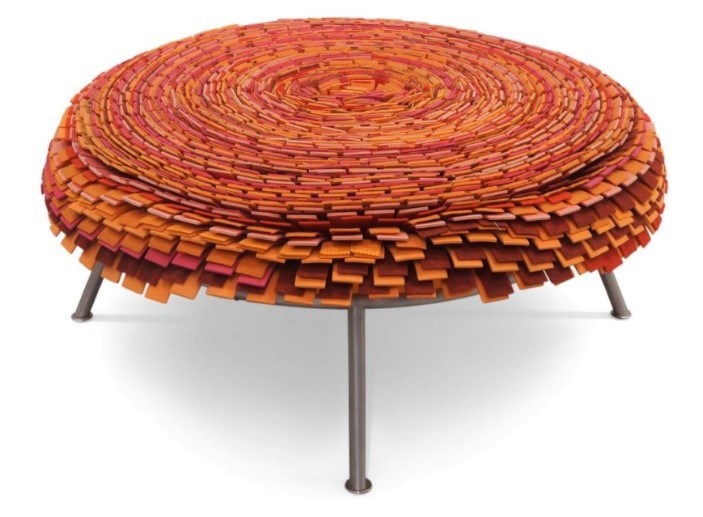 (Lot 373) This fun Fernando & Humberto Campana 'Vitório Régia' stool for Estudio Campana, made in 2002, realied £3,750. In contemporary design, the 'Vitório Régia' stool by Brazilian brothers added a flash of colour and eccentricity to the sale.
 -Ends-
We are now welcoming consignments for our next auction on Wednesday 14 September. 
Please email decarts@roseberys.co.uk for a complimentary valuation of your items.