20th Century Decorative Arts – 25th September preview highlights
17/09/2018 News Stories & Press Release, Decorative Arts & Modern Design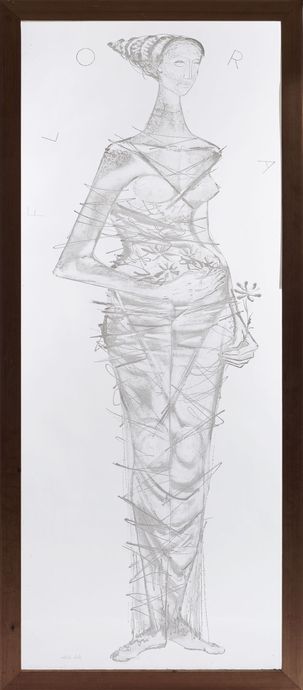 17 September 2018
20th Century Decorative Arts
A good selection of 20th Century Decorative Arts are on offer at Roseberys this September, starting with an impressive collection of 14 lots (lots 22-35) by John Hutton, with provenance from the Hutton family.
John Hutton (1906-1978), a New Zealander by birth, came to England in 1936, his first significant commission was a mural for the S.S. Orcades (1937).  World War II saw him trained as a camouflage officer and in that capacity he saw service in Egypt, Palestine, Syria and Europe.  In 1944 he met the architect Basil Spence (a Captain in the army) and formed a life-long friendship that was to lead to his best known, revered and recognised work, the Great West Screen of Coventry Cathedral.
Central to Sir Basil Spence's design for the new Coventry Cathedral was the desire to maintain a connection with the ruins of the bombed old cathedral. The vast and clear West Window was that means.  John Hutton spoke of his design ", with a translucent pattern of saints and flying angels which partly, but never entirely, obscure in either direction."
Highlights from the collection on offer include (lot 23):
John Hutton (1906-1978), a full length engraved glass figurative window 'Flora', 1961, signed, engraved glass, full length figure, title engraved around the head, framed 210 cm x 89 cm  Estimate £800-1,200*
One of three windows originally made for Fisons Building Ipswich (only two of the three known to exist). Provenance: Family of John Hutton Sold with a letter of authentication by Mrs Marigold Hutton.
The essential characteristic of his work, be it engraved glass, drawing or mural, is line and his fascination for the human form and in particular the female form.  He wrote "The human figure is in my estimation the most absorbing and limitless subject in all art. It's association with history and mythology and its infinite ways of being represented make it an everlasting source of inspiration."
For further works by John Hutton please see Modern and Contemporary British Art, 26th September, lots 123-126.
Estimate £2000-3000*
From the furniture section is (lot 66) by Mackay Hugh Baillie Scott (1865-1945),
Scott was an English architect and artist, with a long career spanning different styles – He work aesthetic derived from the Tudor, Arts and Craft and later Neo-Georgian. The walnut occasional table c.1898 with almost square top with apron below, on angled supports with ring turned decoration, each side with three spindles united with arched stretchers, shaped feet 68.5 cm high; 40 cm x 38.5 cm is an exceptional example of his work.
John Andrews, Arts and Crafts Furniture, ACC, Woodbridge, 2005, p 122 & 123, illustrates a similar model in walnut as M H Baillie Scott and attributes the maker as The Guild of Handicraft.
Estimate £1,200-1,800*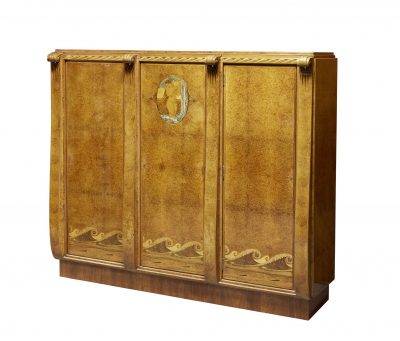 (Lot 151) an Art Deco burr walnut and marquetry bedroom suite attributed to by Paul Follot (1877-1941) is inlaid with mother-of-pearl, metal, ivory and other woods, c.1925
Follot was an Art Deco leader known for his luxury furniture and decorative art designer, producing pieces before the First World War
The offered lot comprises: a wardrobe, a single bed, jewel case/vanity on stand with drop down side and cupboards at either end, an armchair and a side chair, the cabinet and bed inlaid with figurative panels and 'wave' like border motifs and carved scroll detail to some of the upright elements, the chairs with scroll terminals, the vanity on stand inlaid with a circular wave motif Wardrobe 139.5 x 192 x 44.5 cm: Jewel/vanity on stand 82 cm x 57 x 38 cm; Bed head board 129 cm high x 199 cm long 112 cm wide (5)
Estimate £6,000-10,000*
For a stable favourite (Lot 71) by Gallé, is a large double-overlay cameo glass vase c.1905, signed in cameo 'Gallé'
Emile Gallé is famous for his glass and considered to be one of the major forces behind the Art Nouveau movement. He studied philosophy, botany and drawing in his youth and his stylised heavy opaque glass wear, which are either carved or etched with plant motifs are unmistakable.
The presented vase of slightly flattened form, the body predominantly yellow glass with some white, overlaid and acid-etched in red and dark red with flowering and leafy branches, possibly hydrangeas. 51 cm high is a glowing example of the artist's work.
Estimate £2,500-4,000*
(Lot 83) is a glorious vase by Amphora, 'Odilo', (Riessner Stellmacher & Kessel) Art Nouveau porcelain vase painted by Nikolaus Kannhauser c. 1895-1905, inscribed 'Odilo', printed red RStK mark, impressed Amphora 468
Painted with a maiden with flowers in her wind-blown hair, trees in the background, gilt decoration below the neck, signed on the side 'Odilo'25.5 cm high.
Amphora's vision was to create luxury porcelain objects, a collection from the company in 1893 received awards and elevated the company to international success.
Richard L. Scott 'Ceramics from The House of Amphora 1890-1915', Published in 2004, p.325 (reference the mark 'Odilo' – The Teplitz Museum has an example in their collection but at the time of the book going to press there had been no other vases with the 'Odilo' signature found on the side.)
Estimate £4000-6000*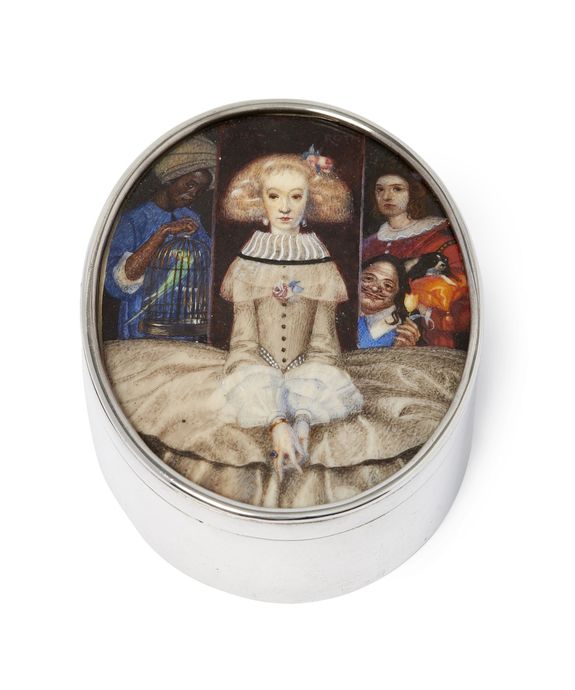 Austrian artist Norbertine Bresslern-Roth (1891-1978), was famed for her spirited paintings of animals. In (lot 89) we find an interesting piece that appears to be allegorical, it depicts a woman in 17th Century costume flanked in the top left quadrant with a figure wearing a turban and holding a parrot in a cage, and the right hand quadrant showing a page holding a Pekinese/King Charles Spaniel on a cushion and a moustachioed gentleman in front holding a yellow tulip, the woman's skirts spread to form the lower part of the image, the miniature is behind glass and can be removed from the top of the box, the box is a plain oval and the top opens to reveal a gilded interior.
The pose of the central figure is reminiscent of Velasquez's portrait of The infanta Maria Theresa of Spain. 
Norbertine Bresslern-Roth (1891-1978), a painted portrait miniature on ivory mounted in an Austrian silver box
c.1925, signed on the ivory N.B- Roth, silver mark for Rudolf Souval, Vienna, hoopoe bird mark, 935 standard silver, and a six-sided mark enclosing 7 stars
Appearing 3.2 cm high; 9 cm long; 7.2 cm deep
Estimate £1,000-1,500*
(Lot 128) by Maurice Marinot (1882-1960), is a cased and internally decorated glass Flacon without stopper, c.1930, signed Marinot.
The French artist moved away from painting when discovering the art of glassblowing. He was experimental and explorative in his techniques, dismissing the more precise workings of previous glassmakers in favour of a more natural approaching letting the glass lead him into its final form.
This piece is flattened in form, internally decorated with black and rust-red flecks, with trapped elongated bubbles on the shoulders spaced approximately 1.5 cm apart, small bulbous neck13.5 cm high; 14 cm wide; 6 cm deep
Estimate £2,000-3,000*
(Lot 162) by Richard Georg Schnauder (1886-1956), is a patinated bronze 'Allegorie des Rundfunks (Allegory of Broadcasting)', signed R. Schnauder, Guss v. Pirner u. Franz Dresden.
Richard Georg Schnauder, son of sculptor Reinhard Schnauder was in the art studio from an early age taking guidance from his father, which would later form the aesthetics of his own work.
Residing in Dresden he lost his apartment and many of his works in the 1945 bombing of the area. However continued his work and took on the role of an artistic consultant during the reconstruction.
The dynamic figure stands on a partial globe of the world holding multiple arrows in each hand, dark patina, raised on a marble base 50 cm high x 90 cm wide
Estimate £2,000-3,000*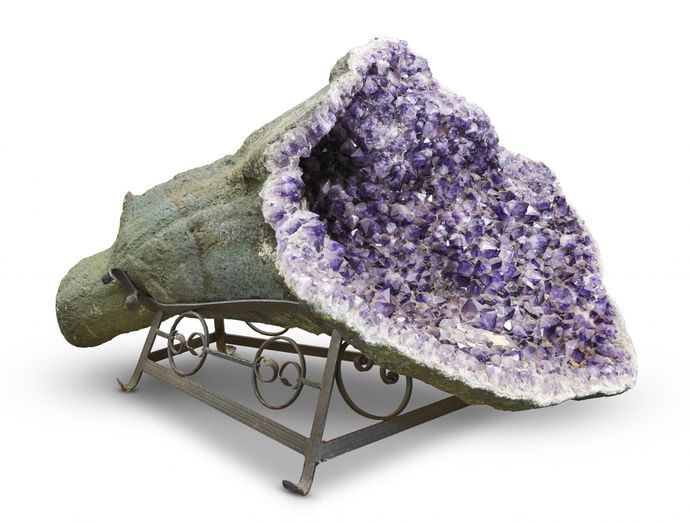 Finally and rather unusually (Lot 186); An impressive large Amethyst Geode – Probably Rio Grande do Sul Brazil, approx. 399kg in weight, Raised on iron stand, measuring an impressive 121cm high x 180cm deep x 120cm wide.
Estimate £3,000-5,000*
The sale takes place on Tuesday 25 September at 12 noon
Viewing Times
Friday 21 September 1-5pm
Sunday 23 September 10am-2pm
Monday 24 September 9.30am-5.30pm
Tuesday 25 September 9.30am-11.30am
~Ends~
*Prices include Buyers Premium of 23%.
For further information please contact Charlotte Meddings charlottemeddings@roseberys.co.uk  +44 (0) 20 8761 2522
Roseberys is a privately owned auction house operating at the heart of the fine art market for 30 years.
With offices in London's Mayfair and Lambeth Roseberys offer a calendar of more than twelve specialist fine art, antiques and collectibles auctions each year.
Specialist sales include a wide range of Asian and Islamic Arts, Modern and Contemporary Art and Design, Decorative Art, Fine Silver and Jewellery, Ceramics, Paintings, Prints, Photography, Antique Textiles, Vintage Fashion and Fine Wine and Whisky.
Roseberys team of world-renowned specialists also provide a wide range of art market services to professional clients, including valuations for insurance and probate.
Roseberys is a member of SOFAA – The Society of Fine Art Auctioneers.