20th Century Art & Design Highlights
26/11/2018 News Stories & Press Release, Decorative Arts & Modern Design , Impressionist, Modern & Post War Art
LONDON: "What is your dream house?" That was the question Terry Farrell (b.1938), the renowned British architect behind the MI6 building, Charing Cross station and the KK100 tower in Shenzhen, asked his eight-year-old son Max. The answer – a cross between a space station and an oil rig – inspired this huge 176cm high hand-built dolls' house (lot 133). Constructed from steel, plastic and laminated particle board and consisting of angular platforms, escape hatches and landing pads, it was built by Farrell in c. 1981-82 for a dolls' house competition in Architectural Design magazine. A competition that "flooded" the magazine with over 300 entries, according to the New York Times. The model is estimated at £800-1,200 in a sale of 20th Century Art & Design at Roseberys London on December 4. The lot will also include a large quantity of space toys and figures and an Architectural Design's Dolls' Houses magazine edition from 1983 illustrating Farrell's model.It is among an array of eye-catching pieces from the 20th century – furniture, paintings, sculpture, lighting, ceramics and much more – geared towards those looking for something special to furnish their homes and collections.
Ceramics
Quality studio ceramics has been one of the market's recent success stories, and this sale will include an enticing array. Bernard Leach (1887-1979), long regarded as the father of British studio pottery, is represented by a trio of charming animal tiles made in c.1930-40.
Pictured here is a 10cm square stoneware tile painted with a leaping deer (lot 167). Mounted in a simple wooden frame, it is estimated at £500-700.
Derbyshire-born potter, Emmanuel Cooper (1938-2012), is another distinguished name on the secondary market.
A large 32cm wide conical porcelain bowl (lot 98), covered all over in a fine pale blue crackle glaze, has been consigned from a private collection in London. Made in c. 1990's, it bears impressed marks to the base and foot and is valued at £500-800.
Another ceramic highlight is a Moorcroft vase (lot 24), retailed by the London department store Liberty & Co between c.1903-13. With a 'Hazeldene' pattern in tube-lined, green, blue and yellow streaked colours, it is signed in green 'W Moorcroft Des' and impressed 'Made for Liberty & Co'. It carries hopes of £1,000-1,500.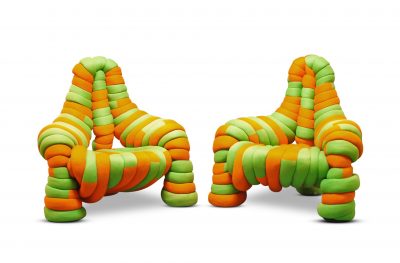 Furniture
These bold lounge chairs (lot 145) by Anne Sutton and her husband John Makepeace have a price tag of £3500-4500. Upholstered in orange and green lengths of woollen fabric wrapped around a foam frame on tripod legs, the pair date to c.1974.
Six Gio Ponti (1891-1979) chairs (lot 231), date to c.1950 and are estimated at £2,500-3,500. The model '602' walnut dining chairs were made by the famous Italian designer for Cassina in Mede, Italy, and have recently been re-upholstered.
Elsewhere, a fine c.1910 Tiffany Studios patinated bronze floor lamp base (lot 43), with a later iridescent shade made by Lundberg Studios in the USA, is estimated at £1,500-2,500.
Pictures
Female talent in the sale will include two standout works by American artists Grace Hartigan (1922-2008) and Anne Estelle Rice (1877-1959). The former was heavily involved with and influenced by the Abstract Expressionist movement. Her large-scale gestural paintings are reminiscent of Rothko and Pollock, but distinct from both. Hartigan's paintings were included in '12 Americans' at the Museum of Modern Art in New York in 1956, and in The New American Painting, which was co-organized by MoMA and the United States Information Agency and travelled across Europe from 1958-59. Kanvas, a signed 223 x 220cm oil on unstretchered canvas (lot 374) dated '59, is estimated at £15,000-20,000. Rice, regarded as one of the most prominent female Colourist artists, was heavily influenced by her time spent in France. Leading Scottish Colourist, John Duncan Fergusson (with whom Rice was romantically involved), encouraged her to paint, and by 1911 she began contributing to his Rhythm journal. In 1986, The Fosse Gallery held an exhibition of Rice's work, co-organised by the artist's son David Drey.
Still Life with Coffee Pot (lot 285), a 32 x 39.7cm oil on board, was formerly owned by Drey, according to a description on the reverse, and is estimated at £7,000-10,000. Other picture highlights include an eerie oil painting by Soviet non-conformist painter Boris Sveshnikov (1927-98). Titled The First Leaf (lot 441), it is estimated at £15,000-20,000. Sveshnikov was falsely accused of engaging in terrorist activity at the age of 19 and was interned in Gulag labor camp by the Soviet Government in 1946. He spent his early years imprisoned at a camp called Vetlosian in the Ural Mountains where he felled trees and dug trenches with other laborers. He was released in 1954 and continued to work in his style of fantastic realism developed during his internment.
Elsewhere, a decorative gouache called Roses Blanches et Rouges (lot 288) by French Fauvist painter Raoul Dufy (1877-1953) comes from the estate of Nigel Greenwood and was exhibited at the Raoul Dufy exhibition at the Musee des Beaux Arts de Lyon in 1957. It carries hopes of £8,000-12,000. Another French work in the sale is Le Beffroi de Laudun (lot 257), a typical landscape by the Post-Impressionist Albert André (1869-1954). Painted in 1928, it has been valued at £1,500-2,500.
~Ends~
20th Century Art & Design, December 4 starting at 11am
Viewing Times at Roseberys: Friday 30 November: 1pm-5pm Sunday 2 December: 10am-2pm Monday 3 December: 9.30am-5.30pm Tuesday 4 December: 9.30am-10.30am
For further information please contact Peigi Mackillop peigimackillop@roseberys.co.uk +44 (0) 20 8761 2522
Roseberys is a privately owned auction house operating at the heart of the fine art market for 30 years.
With offices in London's Mayfair and Lambeth Roseberys offer a calendar of more than twelve specialist fine art, antiques and collectibles auctions each year.
Specialist sales include a wide range of Asian and Islamic Arts, Modern and Contemporary Art and Design, Decorative Art, Fine Silver and Jewellery, Ceramics, Paintings, Prints, Photography, Antique Textiles, Vintage Fashion and Fine Wine and Whisky.
Roseberys team of world-renowned specialists also provide a wide range of art market services to professional clients, including valuations for insurance and probate.
Roseberys is a member of SOFAA – The Society of Fine Art Auctioneers.