19th Century European art was the predominant force behind Spring sale
2/04/2022 News Stories & Press Release, Old Master & 19th Century Pictures
Roseberys were delighted to present the first Old Master & 19th Century Pictures auction of the year on 22nd March, which gave way to many outstanding results. 19th Century European art was the predominant force behind the Spring sale with excellent results achieved for Josef Rebell, Giuseppe Costa and Heinrich August Georg Schiøtt. Victorian paintings were also strong across the board with consistent bidding and results achieved, especially for lots by Alfred De Bréanski, George Hyde Pownall and Louis Bosworth Hurt. Victorian watercolours proved too that if they are well-executed, in good condition, and fresh to the market, they can still fetch good prices, lots 161-171 inclusive. Several strong examples of Pre-Raphaelite works on paper performed well reinforcing that the market very much remains for the category. 18th Century British portraiture, in line with its overall market strength, was another especially robust section of the sale. A magnificent portrait of Saint Philip by the Studio of Jusepe Ribera (lot 28) made a respectable £5,750. Meanwhile contemporary 17th Century British oils similarly fared well – particularly work after Sir Anthony van Dyck, Flemish 1599-1641 and follower of Sir Anthony Van Dyck, Flemish 1599-1641.
Head of Sale & Specialist, Lara L'vov-Basirov commented on the success of the sale : 'We were delighted with the overall performance of the sale with strong results right through from the early religious works on paper – across the centuries and European centers of artistic production, throughout multiple genres, and in a variety of media – to the late 19th-century lots, which in themselves produced some particularly fine results. This sale once again reinforces the strength of the market for Old Master and 19th Century pictures and the consistent desire to own works of some age and considerable quality.'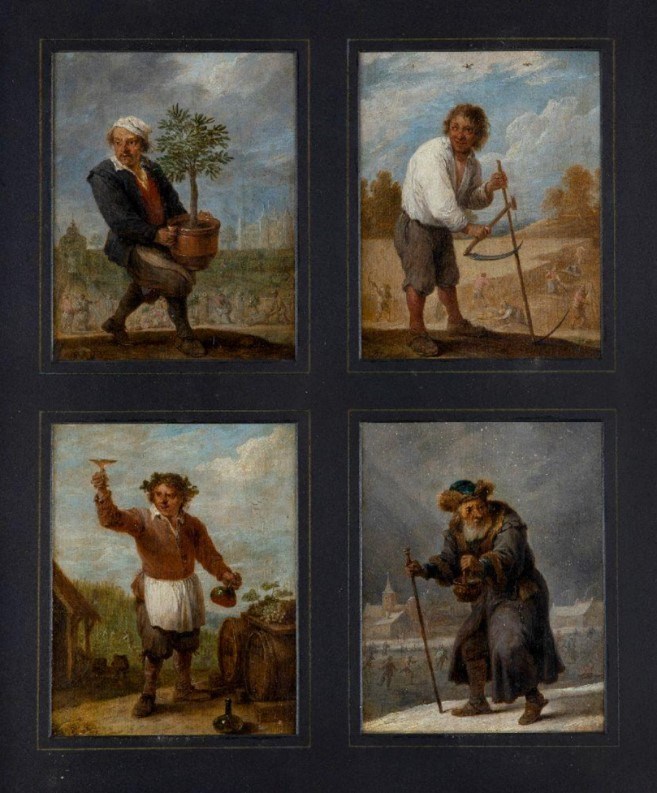 Leading the sale and soaring high above estimate was lot 34, after David Teniers the Younger, Flemish 1610-1690- An Allegory of the Four Seasons: Spring, Summer, Autumn, and Winter; oils on panel. Estimated to make £600-800, this work made an impressive £55,000, going to an online French buyer via RoseberysLive. Several sets of the 'Allegory of the Four Seasons' were produced by Teniers himself in around 1644. Each are similar in design to the present works but differ in compositional details.  Bidders clearly recognised the high quality of this period copy of David Tenier the Younger's 'Allegory of the Four Seasons' with fierce bidding up to the final price point.  This lot was flanked by attractive examples of Dutch and Flemish works which largely fetched good prices.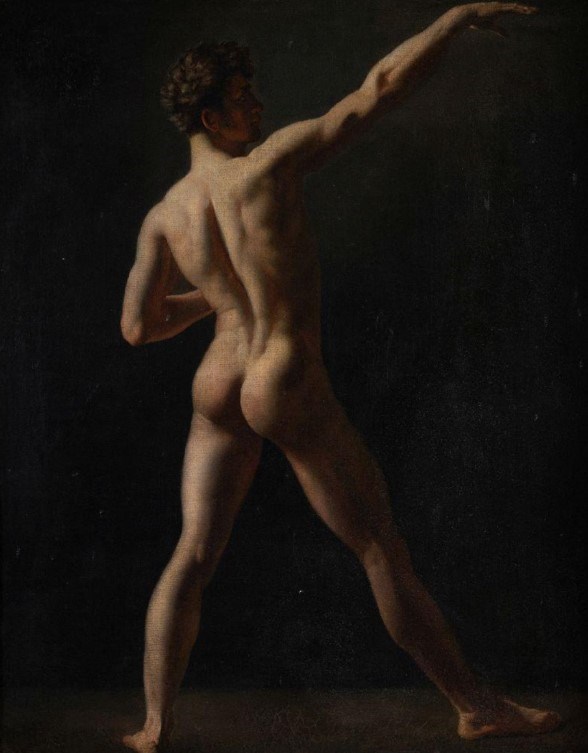 Lot 84, French Neoclassical School, late 18th / early 19th Century; oil on canvas, made £9,375, against an estimate of £800-1,200, going to a buyer in the US. The Neoclassical movement was dominant across France from 1760 to 1830. The present work, which had a lot of pre-sale interest appears to be a finished 'académie', a painting that displays an artist's ability to accurately depict the human anatomy. Here, the source of light appears to be coming from the left of the composition, highlighting the muscular contours of the male nude, whilst his body twists and his muscles flex. The particularly accomplished use of the effects of chiaroscuro recalls the handling in a number of late French Neoclassical artists including Jacques Louis David (1748-1825) and Jean-Auguste-Dominique Ingres (1780-1867).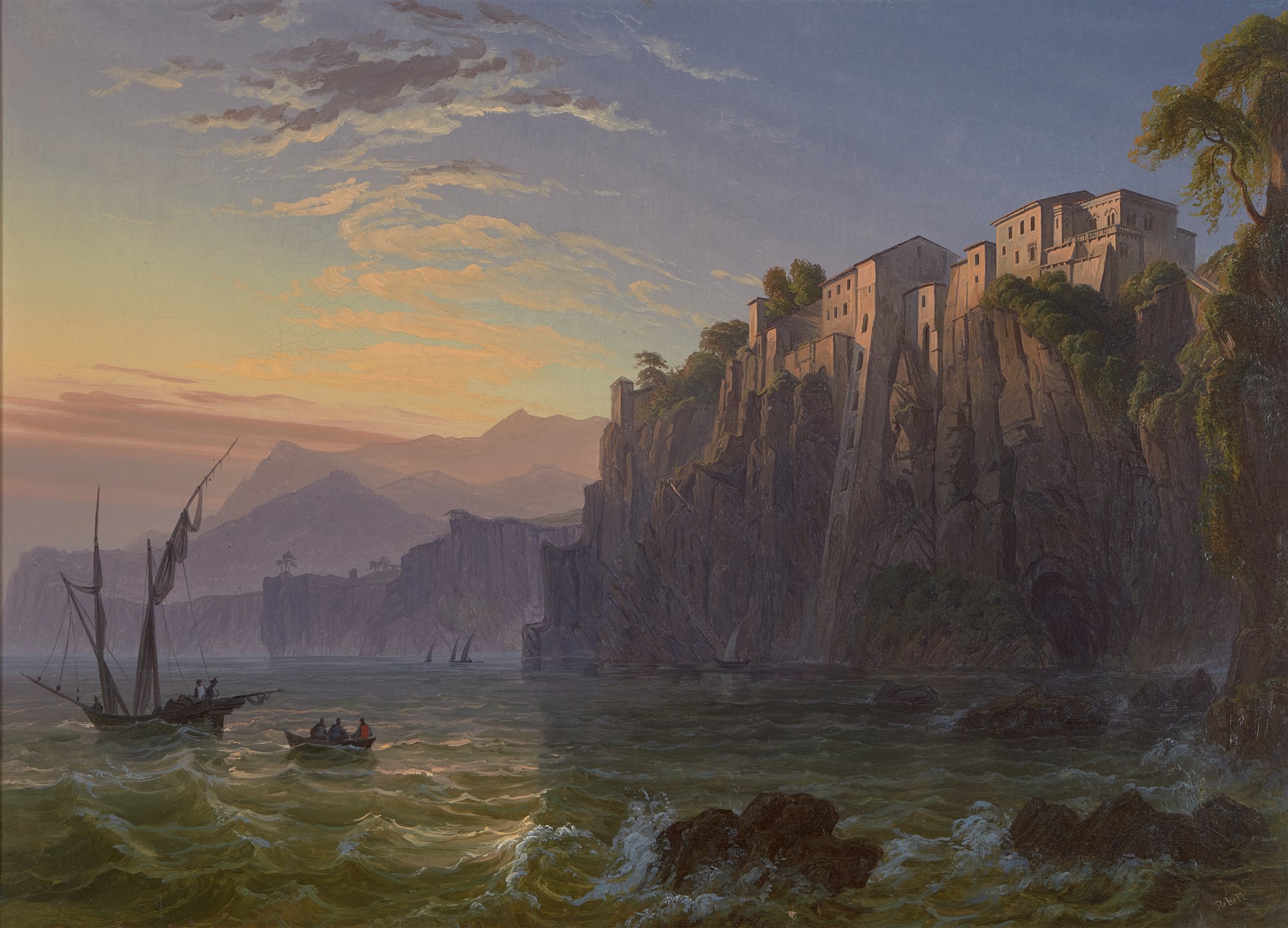 Lot 102, Josef Rebell, Austrian/German, 1787-1828-View of Sorrento at sunset; oil on canvas realised £10,625, going to a London based telephone bidder. This work last went through auction at Sotheby's, London in 2001. Rebell was particularly revered in his time and since, for his romantic Italian landscapes and seascapes, especially along the coastline south-east of Naples. In the present work, he has chosen to capture the dramatic cliff faces of the Sorrento coastline from the vantage point of the sea, at sunset. His unique contribution to landscape painting is undoubtedly his masterly use of light, and his works are generally illuminated by the warm, soft, and natural light of the southern sun. A good price for a first-class work by Austrian artist Josef Rebell in excellent condition. The sale foreshadows the first-ever dedicated solo exhibition of Rebell's paintings to be held at the Belvedere Gallery in Vienna this summer, with works from private and public collections to be presented together for the very first time.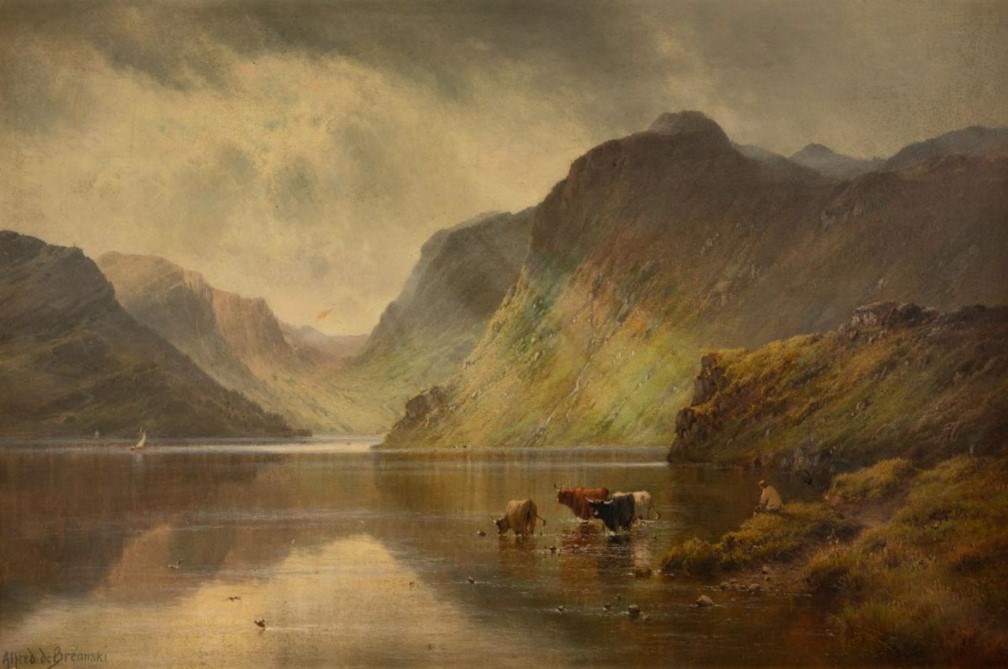 Lot 125, Alfred de Bréanski, Snr, RBA, British 1852-1928- Ogiven Lake & the Frangon Valley, N.W.; oil on canvas, signed 'Alfred de Bréanski', which came with a provenance from the collection of Herbert Kennard, UK was another lot that soared above its top estimated pre-sale price. Against an evaluation of £2,000 -3,000, this work made £9,375, going to a RoseberysLive online bidder in London. De Breanski Senior was celebrated for his resplendent views of the Welsh and Scottish Highlands, which were often, as in the present work, bathed in a flood of golden light, with water, cattle and a solitary figure. He had a great passion for the Highlands and perhaps more than any other, caught the atmospheric influences of the undulating landscape. Born in London, he made his debut at the Royal Academy in 1872 and continued to exhibit there until 1918. He also exhibited at the Royal Institute of Oil Painters and the Royal Cambrian Academy. The work of de Bréanski is represented in several public collections including the Southampton Art Gallery and the Laing Art Gallery, Newcastle.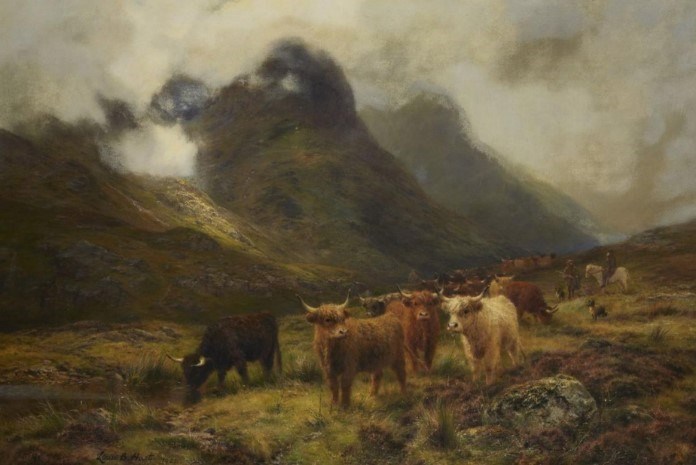 (Lot 126) Louis Bosworth Hurt, British 1856-1929- A Passing Shower, Glencoe; oil on canvas with provenance with Williams & Son, London, was another highlight within the auction depicting the scenic landscape of Scotland, including the native cows. Derbyshire-based Hurt was also renowned for his depictions of Highland cattle and mountainous landscapes. A pupil of George Turner(1841-1910), their compositions and styles were closely aligned. In fact, Hurt kept a small herd of Highland cattle near his home, where he was able to execute countless studies of them for his larger, finished compositions. He would often make trips to Scotland and Wales where the majority of his landscapes are set. Indeed, the present work depicts a highland vista around Glencoe on the West coast of Scotland, an area where Hurt produced a number of works throughout the 1880s, 1890s and 1900s. This work realised £6,250, going to a UK based telephone bidder.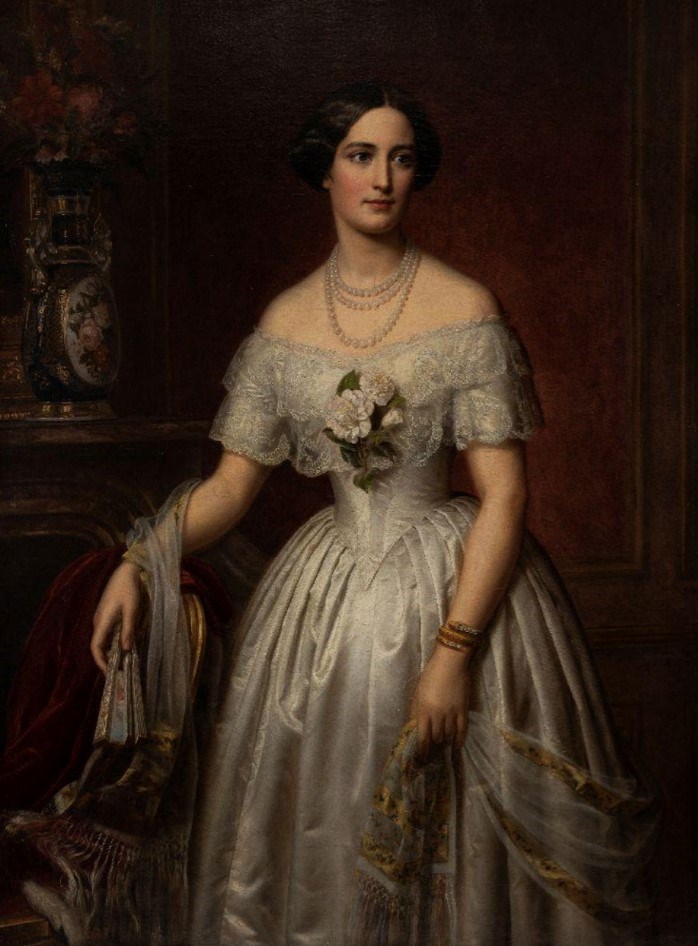 Coming with an estimate of £4,000-£6,000 was lot 134 by Heinrich August Georg Schiøtt, Danish 1823-1895- Portrait of a lady; oil on canvas. This work has not been seen at auction since it sold at Christie's, London, 1989. Schiøtt's first portrait was conceived in 1844, two years before graduating from the Royal Danish Academy of Fine Arts in Copenhagen. Thenceforth, he was to paint six to eight portraits a year. Overall, he exhibited over 150 portraits at the 'Charlottenborg Spring Exhibition', Copenhagen's annual exhibition, including several of the Danish Royal Family. Against the top estimate of £6,000, this work sold for £8,750, going to a telephone bidder in France.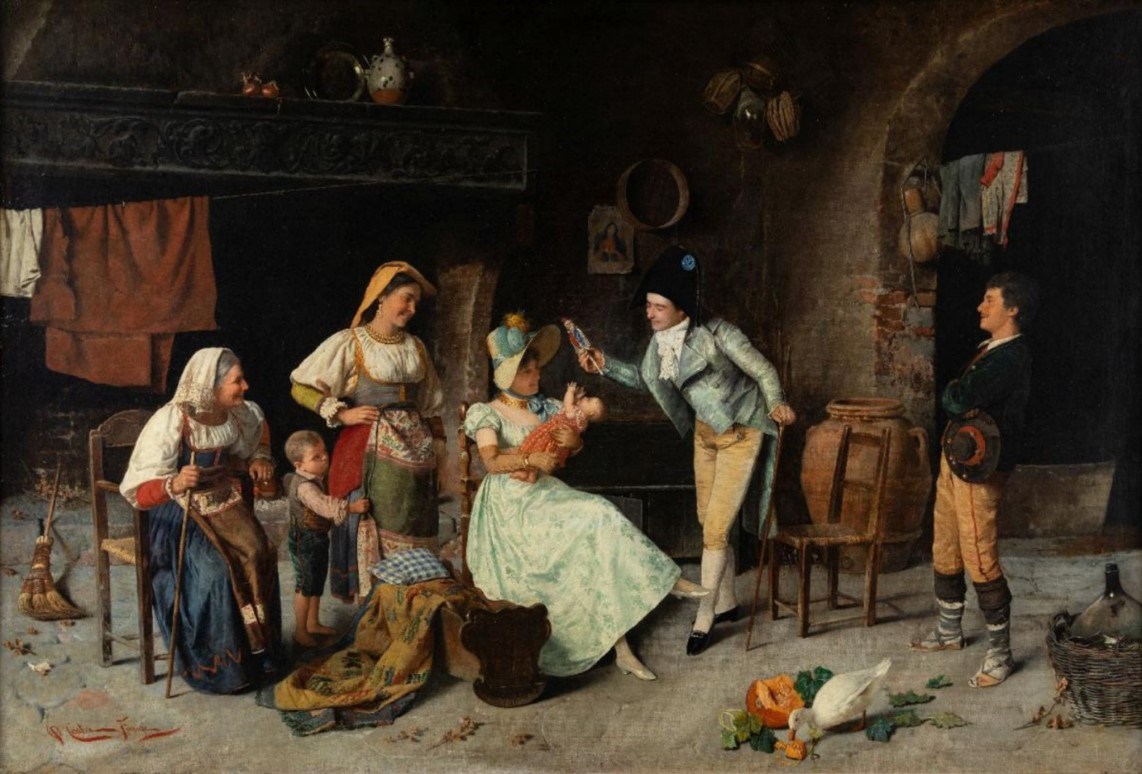 Lot 182, Giuseppe Costa, Italian 1852-1912- The new arrival; oil on canvas was another highpoint of the sale. This superbly executed ambitious composition by the artist is on a grand scale, measuring 73 x 106.5 cm, and is a rare gem in the artist's oeuvre. With a provenance with Frost and Reed, London, this work that was given a pre-sale guided price of £8,000-£12,000, made mid-estimate selling for £10,000, selling to a telephone bidder based in London.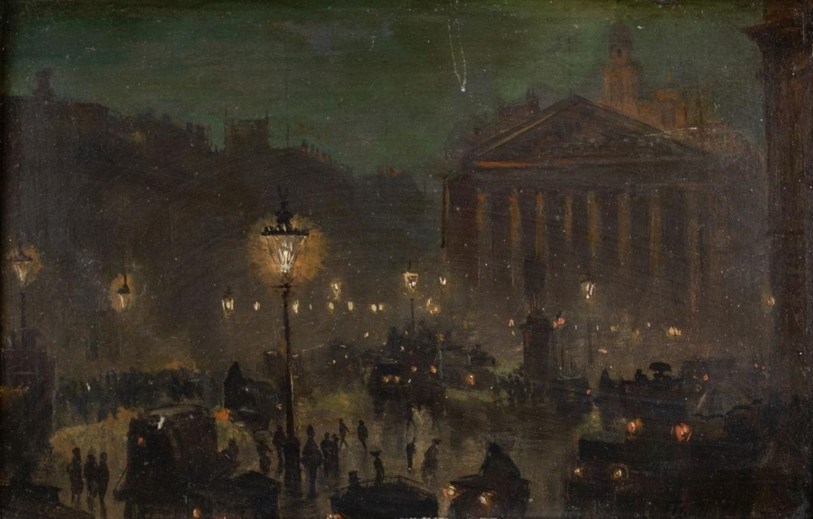 Lot 196, work by George Hyde Pownall, British 1866-1939- The Royal Exchange at night; oil on board, signed 'Geo. Hyde-' was another work that soared above its top estimate. Hyde Pownall was an artist known for his depictions of London street scenes, such as the lot sold. He later emigrated to Australia where he painted the expanding city of Melbourne. He was a noted musician in England and continued his musical career in Australia. Given the pre-sale price guide of £1,200-1,800, this work sold for £7,125, going to a London based phone bidder.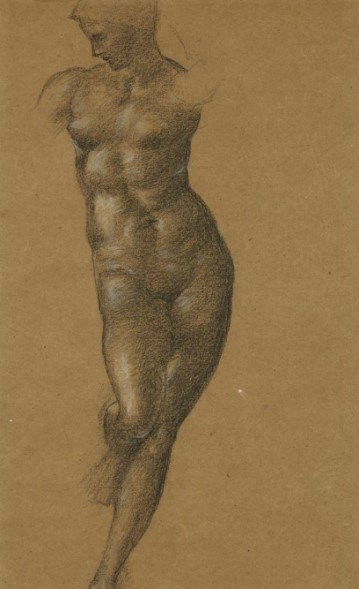 Sir Edward Coley Burne-Jones, Bt, ARA, RWS, British 1833-1898- Recto: A Study of Andromeda for 'The Rock of Doom', Perseus Series; Verso: A Study of an Italian bronze group; black chalk heightened with white chalk on buff paper
The sale had a particularly strong Victorian work on paper section. Both works by Sir Edward Coley Burne-Jones, Bt, ARA, RWS, British 1833-1898 made good prices, led by lot 155, a double-sided drawing by Sir Edward Coley Burne-Jones, Bt, ARA, RWS, British 1833-1898, which made £6,250. Recto is a sketch for a 'Study of Andromeda' for 'The Rock of Doom' from the 'Perseus Series', and verso is a study of an Italian bronze group; black chalk heightened with white chalk on buff paper. 'The Rock of Doom' is the third of five oil paintings in Burne-Jones' unfinished 'The Perseus Series', which illustrates the classical story of Perseus and the slaying of Medusa. In 1875, the politician Arthur Balfour commissioned the series with the hope of having ten oil paintings for the music room of his London home. Burne-Jones worked on the project for ten years but it was never completed. He worked through several studies of the nude Andromeda for his 'The Rock of Doom', depicting her in various positions which are not used in the final composition. Lot 156, Sir Edward Coley Burne-Jones, Bt, ARA, RWS, British 1833-1898- A Nude male, full-length, facing left for the Altar of Hymen in the last of the Pygmalion series; black chalk on paper made £4,250.
You can find all the results from the auction here
The next auction will take place on Wednesday 20 July. The department are now welcoming consignments.

Email Head of Sale & Specialist : larabasirov@roseberys.co.uk for a complimentary valuation.