£13,500 for beautiful Pre-Raphaelite watercolour
28/03/2019 News Stories & Press Release, Old Master & 19th Century Pictures
LONDON: A sumptuous watercolour by Edward Burne-Jones's longest serving assistant, Thomas Matthews Rooke (1842-1942), was the star attraction in a sale of Old Masters, 18th and 19th pictures at Roseberys London. The picture drew multiple bids and was eventually knocked down at £13,500 (Lot 317). Phyllis Deserted - Become the Spirit of the Almond Tree (1900) takes as its subject the classical tragedy of Phyllis, Queen of Thrace, and her lover Demophoön, King of Athens. In the legend, the pair fell in love after the conquest of Troy, when Demophoön was staying at the Thracian court on his return home. They agreed to marry after Demophoön returned from Athens. He delayed there so long however that Phyllis doubted he would ever return and heartbroken, she killed herself. Filled with pity, the gods turned her into an almond tree.It was a popular subject with many of the Victorian Pre-Raphaelites. Here, Rooke depicts a red-headed Phyllis with a strikingly Burne-Jones-esque face among the branches of a blossoming tree. Rooke was Burne-Jones's studio assistant during the period 1868-98. He was also commissioned by the famous English art critic John Ruskin to make architectural drawings.


Marcus Grey, Director and Head of Roseberys Picture Department, said: "It was a beautiful Pre-Raphaelite signed watercolour, fresh to the market from the estate of the artist's family in a modern frame, but with the remains of the original backboard attached verso".
Tranquillity and old-world charm were evident in two fine oils that exceeded their estimates by John Nost Sartorius (1759-c.1830) and George Morland (1763-1804) (Lot 54) (Lot 57). Secured above top estimate at £8,000, the Sartorius was a mature work, signed and dated 1805, depicting a sportsman with two dogs and his horse in a landscape. The artist is considered the best-known and prolific of the Sartorius family of artists. The Morland, showing a weary traveller and his family by a stream, made £7,500. According to a label attached to the reverse of the frame, it epitomised Morland's post 1790 style, which developed to suit his taste of painting English rural scenes. Gypsies, shepherds and travellers resting and reposing in woodland and countryside scenes became a common theme and were considered among Morland's best figural works.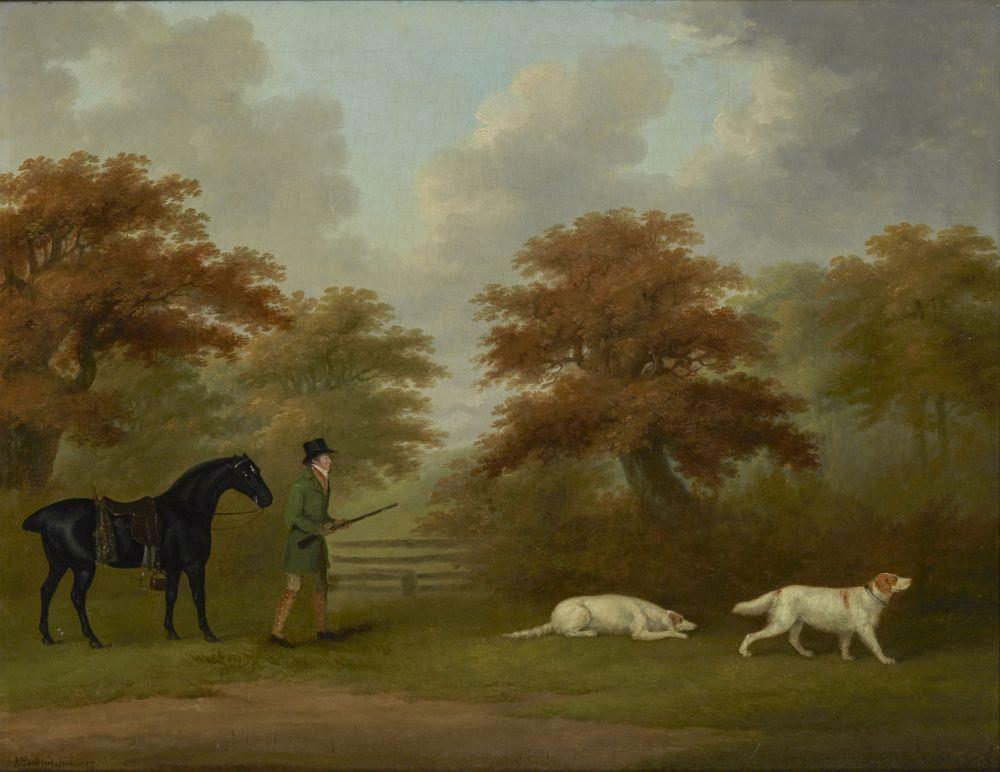 John Nost Sartorius, British 1759-c.1830- A sportsman with two dogs and his horse in a landscape; oil on canvas, signed and dated 1805
Among the stand-out portraits was Antonio Ciseri's (1821-1891) oil of Camillo Benso, Count of Cavour, an Italian statesman who became the first Prime Minister of a unified Italy but died three months later. It sold for £1,300 (Lot 201). Ciseri was a significant 19th-century Italian Swiss artist who, in addition to painting a large number of portraits, rejuvenated religious painting. Trained at Florence's Academy of Fine Arts, Ciseri was strongly influenced by Italian Renaissance artists, particularly Raphael. With photographic clarity, he painted detailed furnishings, period clothing and architecture in his religious works. He received many important commissions from churches in Italy and Switzerland.
A charming and decorative portrait of a French girl with her pet monkey sold for nearly three times the estimate at £6,000 (Lot 42). Painted by the circle of Pierre Gobert (1662-1744), an artist during the reign of Louis XIV who was popular with the ladies of the court as evidenced by the large collection of portraits he executed at the time.
A rather apt inclusion on the Roseberys rostrum was a drawing of a furniture auction by Thomas Rowlandson (1756-1827) - the English artist and caricaturist of the Georgian era, noted for his political satire and social observation. Dating to c.1784, the original pen and ink work had good provenance with an old gallery label for Spink on the reverse. It drew a flurry of bids before it was knocked down at £4,000 (Lot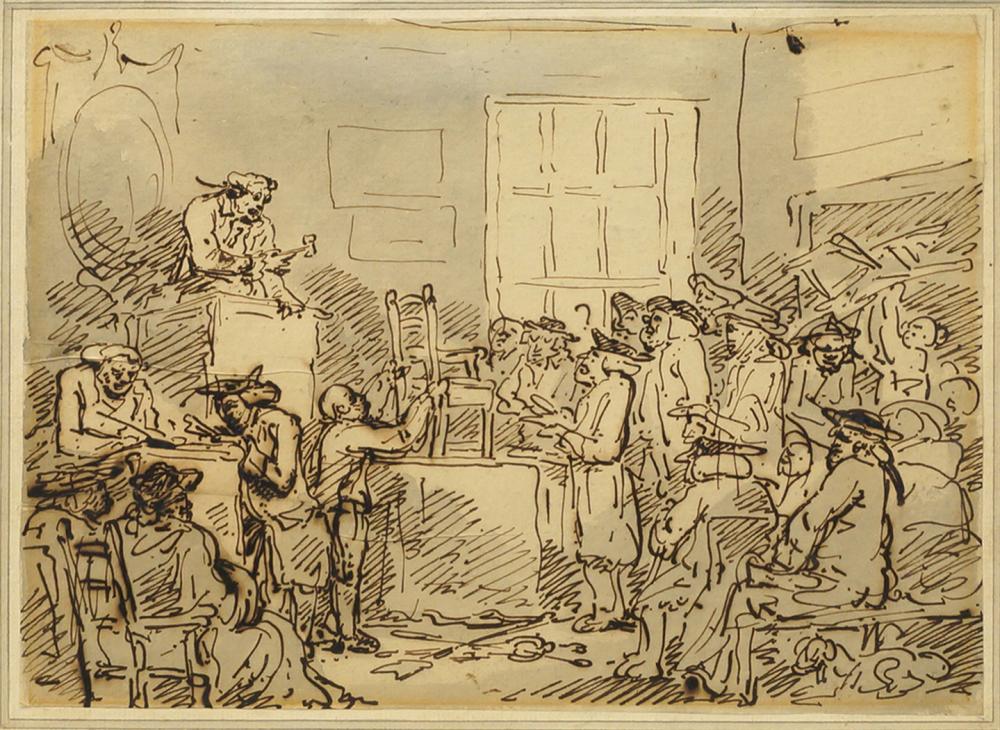 121).
Thomas Rowlandson, British 1756-1827- A Furniture Auction, circa 1784; pen and sepia ink and grey wash
Elsewhere, a 19th century Venetian view by an unidentified hand was secured for a multi-estimate sum, proving how popular and commercial good quality views of the city can be (Lot 51). The oil depicting the famous St Mark's Square by a follower of the Italian painter Francesco Tironi (1745-97) sold for £2,400.
Good original condition complete with original frame and provenance stretching back to the artist, made a bucolic view of rural Devon by George James Howard (1843-1911) especially desirable (Lot 318). The c.1901 watercolour Thatching, Sidmouth, South Devon also had West End gallery provenance and was inscribed on the back: Aurea Howard from father, Christmas 1911, painted by father at Sidmouth, begun April 30 1901. It sold for £2,000.
For further information please contact Peigi Mackillop peigimackillop@roseberys.co.uk +44 (0) 20 8761 2522