100% sell through rate for artists such as Gillian Wise, Arthurs Delaney and Henry Cliffe at auction
25/11/2020 Modern & Contemporary British Art, News Stories & Press Release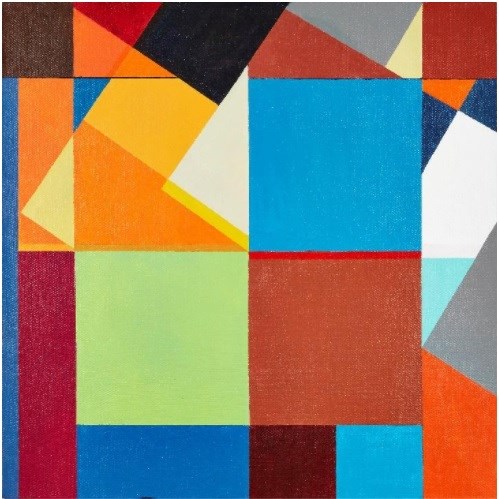 Gillian Wise, British 1936-2020- Knight's Uncertainty: entanglement unfolds (in a square space), 2010; oil on linen
Roseberys ever popular Modern & Contemporary British Art auction that took place on the 4th  of November proved to be another successful sale this year. Highlights came from British artists such as Gillian Wise, Thomas Saunders Nash, Arthurs Delaney and Henry Cliffe, all whose work collectively on offer sold with an 100% sell through rate, each achieving prices high over their top estimates.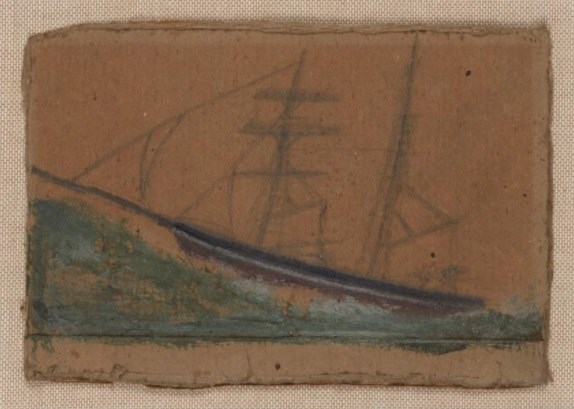 Alfred Wallis, British 1855-1942- Sailing in Stormy Seas; pencil and oil on card
Starting off the two-hundred and forty-one lot sale was work by artist Alfred Wallis, 1855-1942. Entitled Sailing in Stormy Seas. The pencil and oil on card reached its top estimate, and sold for £6,250. This picture hasn't been on the open market for over 15 years, and came with good provenance from Sotheby's Olympia 24 November sale in 2004 (lot 251).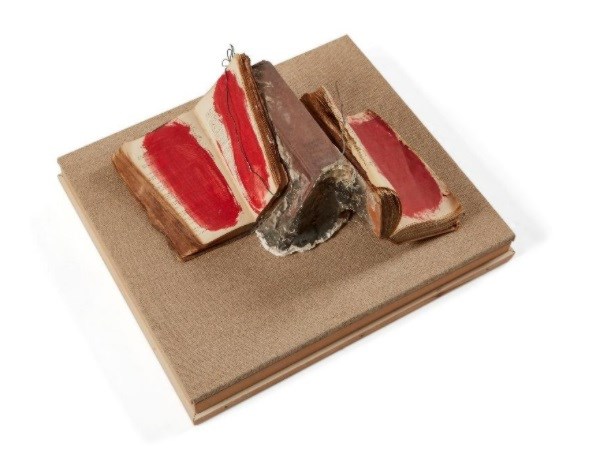 John Latham, British 1921-2006- Fragment, 1958; burnt and painted books and plaster
Lot 18, by John Latham, 1921-2006, titled Fragment, created in 1958, exceeded far over its estimated price of £2,000-3,000 to also make a sum of £6,250. Latham was a pioneer of British conceptual art, who, through painting, sculpture, performances, assemblages, films, installation and extensive writings, fuelled controversy and continues to inspire. The sculpture that was sold at Roseberys was made using burnt and painted books and plaster, it is an excellent example of work by the Northern Rhodesian-born, British conceptual artist.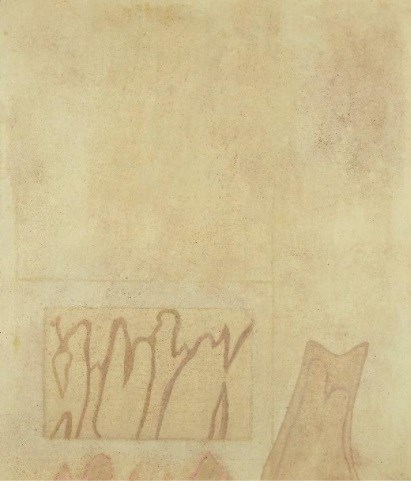 Prunella Clough, British 1919-1999- Almost erased; oil on canvas
Despite extensive condition issues, lot 27, an oil on canvas by the influential twentieth-century British artist Prunella Clough, 1919-1999, titled Almost erased; made £7,500, £2,000 over its top estimated price. The painting was acquired directly from the artist by Leonard and Roxanne Rosoman and has been exhibited widely throughout the country including in the Scottish National Gallery of Modern Art and in the Serpentine Gallery. This work sold at Roseberys is a typical example of Clough's style, using subdued palettes to convey understated scenes charged with emotion and a sense of intimacy.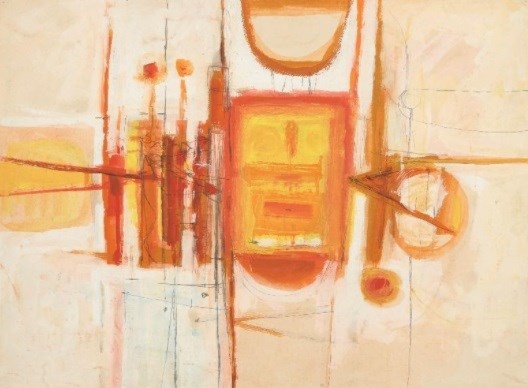 Henry Cliffe, British 1919-1983- No.2; gouache and graphite, bears title and date '65 to the reverse in pencil
Lots 34 – 42, on offer which was a varied selection of works by Henry Cliffe had a 100% sell through rate for the artist. All works on offer showcased his immense oeuvre of work, from contemporary bronze forms and studies of human figures in pencil, to abstract gouache works. A highlight within the collection by Cliffe was lot 41 titled No.2 which sold for £2,125, which was over £1,525 its top estimate. Included in this lot were three works in total, gouache and graphite, together with two other abstract gouaches in black and orange by the same artist - one with a gouache study to verso, and the other with a screenprint to verso. Henry Cliffe, was one of an extraordinary group of artists (including William Scott, Sir Terry Frost, Bryan Wynter, Howard Hodgkin, Peter Lanyon and Tom Phillips) that made up the teaching staff of the Bath Academy of Art at Corsham Court in Wiltshire in the 1950s and 1960s.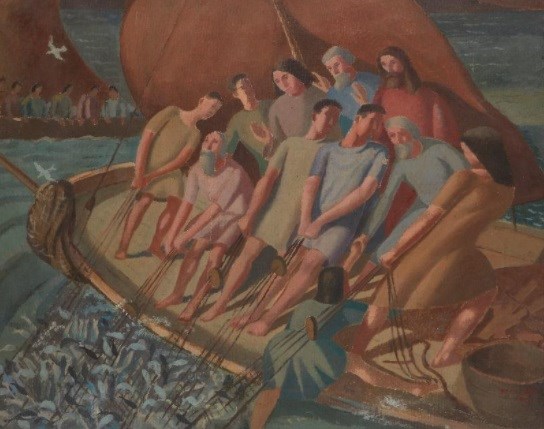 Thomas (Tom) Saunders Nash, British 1891-1963- The Miraculous Draught of Fishes, 1949; oil on canvas
Lots 64 and 65, oils by Thomas Saunders Nash both achieved high prices, with a combined total of £6,500. The highest earning work out of the two was lot 65 titled, The Miraculous Draught of Fishes, 1949, which made over £2,600 over its top guide price. Both lots came with an interesting provenance, brought into Roseberys from a vendor whose father was a friend of the artist, following meeting Nash in West Africa during the war.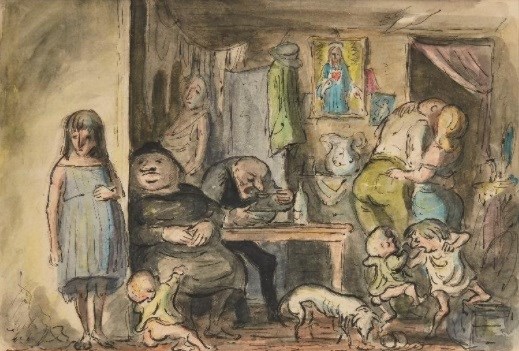 Edward Ardizzone RA, British 1900-1980- The Deserter in a Neapolitan Slum, c.1945; watercolour with pen and ink
Coming with an estimate of £300 – 500, lot 74 by Edward Ardizzone CBE RA, 1900-1980, titled The Deserter in a Neapolitan Slum, c.1945; far exceeded its initial price guide by making £1,625 at auction. The watercolour with pen and ink, came with provenance from the Abbott & Holder gallery in London. Edward Jeffrey Irving Ardizzone, CBE RA, was an English painter, print-maker and war artist, and the author and illustrator of books, many of them for children.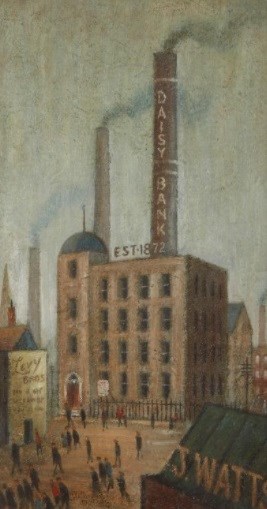 Arthur Delaney, British 1927-1987- Daisy Bank Mill; oil on board
Oils by Arthurs Delaney, 1927-1987, that came from a private UK collection; thence by descent both sold exceptionally well, with lot 101 being the highlight of the two, titled Daisy Bank Mill which sold for £5,000. Delaney was a 20th-century English artist who specialised in depictions of 1930s Manchester, his home town. His representations of everyday life in an industrial northern city are very clearly influenced by his contemporary L.S. Lowry. Delaney had no formal art training, and his paintings can be interpreted as drawing on his own experience of working in a textile mill from the age of 13 through to his retirement at 45. This work sold at Roseberys is therefore of great historical value, as a first-hand expression of the reality of life in inter-war urban Britain, an environment undergoing rapid, unprecedented transformations. The paintings sold at Roseberys depict recognisable landmarks of Manchester, including the Albert Memorial.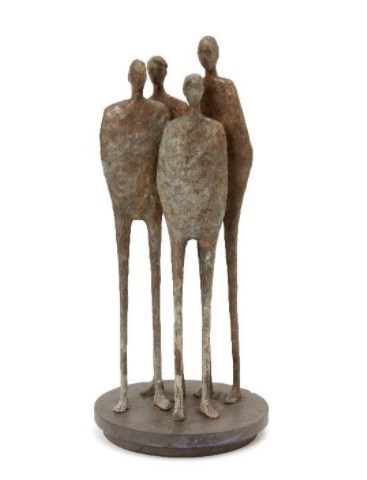 Rowan Gillespie, Irish b.1953- Untitled, group of standing figures; bronze, on circular slate plinth
Estimated to make £1,000 – 2,000, (lot 143) the bronze sculptures of standing figures by Irish artist Rowan Gillespie, b.1953, sold for £8,750. Rowan Gillespie is an internationally known and respected bronze casting sculptor, who works alone in his purpose-built bronze casting foundry at Clonlea, in Blackrock. This unique one-man foundry gives him total control from conception to completion, which can be seen in his outstanding work.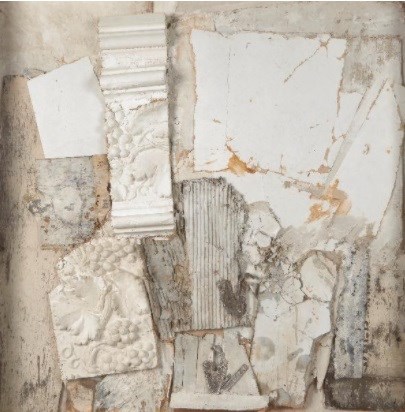 Harry Thubron OBE, British 1915-1985- Muri, 1976; assemblage on wood
(Lot 148) Harry Thubron OBE, 1915-1985, work titled Muri, created in 1976 made a price of £2,750. Made from an asassemblage on wood, the work originally came with provenance from the Austin Desmond Fine Art gallery. Harry Thubron OBE was an English artist and art teacher. He made radical innovations in art education which are still controversial today. Thubron started to create figurative works, which soon changed to abstract, not only in painting, but also reliefs in material like wood such as the work sold at Roseberys. After 1965, he devoted himself mainly to collages and assemblages with materials found on the street, usually from industry.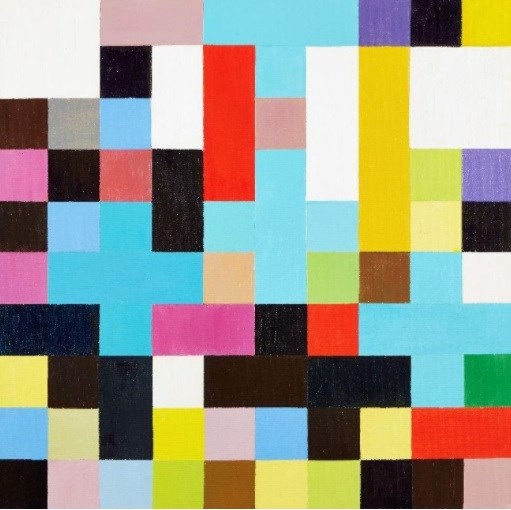 Gillian Wise, British 1936-2020- ZING go the strings: 3 blue crosses across an active field (100 grid), 2010; oil on canvas
Lots 206 – 209 , which were all oil on canvas, by English artist Gillian Wise had a 100% sell through rate. Lot 209 titled ZING go the strings: 3 blue crosses across an active field (100 grid), made in 2010; was the bestselling work out of the collection which made over double its estimate of £1,375. All works were true to the late Wise's style (who sadly recently passed away due to covid-19), each embedding a strong penchant for her trademark geometric style -painting in space with what she called "a formalist sense of logic and sensitivity".
-ENDS-
Our next Modern & Contemporary British Art auction will take place on Tuesday 16 February, 2021. If you wish to consign an item into the sale please email pictures@roseberys.co.uk for a complimentary valuation.