Why Prints & Multiples are a good place to start your art investment journey
22/12/2020 Prints & Multiples , News Stories & Press Release
The global art boom is no passing fad, even in today's volatile market. Investing in art holds the potential for significant financial rewards, and unlike with stocks and shares, art collectors can enjoy beautiful artwork that can bring pleasure just by looking at it – and could prove to be a marvellous asset to a home too.
Banksy, British b.1974-Monkey Queen, 2003;screenprint in colours on wove, sold for £10,625 in the Urban & Contemporary in Association with Artsy ending on the 28th February 2020
To date selling works by blue-chip artists such as Banksy, KAWS and Kusama in the global art market has seen some vigorous financial returns. The 2019 report by Art Basel and UBS Global Art found that worldwide art sales exceeded $67 billion last year; with one of the biggest investment winners in the recent past being contemporary art. Over the past five years, the most collectable pieces by contemporary artists have risen in value by 160%, according to data compiled by Art Market Research. However, like all investments the gains can be a gamble and investing in art has its share of risks as it can be a fairly illiquid asset class. This is why investing in prints and multiples is a good place to test the market, before you dive into more serious art investments head first.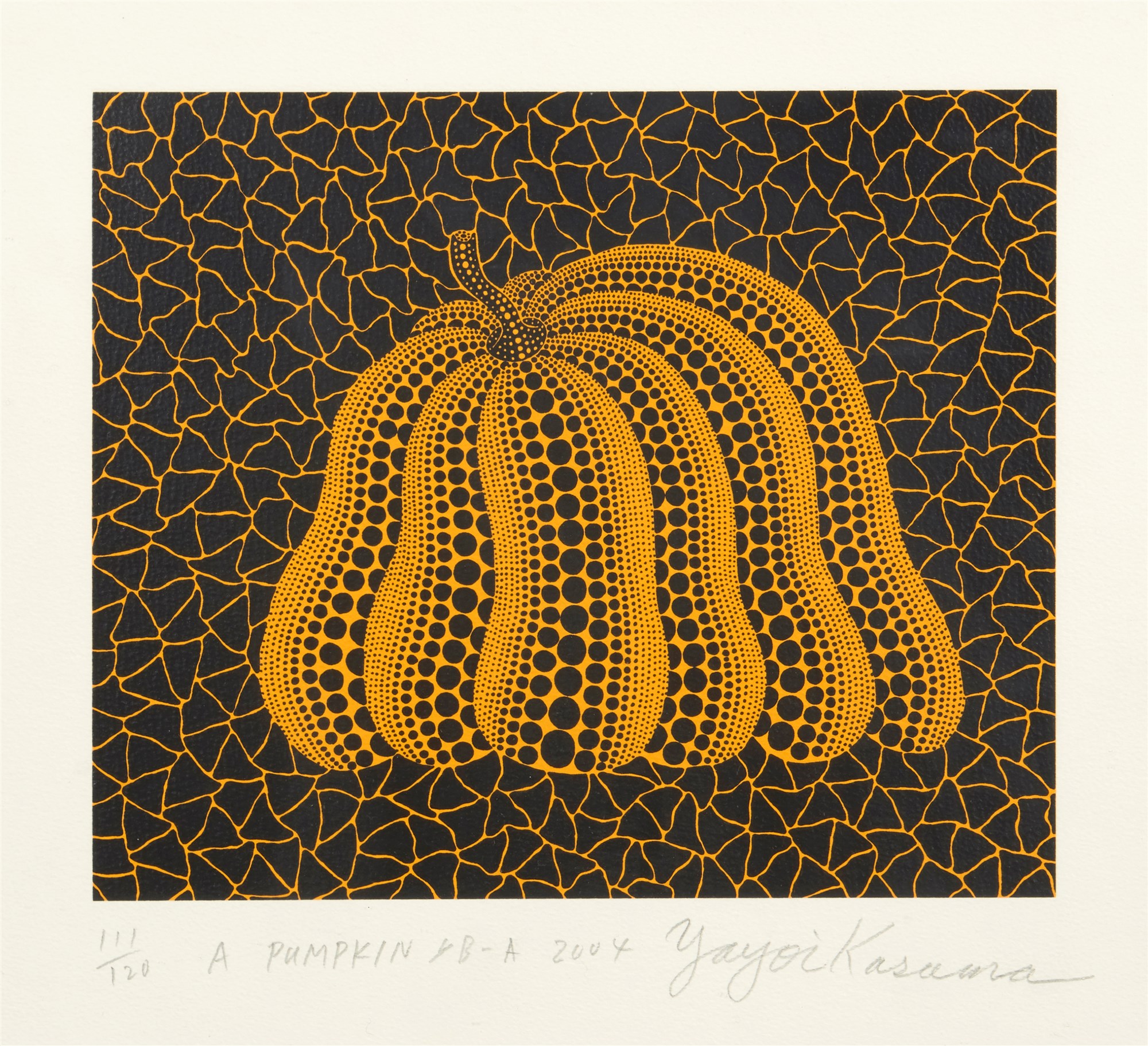 Yayoi Kusama,Japanese b.1929;A Pumpkin YB-A [Kusama 325], 2004;screenprint in colour on Arches wove sold for £17,500 in the Urban & Contemporary Art: In Association with Artsy auction that ended on 1st December 2020
Shane Xu, former Head of the Modern & Contemporary Prints & Multiples department commented 'I started my career in finance, when I switched to the art world many people were surprised, however the two industries are very interlinked. Purchasing art is a type of alternative investment strategy and for the savvy art buyer, it can be an enormously profitable endeavour. People have made the mistake of thinking that a print is just a copy of an artwork, however it is much more than that: The production of a good print requires a great deal of skill, talent and knowledge from the artist and the printer. It is a form of artistic expression with its own set of challenges that need to be overcome to produce a good artwork. The prints and multiples category is especially lucrative when it comes to investment and is the most rapidly growing area in the art industry. During my time at Roseberys, the Modern & Contemporary Prints & Multiples department has seen a rise in figures after each sale, even with the periods of precarity during 2020 demonstrating the continued resilience of the market.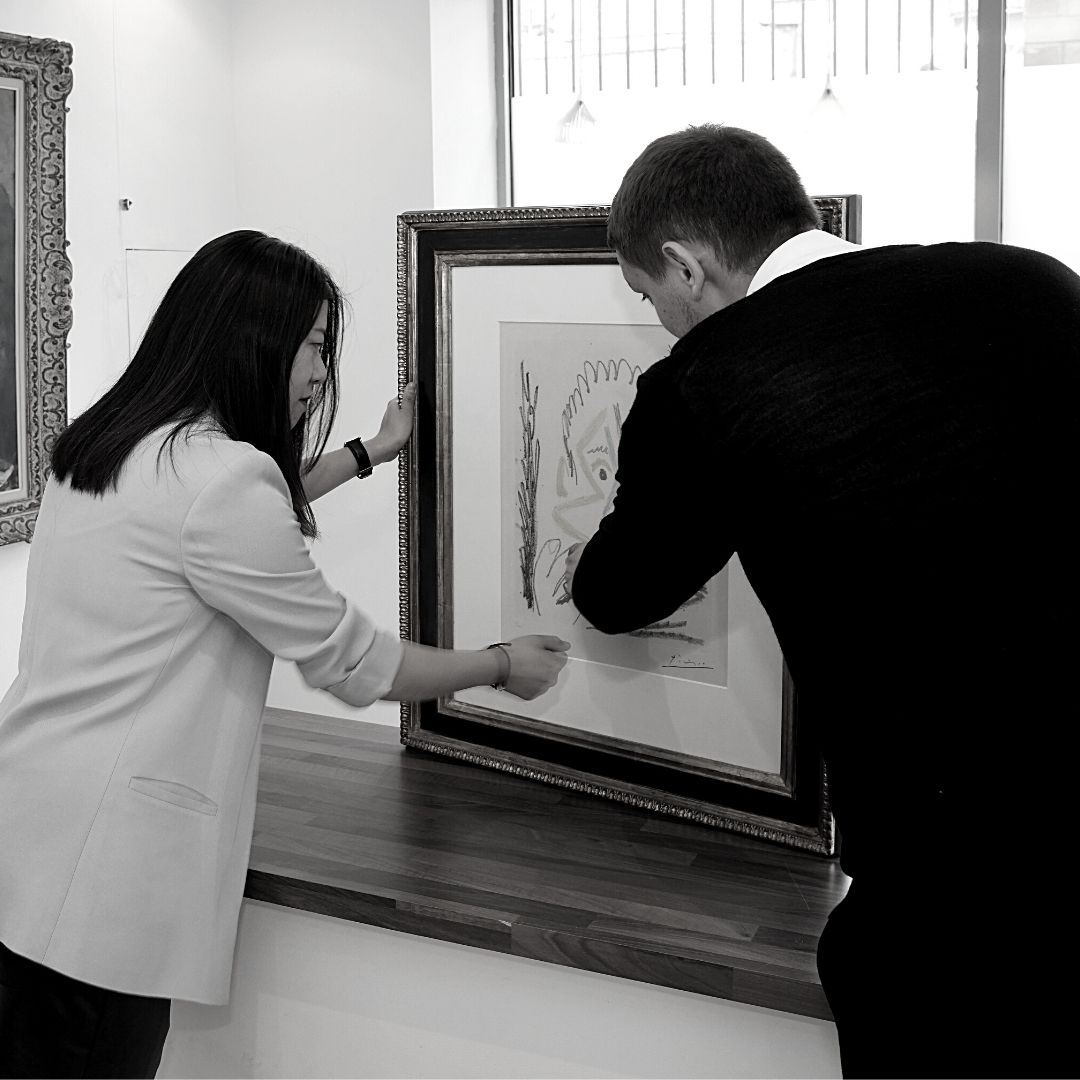 Shane Xu inspects a Picasso print at Roseberys 
 The entry price point is very accessible for those who have a relatively small amount of deposable income to get onto the investment ladder, and with so many diverse artists, styles and subjects, it a fun area to invest in. To make money when investing in prints and multiples, you have to learn the basics first. As with any financial investment, thorough research is important. For an artwork to generate substantial returns, the buyer must consider the overall impression of the artist beyond public appreciation, with the ultimate goal of being able to find the next trending artist before they even become one. A good place to start your research is by dedicating some time in following auction news and general art market trends online. To improve your probabilities of making a good art investment, start building a network of professional contacts in the art area, by frequently attending art auctions, gallery openings and fairs in person. Once you have purchased your artwork and feel knowledgeable that it is the right time to sell, choose a trusted and respectable expert who can help with the research, and facilitate the selling process from start to finish. At Roseberys we have three Modern & Contemporary Prints & Multiples auctions a year, and a complimentary valuation service. Our experts are on hand to help you navigate the sometimes-dizzying landscape of the contemporary art market and discuss your potential capital growth.
For more information about the Modern & Contemporary Prints & Multiples department click here
To submit a print or multiples for valuation or to enquire more email: prints@roseberys.co.uk