The Jewellery & Watches sale that took place just in time for Christmas!
17/12/2021 News Stories & Press Release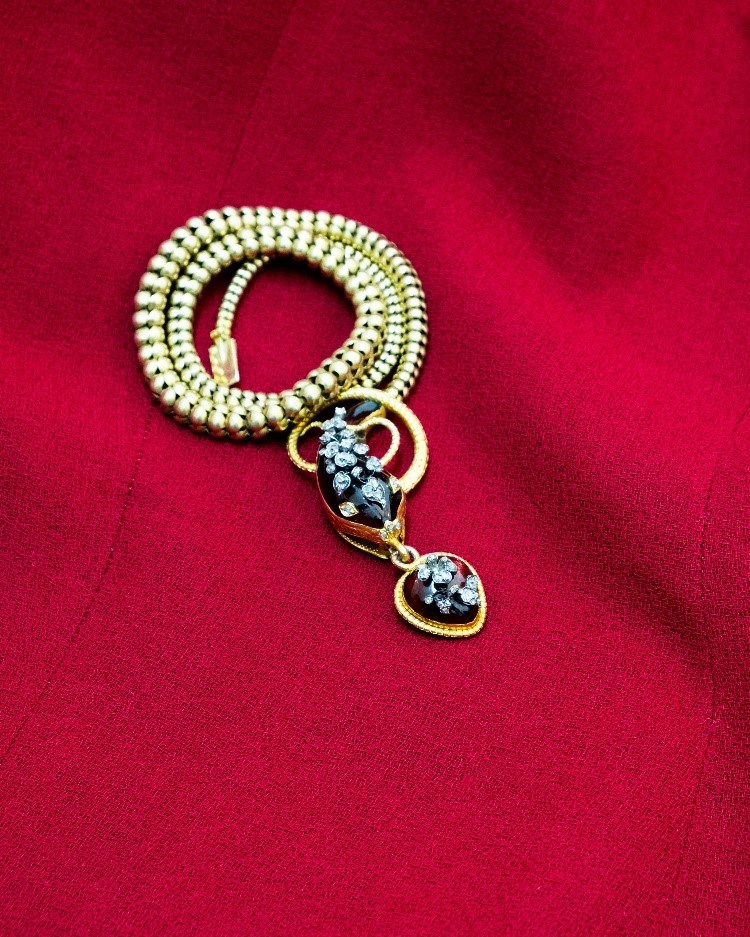 Roseberys were delighted to present the Jewellery & Watches auction on Tuesday 30 November, which gave way to abundant highlight results.
Mark Bowis, Head of the Jewellery & Watches department commented: 'This was a very successful sale with a sold by lot percentage of 88% and with a total surpassing the upper estimate. Both viewing and bidding were strong, with participation not only coming from the UK but included countries such as China, the USA, Australia, Russia, and Europe.  Other highlights included a collection of jewellery by the former London-based Jeweller Kutchinsky which finally closed its doors in 1991. Examples from this jewellery house are widely sought after and this was evident in the sale results. Two gold and diamond-set bracelet watches realised £5,250 and £6,000. A pair of diamond earrings with an estimate of £800-£1,200 realised £3,000. A suite of diamond and ruby jewellery also by Kutchinsky fetched £5,250 against an estimate of £1,200-£1,600. A very seasonal and charming 19th-century brooch designed as a holly leaf set with rose-cut diamonds and vari-toned pearl berries realised £3,750. Wristwatches also performed well, with an 18ct gold Cartier tank wristwatch realising £2,375 with an estimate of £1,500-£2,000 and an 18ct gold Ebel 'Voyager' Worldtime automatic wristwatch realised a solid price of £2,000 against an estimate of £700-£900.'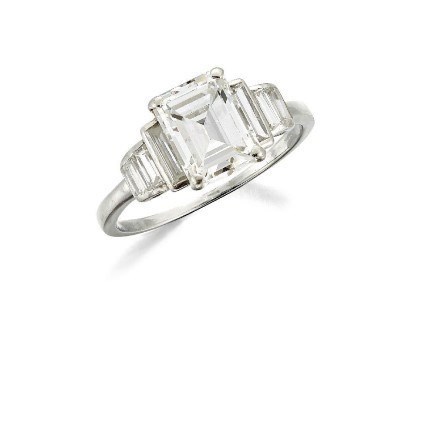 The highlight of the sale was the last lot, lot 256 a rectangular-cut diamond weighing 2.31 carats that was accompanied by a laboratory report stating that it was found to be E colour and VVS1 clarity. A diamond of this quality and purity made it a very attractive buy and with an estimate of £8,000-£12,000, it finally realised £17,500 at auction.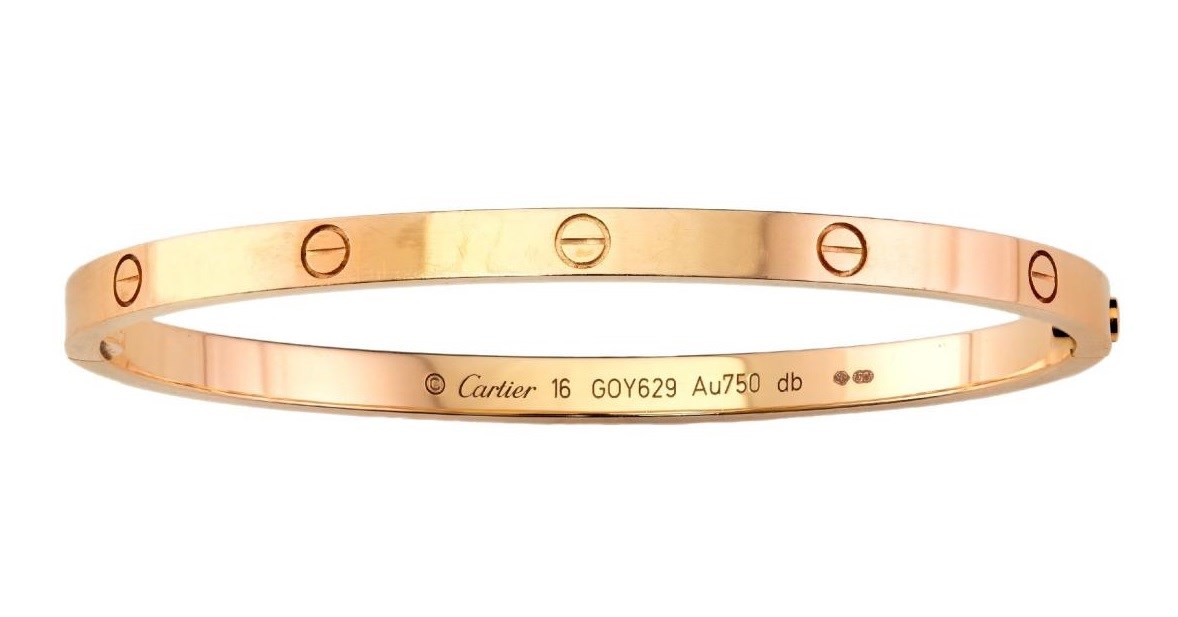 An 18ct gold 'Love Bangle' by Cartier
Jewellery by Cartier always attracts interest and lot 249 a classic 'Love Bangle' was no exception. It was in very good condition and was offered complete with all the Cartier packaging and documents. The bangle would have made the perfect Christmas present and with an estimate of £1,000-£1,500, it was chased up to £3,750.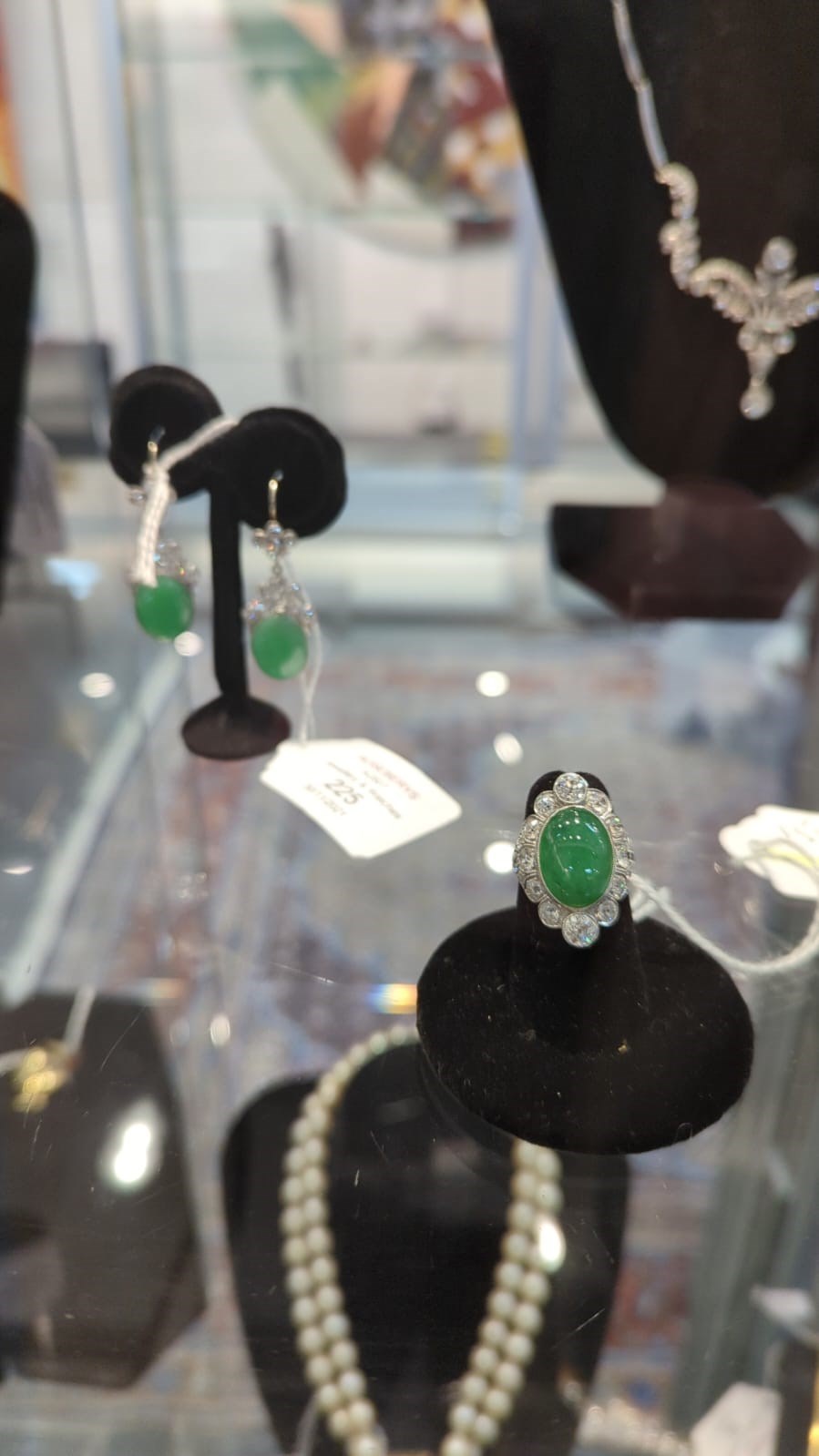 A pair of jadeite jade and diamond earrings and ring

(Lot 225) Included in the sale was a very attractive jade and diamond set comprising a ring set with a cabochon jadeite jade that was of fine well-saturated apple green and with good transparency, that had been beautifully set with brilliant-cut diamonds in a platinum mount. Mark Bowis commented: 'The earrings were a good match; all be it the two cabochon jades were not quite as good as that mounted in the ring. None the less the bidding was very strong and with an estimate of £2,000-£3,000 the price realised was a healthy £5,625.'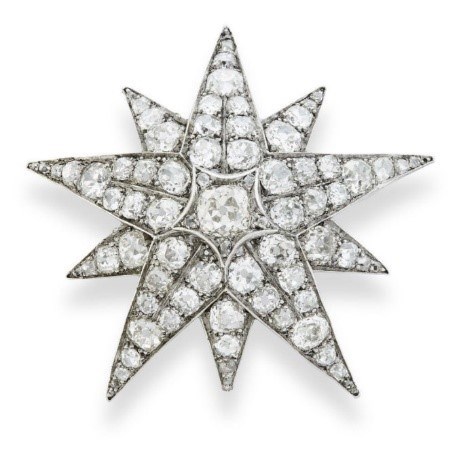 (Lot 233) We were very pleased with the result for the diamond star brooch that was made c.1890. This was an impressive piece set with old brilliant-cut diamonds and also had a very seasonal feel. The estimate was £1,500-£2,000 and the brooch made a respectable £5,250.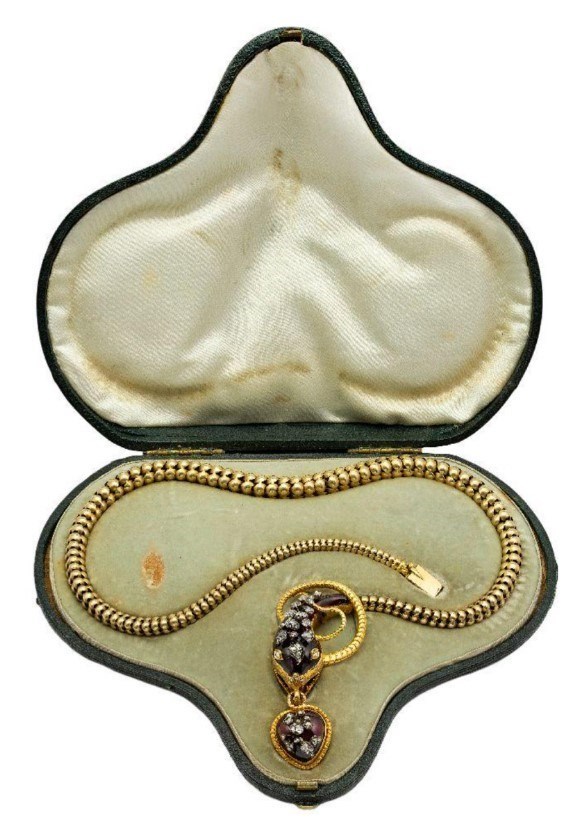 A Victorian gold, diamond, and enamel serpent necklace
Leading the antique section was lot 235, a fine example of a Victorian snake or serpent necklace. The articulated gold necklace with the headset with a shaped cabochon garnet with diamond detail, suspending a matching heart locket drop. Produced during the 1840s snake related jewellery was extremely popular with the Victorians and reflected their interest in natural phenomena as well as the accepted symbolism of a snake with its tail in its mouth representing eternity. The necklace came complete with its original fitted case that has a printed label stating 'Carbuncles & Diamonds'. Entered onto the market with an estimate of £2,000-£3,000, the necklace closed with a price of £6,875.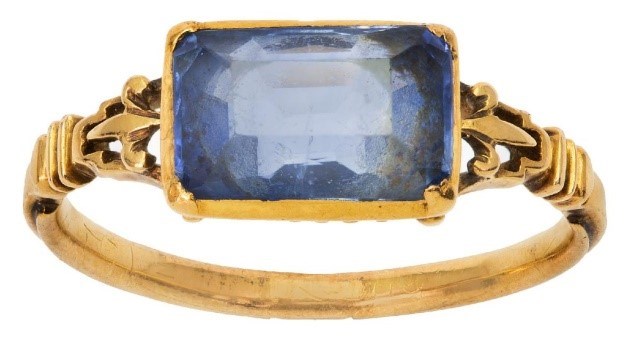 An early 19th-century gold and sapphire ring
(Lot 10) Another speculative antique jewel was a very nice early 19th-century ring that had an attractive single sapphire bezel. The ring mount was practically mint and for a ring to survive in this condition without obvious wear and with no sizing evident is rare. With a modest estimate of £400- £600, the price realised soared to over ten times this, selling for £5,000.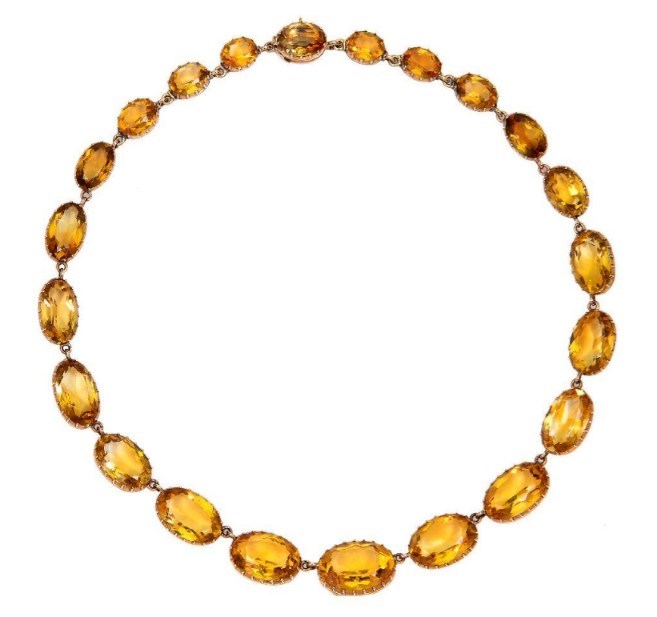 Lot 231, a gold and citrine riviere, composed of a graduated series of oval citrines mounted in pinched collet settings, c.1850, was another nice example of early 19th-century goldsmithing and in good condition. Necklaces of this type are always popular and with an estimate of £800-1200, the attractive riviere sold for £3,375.
The next Jewellery & Watches auction will take place on Tuesday 15 March, 2022.
The department are now welcoming consignments for the sale. Email jewellery@roseberys.co.uk for more details or enter the details of your items into our simple online form: www.roseberys.co.uk/request-a-valuation