Rings on offer by David Jerome in upcoming auction at Roseberys
14/05/2021 News Stories & Press Release, Jewellery & Watches
Roseberys are proud to present the second Jewellery & Watches auction of the year on Tuesday 8 June, that compromises 233 lots in total, ranging from charm bracelets, and designer watches to diamond rings. 
Mark Bowis, Head of the Jewellery & Watches department comments 'The sale includes an eclectic mix of antique, vintage and modern jewellery with estimates ranging from £150 to £12,000. Included in the sale are fine single lots to interesting group lots. It features a selection of rings by David Jerome. Over the years David sourced very fine quality gemstones including rubies, emeralds and sapphires, choosing them for their intense colour and designing high quality sympathetic mounts.'


Leading the highlights in the auction with an estimate of £9000- £12,000 is lot 214, a very impressive heart-cut emerald single stone ring, by David Jerome. Weighing approximately 2.89 carats, the emerald is a beautiful deep well saturated green and is set off a surround of 0.25 carats of diamonds, mounted in 18ct white gold, with Birmingham hallmarks. David Jerome specialises in rare and colourful gemstones, such as the lot for sale at Roseberys, and has one of the largest collections of prized gems in Europe that have been ethically sourced directly from precious gemstone mines all around the world.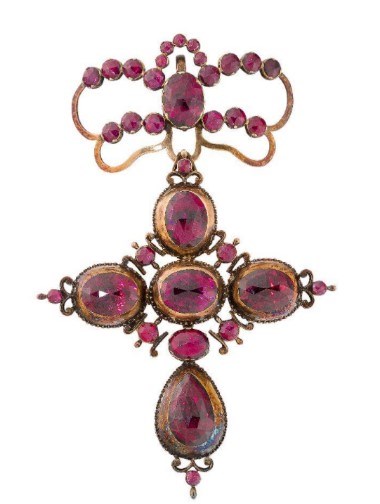 A late 18th century Iberian gold and foiled garnet cross pendant
The sale also features a wonderful selection of antique jewellery, including this late 18th century Iberian foiled garnet cross pendant (lot 58).  This necklace is in extremely good condition with a very bright appearance. It is rare to find anything similar on the market to have survived in this condition. This pendant comes with an estimate of £500-700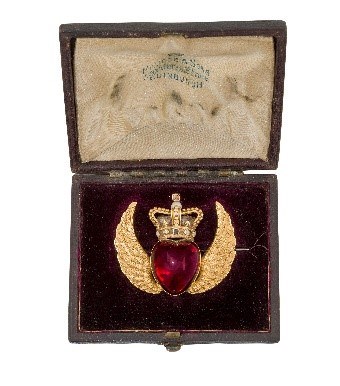 A Victorian gold, garnet, diamond and enamel brooch
Another interesting historical jewel is lot 59, a Victorian gold and garnet brooch. Retailed by an Edinburgh jeweller, the brooch is in the form of a winged heart-shaped cabochon garnet with crown surmount, and is complete with its original fitted case. The symbolism of this brooch is inspired by an incident during the life of Robert the Bruce. According to Jean le Bel, in 1329 when Robert the Bruce lay dying, he asked his friend Sir James Douglas ('Good Sir James') to carry his heart to the Holy Land and present it to the Holy Sepulchre in Jerusalem as a mark of penance. Douglas took the heart with him to Spain when campaigning against the Moors. When he found himself surrounded by the enemy during the Siege of Teba, before being killed, Douglas threw the heart among the enemy in a gesture of defiance. Subsequently the crowned heart has remained incorporated into the Douglas Coat of Arms. This brooch has been entered onto the market with a pre-sale estimate of £300-£500.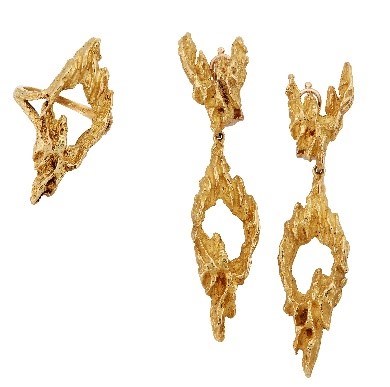 An 18ct gold ring and pair of earrings by Chaumet
For collectors of 1970s jewellery, this suite of Chaumet jewellery, lot 222, is a great example of the abstract inspired pieces of this decade and from a premium jewellery house. With an estimate of £2000-£3000, the 18ct gold ring and pair of earrings are designed with an abstract textured openwork navette shaped panel. The suite have London Hallmarks, 1971, and are signed Chaumet, coming together with the maker's case.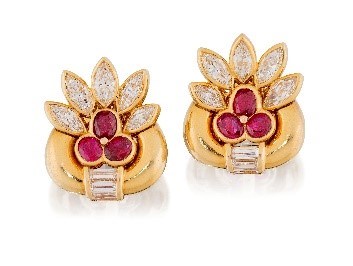 A pair of ruby and diamond earclips
Lot 225 is a very fine quality pair of ruby and marquise-cut diamond clip earrings, that have been estimated to make £5,000-£7,000 at auction. The earrings come with a report from the Gemmological Certification Services (GCS) stating that the rubies showed no indications of heating, and that their origin is Myanmar (Burma). Unheated rubies mined in Burma of this kind are rare.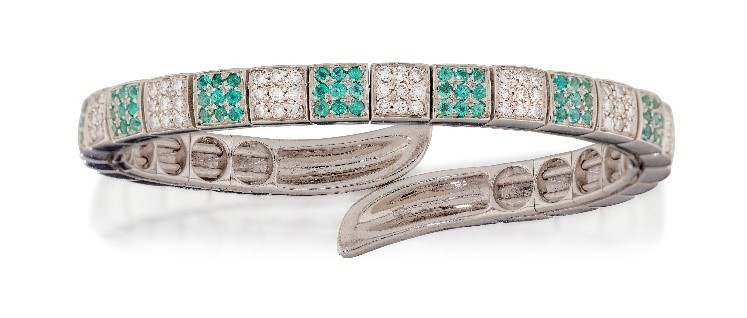 A diamond and tourmaline bangle by Gavello, of sprung open half-hoop design
For those of a more contemporary taste, the sale features a very smart and beautifully made diamond and tourmaline bangle by Gavello. The combination of diamonds, with very bright greenish blue tourmalines, creates a very pleasing contrast and is easy to wear as the bangle is of sprung design. This lot has been entered onto the market with an estimate of £1,800 - £2,500.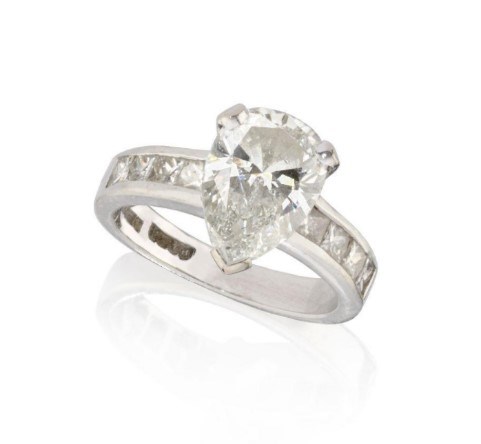 A diamond single stone ring, the pear-shaped diamond
Among a selection of diamond rings offered in the sale is a very classic single pear-cut diamond ring of 2.60 carats and set in 18ct white gold (lot 233). The princess-cut diamond sits central, alongside four stone shoulders. The size k ring has London hallmarks, 2004, and comes with an estimate of £3,000 - £5,000.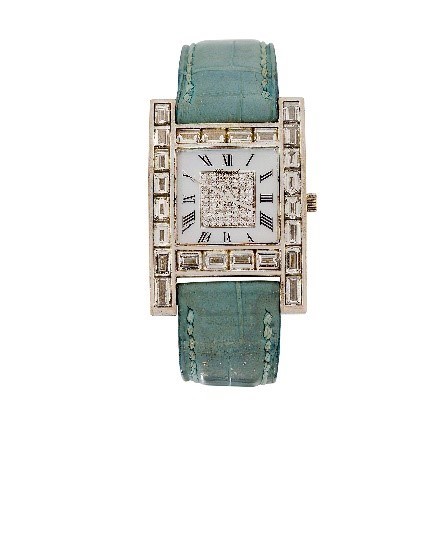 An 18ct white gold and diamond 'Your Hour' quartz wristwatch by Chopard

Representing the more luxury wristwatches on offer within the auction is a stunning 'Your Hour' diamond quartz wristwatch by Chopard, lot 231, which is both elegant and wearable. The mother-of-pearl square dial with Roman numerals and central single-cut diamond square cluster, to baguette-cut diamond bezel and lugs, has a maker's square-cut diamond set buckle, signed Chopard, with French assay mark. The watch comes with its case, with European Convention mark, numbered 494944 427 1 13/6402-20. This watch comes with an estimate of £6,000-£8,000.

A late 1960s stainless steel, Seamaster 'Soccer Timer' chronograph wristwatch by Omega
Rounding up the highlight lots on offer within the sale is lot 102. Vintage Omega wristwatches are becoming increasingly desirable and, among the selection of wristwatches offered in the sale, is a late stainless steel 1960's Omega Seamaster 'Soccer Timer' Chronograph wristwatch, ref. 145.016-68. This watch, with its uniquely coloured dial, is a must for Omega collectors and football fans alike, coming with an estimate of £1,200-£1,600.
-Ends-
Jewellery & Watches
Tuesday 8 June, 11am
View the fully illustrated catalogue here
Viewing by appointment only contact jewellery@roseberys.co.uk to book a time slot
We will be facilitating time slot appointments of one hour each.
When making your booking please provide a contact telephone number and the number in your party up to a maximum of 2 people.
Viewing Times

Friday 4 June   9.30am – 5.30pm (Last appointment slot is 4.30 pm)
Sunday 6 June 10.00am – 2.00pm (Last appointment slot is 1.00 pm) 
Monday 7 June 9.30am – 5.30pm (Last appointment slot is 4.30 pm)
Please contact jewellery@roseberys.co.uk for condition reports and further information.