An Introduction to Islamic manuscripts
2/03/2020 News Stories & Press Release, Islamic & Indian Art
Characterised by their elegant calligraphy and delicate style of painting, Islamic manuscripts are widely collected by connoisseurs and those with a passion for antique books. Here we take a look at some of the defining features of this exquisite art form which began in the 7th century and is still being practised today.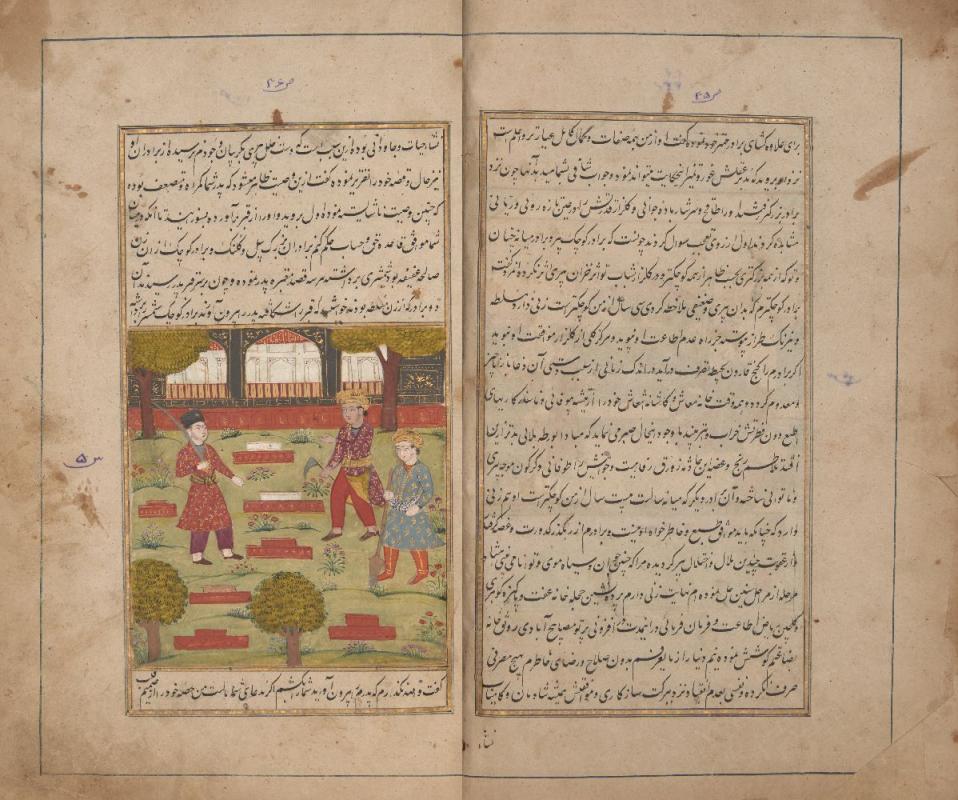 Barkhurdar bin Mahmud Turkman Farahi (known as Mumtaz): Mahbub al-Qulub (also know as Shamsa wa Qahqaha), Kashmir, North India, late 18th century with 19th century additions, 872ff., Persian manscript on paper
Calligraphy
Whether antique or modern, Islamic manuscripts are perhaps best known for their exquisite calligraphy. Due to Islam's rules about aniconism – or the avoidance of images of sentient beings which can lead to idolatry – calligraphy came to be prized over painting. While most Islamic manuscripts tend to be copies of the Quran there are also books of Persian poetry or fables as well as scientific treatises, all elegantly copied out in scripts that range from spare angularity to rich curves.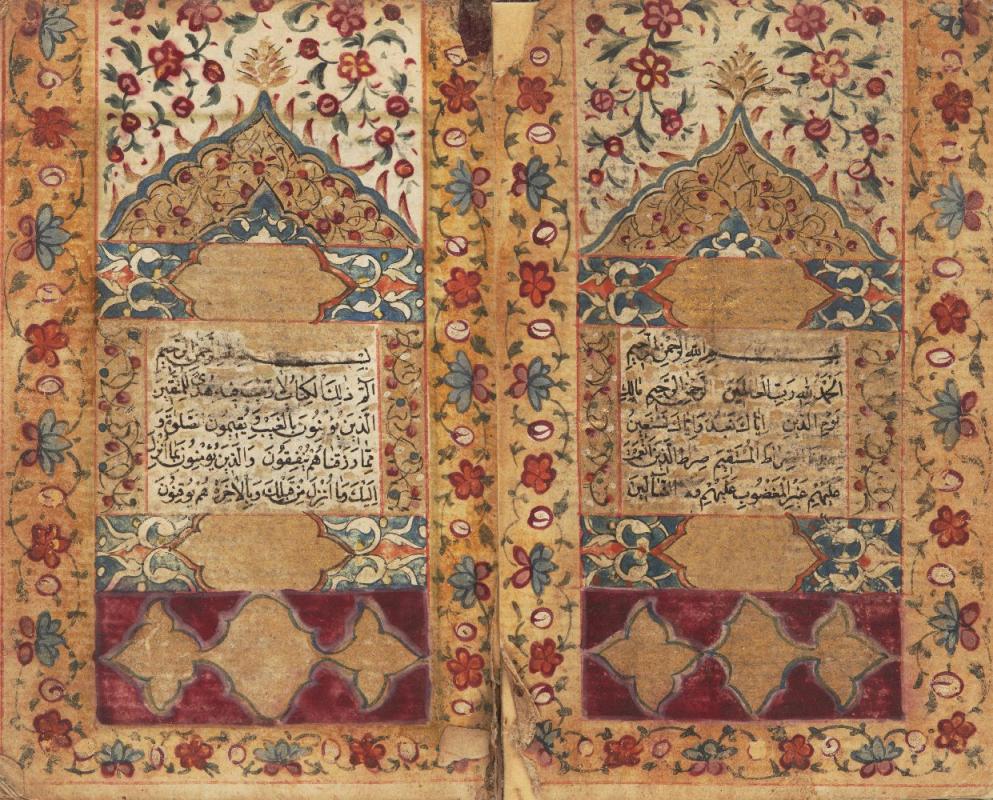 A small Qur'an, signed 'Umar al-Zamzami al-Makki, Mecca, 19th century, 238ff., Arabic manuscript on paper, 18ll. of small black naskh per page within gold rule
What are the main styles of calligraphy?
The main calligraphy styles are classified as kufic, the oldest and most 'abstract' form of Arabic script; naskh, the most common script used in Qurans, which also spawned the styles of thuluth, reqa, and muhaqqaq; and ta'liq, which means hanging, and which led to a similar form named nasta'liq. As well as these there are many other regional styles, informed by the various cultures and traditions of the Islamic world.
Along with geometric and arabesque designs, calligraphy is one of the three main styles of art which can be found throughout Islamic architecture, rugs, metalwork, glassware, ceramics and manuscripts.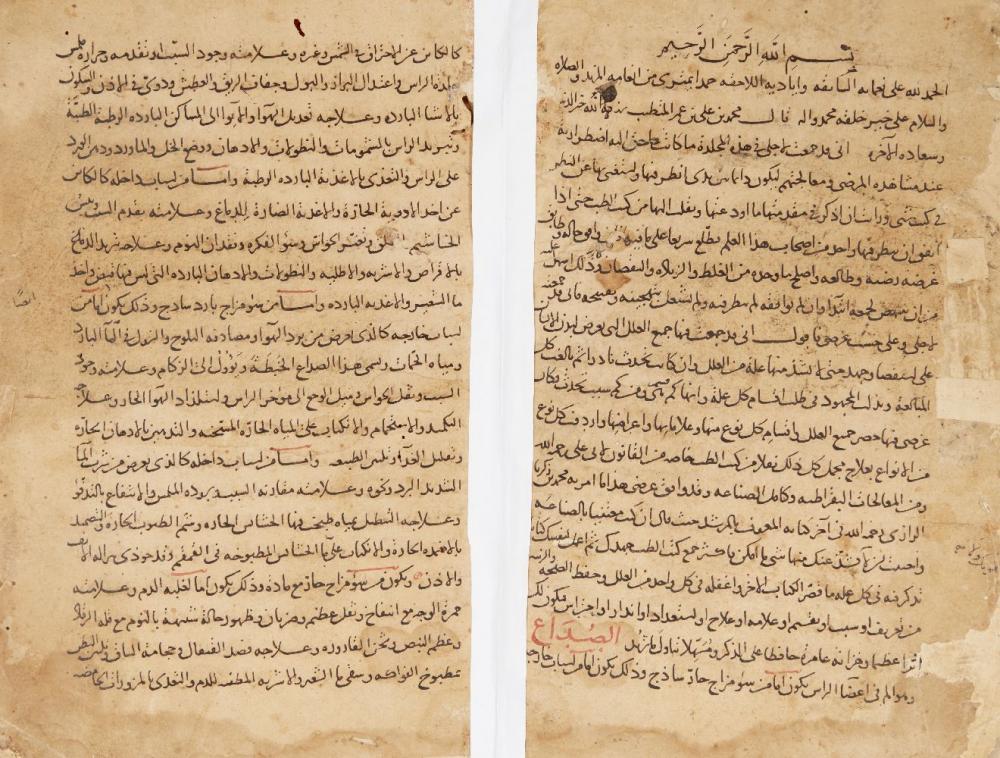 A important dated medical treatise composed by Muhammad bin 'Ali bin 'Umar al-Mutatabbib, Iran, signed Muhammad bin Abi Bakr al-Nishapuri, completed at dawn of Tuesday 13 Muharram 594AH/25 November 1197AD, on illnesses and their treatments, occasional marginal commentaries, colophon signed and dated
History
The earliest illuminated manuscripts date back to the the 7th century, when the teachings of the prophet Muhammed – who is reported to have said 'The first thing God created was the pen' – were first written down as the Quran. This most holy of texts was copied over and over again and spread across the world along with the Islamic religion and continues to be printed and read widely today. While the Quran is the most prominent example of an Islamic manuscript, there are also many secular texts which can give us a taste of the rich culture and linguistic tradition of the Arab world.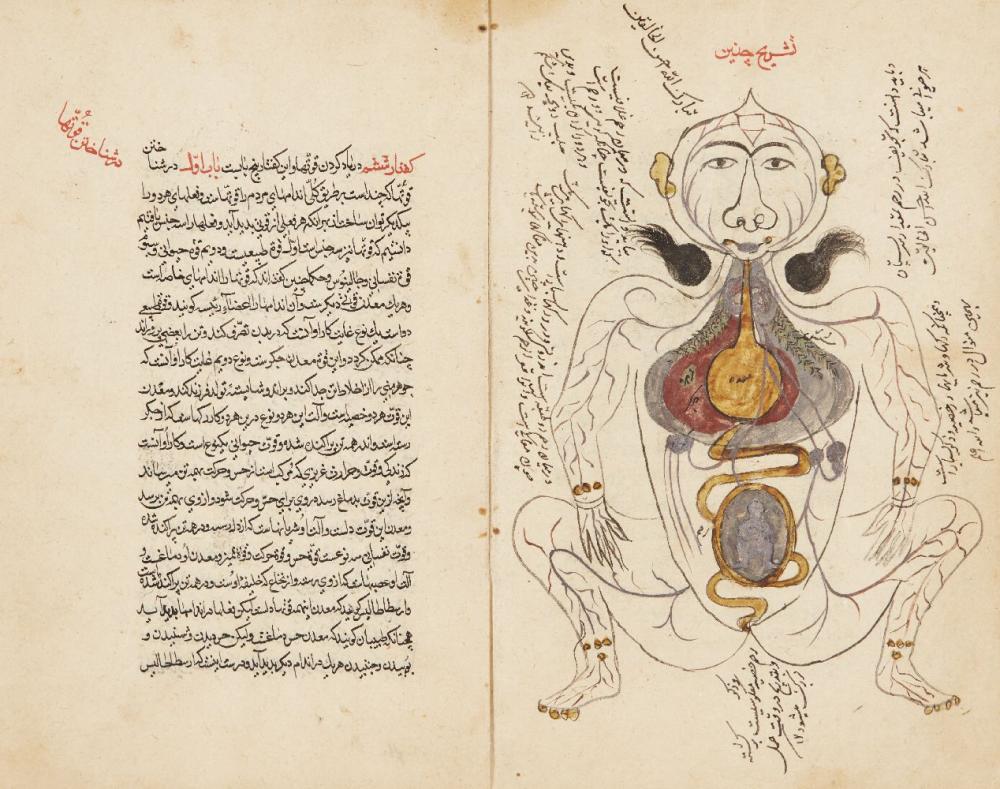 Kitab Tashrih Dhakhira Khwarazmshahi, Safavid Iran, dated Thursday beginning of Shawal AH 10[1?]3/17th century, 106ff., Persian manuscript on paper with 19ll. of black naskh per page, important words in red, with 6 internal illustrations of the body, a medical commentary apparently on Al-Jurjani's (d. 1136 AD) Al-Dhakhira al-Khwarazmshah
Methods and Materials
Before paper became widespread, the earliest manuscripts were made of parchment made from animal skins, of which the finest quality was called vellum. The ink used for text tended to be black, with gold, red vermilion and brown used for highlights, while miniature paintings would include a wider range of colours. The process of handwriting every word was of course extremely time consuming and for this reason these objects were – and still are – highly prized.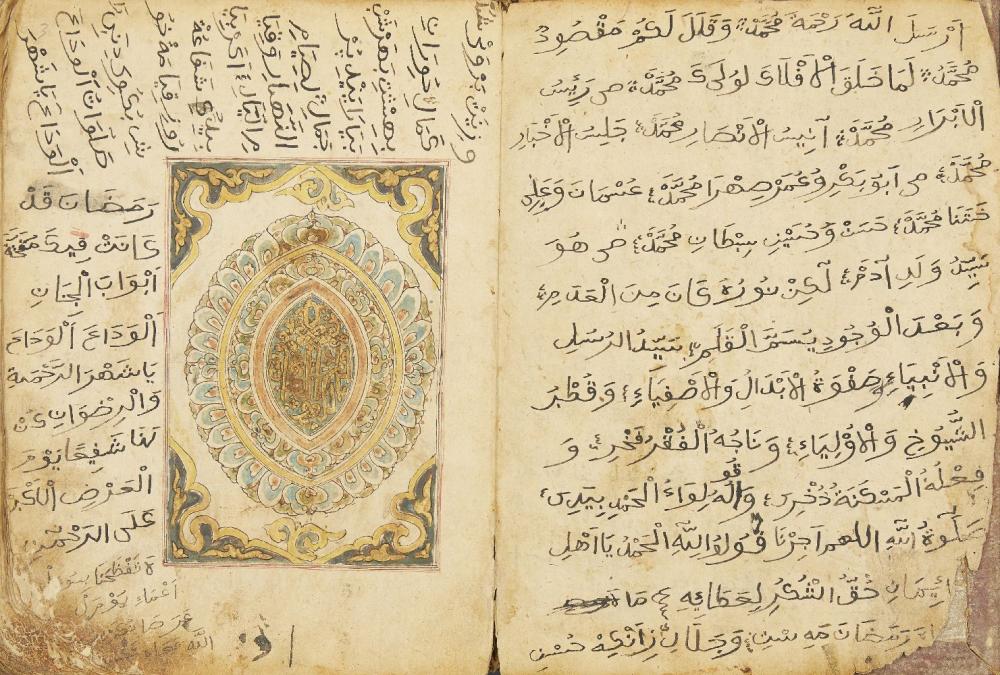 A complete Qur'an in 30 volumes, signed Mahmud bin Sabir, Yunnan, China, dated end of Safar
Famous calligraphers
Calligraphers were conferred high status by the courts of the Islamic world and were permitted to sign their name to their work which can help with the dating and identification of manuscripts today. The academic tradition of calligraphy began in Baghdad where apprentices would have to go through rigorous training, copying their master's work ad infinitum until they received official certification. Some of the most famous masters in this tradition include: Ibn al-Bawwab (d. 1022), Yaqut al-Musta'simi (d. 1298) and Mir Ali Tabrizi (d. 14th–15th century) in the medieval period; Shaykh Hamdullah (1436–1520), Seyyid Kasim Gubari (d. 1624) and Hâfiz Osman (1642–1698) during the Ottoman Empire; and Hashem Muhammad al-Baghdadi (1917–1973), Hamid Aytaç (1891–1982) and Charles Hossein Zenderoudi (b. 1937) in the modern and contemporary period.